The business world graveyard is filled with companies that were once titans of their respective industries. The likes of Kodak, Pan Am, Oldsmobile, F.W. Woolworth, Compaq, and Borders were at one time the types of businesses other organizations looked up to. Today, however, they serve as case studies for how to avoid winning and losing it all.
These companies closed for various reasons, but the one common thread they all share is that they started valuing short-term wins over long-term vision. As leadership expert Simon Sinek explains in The Infinite Game, "It is important to celebrate our victories, but we cannot linger on them. For the Infinite Game is still going and there is still much work to be done." Companies that don't adopt this mindset find themselves like the organizations above: nothing but relics of the past.
Yet, some businesses manage to stave off their own demise. They pulled away from their self-destructive ways and were saved from the brink of complete failure.
Domino's is one of the greatest examples of a business that switched from playing a finite to infinite game. Doing so allowed the company to make one of the most impressive comebacks in recent history, helping it rise to the top as one of the world's most successful pizza chains.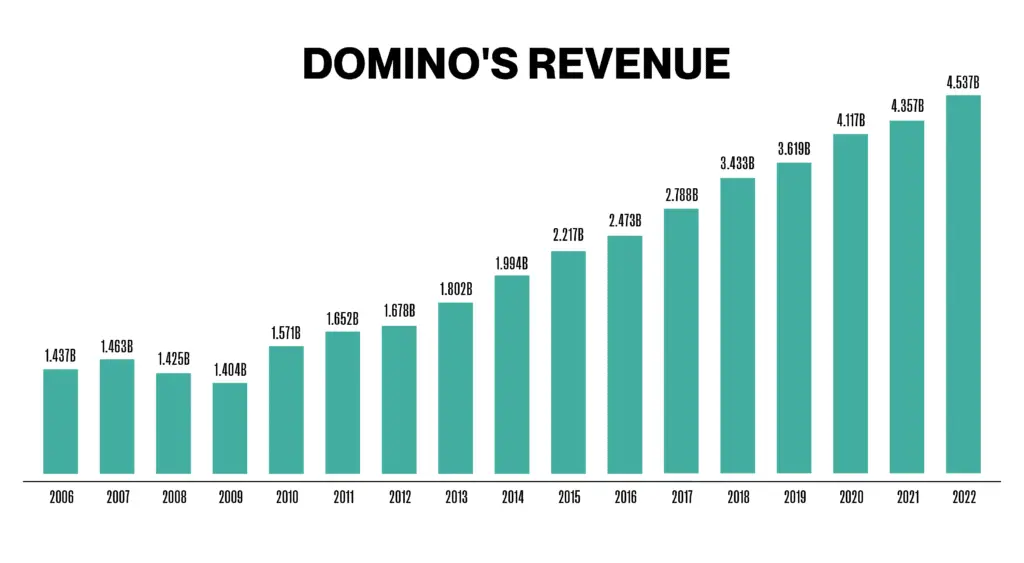 Domino's Pizza History
The Domino's story begins with Tom Monaghan and his brother James. The brothers spent part of their childhoods in foster homes and orphanages after their father died when Tom was only four-years-old. As Tom recounted in Pizza Tiger, "I grew up in a Catholic orphanage, and for a short time I attended a seminary, with every intention of becoming a priest . . . It's also a fact, though, that I got kicked out of the seminary."
Despite these setbacks, Tom honed a dedicated work ethic over the years, which came in handy when James overheard that a pizza shop in Ypsilanti, Michigan, was for sale. They pooled their money together, including a $500 down payment, and in 1960, they took over DomiNick's, named after the owner, Dominick DeVarti.
In Living the Faith, Tom talked about the difficulty of running his first business.
"I'll never forget how inadequate I'd felt on opening day, when that first customer walked in and gave me his order. I stared at him like a fool. At that point, I had made only two or three pizzas in my life, and the thought of him standing there watching my fumbling efforts was paralyzing."
Monaghan quickly got the hang of the pizza business, though, and became the full-time owner after James traded away his half of the company. By 1965, the business had grown to include two other pizza restaurants, but Tom ran into a problem. While he wanted the restaurants to all have the same name, DeVarti did not allow him to use his name. Former employee Jim Kennedy suggested "Domino's," which Monaghan decided would work for the organization.
Things quickly grew from there. In 1967, Monaghan opened the first official franchise location, again in Ypsilanti. The key to the company's initial success was setting up shop in the right locations. Monaghan emphasized putting pizzerias near college campuses. Doing so placed his offering near his core audience who wanted pizza quickly—something Domino's had built a reputation for. That strategy fueled further growth, resulting in over 200 stores by 1978.
The company quickly expanded worldwide, and by 1989, it had grown into 5,000 locations. To distinguish itself from competitors, Domino's doubled down on fast delivery. Starting in 1984, the company offered a guarantee that people would receive their pizza within 30 minutes or they would get a refund. As it would turn out, this guarantee introduced the first sign of trouble for the giant pizza chain.
Domino's Loses What Makes It Special
"Our growth looked like the path of a kite that shoots straight up, then flips and drives to earth."

Tom Monaghan
The 30-minute guarantee led to dangerous consequences. After a series of accidents involving Domino's pizza delivery drivers—one that included a fatality—a jury penalized the company $79 million as part of a lawsuit in 1993. After the court ruled the guarantee resulted in reckless driving, Domino's immediately got rid of the policy.
What made Domino's so popular was its fast service, rather than the quality of its food. Without that guarantee, the company had little to fall back on. Other pizza chains had found their own niche in a crowded market, such as Little Caesar's offering pizza at a low price. Competitors had also closed the gap on delivering pizza quickly even before the lawsuit. Pizza Hut had been taking delivery customers away from Domino's, leading to Domino's facing the first sales decline in the company's history in 1992.
Tom Monaghan Steps Down
Even with these setbacks, Domino's looked to be in a position to compete, but a significant change in leadership derailed their efforts. In 1998, Domino's Pizza founder Tom Monaghan announced his retirement, leaving the company at a time when it could have benefited from his vision and leadership strategies.
"At the age of 61, reflecting on my life and the goals I have yet to fulfill, I have decided to retire from active involvement in Domino's Pizza and devote more time to my charitable endeavors," he said in a statement.
This leadership change was devastating to the company. In the absence of effective leadership, Domino's leaned on introducing new items to their menu, expanding beyond pizza. These efforts were met with little fanfare, and by 2004, the company was more than $943 million in debt.
Leaving a Bad Taste in Customers' Mouths
Domino's Pizza wasn't faring well with customers. In 2009, a survey on consumer-taste preferences tied Domino's and Chuck E. Cheese as the worst-tasting pizza. As writer Jason Sheehan put it in an article for Westword, "The pizzas taste like crap."
Combined with the economic turmoil of the time, no one would have been surprised if the once great pizza delivery company folded or faded. The hammer was pounding against the final nail in the coffin. If the business hoped to survive, something needed to change—soon.
Domino's Launches a Brutally Honest Marketing Campaign
2009 marked the beginning of perhaps the most ambitious and bold new marketing campaign in Domino's history. Helmed by the then President of USA Operations, J. Patrick Doyle, the campaign promoted a self-aware attitude. Using unflinching honesty, Domino's admitted the company had made some terrible mistakes in the past, and it was looking to right those wrongs.
Leading this effort was a now famous video called "Domino's Pizza Turnaround." In the video, Domino's leaders and employees read scathing critiques of the company and its pizza. It was rare to see a company engage in this level of self-deprecation and straightforward accountability. For many, it was refreshing to witness a business own up to its failures.
The message from Domino's to its customers was clear: "We screwed up. Come back and see how things have changed."
Creating a New Recipe for Success
"There comes a time when you know you've gotta make a change."

J. Patrick Doyle
Combined with the ad campaign was a pledge to improve the quality of the food. Domino's old pizza recipe had been around since the company started. That left the recipe nearing the half-century mark by the time Domino's decided it was time for a change. This wasn't just a few minor alterations—practically everything would be new. A new sauce, new cheese, and new crust were all made available to customers. In an article in USA Today, consultant Howard Gordon mentioned just how radical the change was. "I don't know of any (restaurant) company that has attempted this," Gordon said. "Once you've built a brand, that's your brand. To change it means that everything you've stood for isn't right."
Doing this meant that Domino's would be addressing the main complaint customers had. Yes, it upended decades of tradition, but by that point, company leaders knew what they were doing wasn't sustainable.
Opening Lines of Communication
Another issue Domino's faced was the high turnover rate among employees. David Brandon, the CEO before Doyle, knew he needed to get to the bottom of what was happening. As part of his efforts, he participated in the same employee training program that all employees took. In addition, he spoke directly to workers to see what they wanted the company to do differently.
Brandon quickly put new changes into action. These changes included a relaxed dress code, new leadership training programs, and a college recruiting system. When Doyle became CEO, he continued promoting this value of listening to employees. After just a few years, Doyle was rewarded with the Top Workplaces Leadership Award through a Detroit Free Press Top Workplaces survey.
This line of communication extended to Domino's customers as well. Doing this meant sticking close to the company's core values, one of which is "Champion Our Customers." As mentioned above, the company paid close attention to what customers said and addressed those complaints directly. This helped them turn things around in a hurry.
Adding Better Technology to the Order
"We are as much a tech company as we are a pizza company."

J. Patrick Doyle
Domino's was also one of the first pizza companies to offer online mobile ordering to customers, which other chains were slow to embrace. Fortunately, Domino's leadership could see the potential and jumped at the chance to make things more convenient for their customers. In addition, the company also introduced an online Pizza Tracker in 2008. As a point of comparison, Pizza Hut didn't introduce its own tracker until 2017.
While Domino's could no longer guarantee delivery in 30 minutes or less, online and mobile ordering allowed them to live up to the promise of quick service and added convenience. Mobile ordering has been so successful for the company that Dennis Maloney, Vice President of Multimedia Marketing for Domino's, once described the company as "an e-commerce company that sells pizza."
Technology is such a large part of the business's success that half of the workers at Domino's headquarters in Ann Arbor, Michigan, work in software analytics. This has allowed the company to be at the forefront in new ways for customers to order pizzas, such as simply texting an emoji or using devices like Amazon Echo.
The Results Speak for Themselves
Due to the success of the turnaround campaign and his impressive strategic leadership, Doyle would be named the new Domino's CEO in 2010. In 2011, Domino's was named the "Chain of the Year" by Pizza Today Magazine. By the end of 2010, sales totaled nearly $7 billion with same-store sales increasing by almost 10 percent. The success wasn't a flash in the pan either and continues up to today. In 2010, Domino's stock price was a measly $8.76 per share. Today it's $391 per share.
The monumental comeback that Domino's experienced shows how big of a difference leadership can make. When Patrick Doyle eventually retired from Domino's in 2018, he received an outpouring of praise for all that he did. As Alice Elliot, CEO of The Elliot Group, put it, "Patrick Doyle is the epitome of leading with integrity, intellect, collaboration, curiosity, risk-taking, and grace. To find someone who has ingratiated these values and results over such a long period of time in one organization is incredibly meaningful in its own right."
In Doyle's retirement statement, he looked at the three goals he set for himself when leading Domino's.
"I wanted us to become the No. 1 pizza company in the world; I wanted Domino's to provide our franchisees with the best possible return on their investment by creating a dramatically better experience for our customers; and I wanted to have a leadership team in place that would be ready to create even better results into the future. I'm proud to say that we've accomplished all of those goals, and I will leave Domino's knowing that it is in great hands."
Doyle set the standard for future leaders to follow, not just at Domino's but at businesses all over the world.
For more help on leadership, check out the following articles:
Leadership Requires These Qualities of a Person
5 Leadership Strategies That Improve Your Business