Scaling is vital for business growth. Yet, paired with poor cash flow management, it is also the top reason businesses fail. According to the Startup Genome Report, "74 percent of Internet startups fail because of premature scaling, while those who scale properly typically see growth that's 20 times faster." 
So, how do entrepreneurs successfully grow their companies without losing it all? 
Establishing a solid foundation for business growth is vital before moving on to the various stages of scaling. In this article, Dr. Josh Axe shares One Goal, One Action—the strategy of excellence he used to build the core of his multi-million dollar businesses Axe Wellness and Ancient Nutrition. This strategic approach teaches leaders how to first establish a strong, grounded center. 
Get the blueprint for One Goal, One Action below: 
Step One – Use Your Strengths to Serve Others
One of the best ways entrepreneurs can start growing their business is by recognizing how to use their unique gifts to serve others. John C. Maxwell explains leaders get the greatest returns when they focus on maximizing the use of their talents. For example, in Developing the Leader Within You Maxwell says: "Pick one area of your life where winning comes more easily, and identify one discipline you could practice to strengthen that area. Plan it, schedule it, and do follow-through consistently."  
Even before Josh started DrAxe.com, he tapped into his top gift: teaching through various forms of content. At his functional medicine practice, he wanted to serve his patients to the best of his abilities—his "one goal." Because of this, the "one action" that followed was typing up and printing a weekly newsletter for them to take home. Furthermore, to make the information more shareable, Josh built a simple website. By deciding to help his patients through his key strengths, he began his journey into building one of the world's fastest-growing companies.
Tap into your strengths by asking yourself:
"What is my top talent and how can I use this gift to be of service to my customers and clients?" 
"What one thing do I want to accomplish?"
"Which action will I take to make it happen?"
Step Two – Choose to Be Excellent at One Thing 
Identifying strengths is important because without this, the next step is impossible. Because Josh aligned his talents with his purpose, his new venture could be built with excellence. His next goal in growing the company was teaching people how to use food as medicine. The action was to provide the world's best content on this subject. For example, each article on Dr.Axe.com didn't receive final approval until it was considered a masterpiece. Because of his dedication to this one goal, one action, in less than four years the site became the world's leading source for health and wellness information. 
A business owner only needs to do one thing better than anyone else. You don't have to own a digital marketing company that's also a gym and online dating platform. If you're better than anyone else at email marketing, people will take note. As a result, your company will experience success. However, too often, business owners feel the need to "do it all" and compete with whatever their rivals are doing. Avoid chasing rabbits, keep the center of the organization tight, and prepare for business growth by being excellent at one thing. 
As Tom Rath, author of Strengths Based Leadership writes, "If you spend your life trying to be good at everything, you will never be great at anything."
What will you be excellent at? 
Step Three – Refine Your Core Offer
Strategizing around a core offer helps business owners focus on where they excel before adding a string of new products and services. It also informs the one action they'll take to make their one goal happen. 
Key Tips for Developing a Core Offer
Grab a sheet of paper or use a whiteboard to break down three sections:
Where the company thrives
Where it struggles
How it can improve  
2. At the very top, write your primary goal to remind you of what you want to accomplish. 
3. Start listing the areas the company doesn't thrive. For instance, write down which products, services, and offers haven't been gaining traction and why.
4. Then focus on what the company does excel at. What can customers not get enough of? How do you make your bread and butter? Does it align with your overarching goal? If not, the company might potentially need to reframe its core offer.  
5. Lastly, think about how the company can make the core offer even stronger.
Based on your answers:
Eliminate what isn't working and doesn't align with the primary goal. 
Become invaluable. Develop a detailed, service-based solution that is so helpful, customers can't say "no." What does this offer look like? Write it down in the "Where We Can Improve" box.
What actions will the company focus on to make this happen? For instance, because teaching people how to use food as medicine is still the goal of DrAxe.com, Josh's action is educating and nurturing his audience through online content (webinars, email series, seminars, and more). 
Find the Gaps
Adding to the list of improvements, think about where the company can fill in any pieces missing in the core offer. Ask yourself:
What comments or feedback have customers provided that could be included in a stronger offer? For example, what's on your clients' wish list?
How could the company refine its client avatar and find success in a niche market?
What does this type of customer want? 
Is the solution you provide to their problems clear and exceedingly valuable? 
Which strategies for gaining new clients need fresh takes? (Try creating three outside the box ideas for bringing in more business through one action).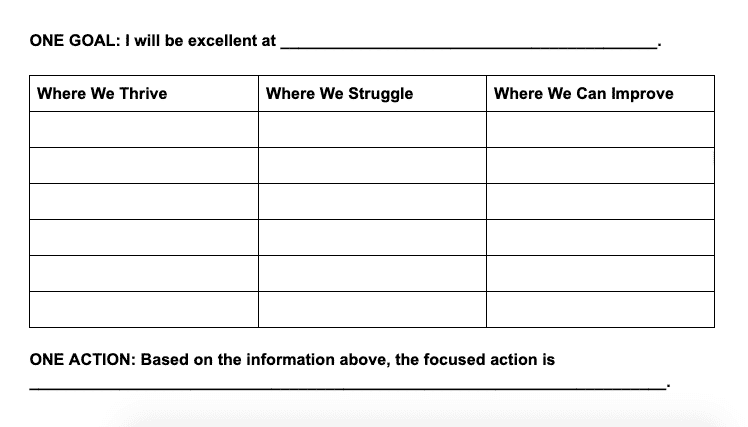 Step Four – Map Out Business Growth with Set Goals 
With an excellent offer, a business owner can now put together an action plan with measured steps for business growth. In fact, this has been one of the greatest keys to Josh's success. Specifically, his offer was his knowledge that provided value through excellent content. For instance, whether answering questions on various health and wellness social media posts or hosting a free training on the keto diet, being of service was the top priority. As a result, his audience and influence grew, which made it safe to start building upon the established foundation. 
Prepare for scaling by:
Concentrating on the long-term vision. What does accomplishing the end goal look like?
Working backward and breaking down the large goal into smaller, bite-sized achievements. This type of tactical planning helps organizations achieve success.
Goal setting with detailed milestones for when weekly, monthly, quarterly, and yearly goals will happen. 
Adding various pieces to the offering in the future. For example, write out any plans for company developments like more features or a new product line.
Determining what needs to happen first before working on another goal. Try using the Kanban Method to see where the team is in terms of achievement. This strategy breaks a team's workflow down into phases such as: "backlogged," "in progress," "in review," and "done." 
| | | | | |
| --- | --- | --- | --- | --- |
| | Yearly Goals  | Quarterly Goals | Monthly Goals | Weekly Goals |
| What Needs to Happen | | | | |
| What's in Progress | | | | |
| What's in Review | | | | |
| What's Done | | | | |
| What Can Wait | | | | |
Important Bonus Step: Monitoring and Maintenance
It's important that entrepreneurs monitor the business success of their One Goal, One Action strategy. Instead of doing guesswork, keep track of conversions to find out if your goals and actions work for the organization. Numbers talk, so listen to what they're telling you. Undoubtedly, this knowledge helps refine your business strategy into one that leads to excellence. For example, at the Axe Wellness office, the customer service, programs, and product division teams are given updates on their progress through real-time scoreboards.
Additionally, another important note is that as the business adapts, keep maintenance going on older initiatives until newer ones are built and ready to launch. For instance, halting current work and moving all your eggs into a basket of unproven success puts you at risk for decreased cash flow. Due to this, new initiatives need to have a strong change management strategy in place. Remember, business growth comes in strategic, measured steps: one goal, one action.
Learn more about this strategy in the book Scaling Up—a process used in all of Josh's companies.