What's an Employee Wellness Program?
An employee wellness program, also called a corporate wellness program, is a collection of onsite and virtual initiatives aimed at improving the long-term health of a company's employees. Employee wellness programs consist of strategic events—like seminars, health fairs, and biometric screenings—that holistically address the different dimensions of a person's well-being. 
The primary goal of implementing employee wellness programs is to mitigate the rising costs of employer-provided health care. When designed well, an employee wellness program can provide many additional benefits to a company, including boosted productivity, reduced signs of burnout, a positive work environment, reduced absenteeism, and greater attraction from prospective candidates. 
Benefits of Establishing Employee Wellness Programs
The benefits of establishing employee wellness programs largely depend on the program's scope and effectiveness. However, with the right mix and cadence, a company can see good ROI as more employees invest and participate.
Top Benefits of Employee Wellness Programs:
Improved employee productivity: Employees that feel good about themselves and their employer are more intrinsically motivated to work better. In 2019, 84% of employers reported that their employees' wellness programs fostered greater performance, according to Zippia. 
Healthier employee behaviors: When an employee wellness program effectively considers all eight dimensions of well-being, healthy behavior change will result. When this happens, any poor performance-causing health risks that might exist will reduce or disappear. This, in turn, will boost employee morale and fulfillment. According to a study by Cigna, 70% of employees say that wellness programs have helped them manage their health better. 
Decreased presenteeism and absenteeism: Employees with elevated health risks have increased rates of both presenteeism and absenteeism, according to Dr. Steve Aldana with WellSteps. Employee wellness programs have reduced absenteeism by 14–19% by providing healthy resources. Furthermore, a study showed employees with high presenteeism reduced their elevated health risks after just one physical wellness program, according to Zippia research. 
Incorporate the 8 Dimensions of Well-Being Into Wellness Programs
Holistic health care, a $37 billion business, is a concept gaining traction among many organizations. Companies with holistic health practices and values believe a person's well-being extends beyond the physical component. As former Surgeon General of the United States, Joycelyn Elders, says, "Health is more than the absence of disease. Health is about jobs and employment, education, the environment, and all of those things that go into making us healthy."
Today, the eight dimensions of wellness listed below are recognized as critical for an individual's health and success.
1. Physical Well-Being
Employee wellness programs focused on physical fitness, posture, nutrition, and sleep address an employee's physical well-being. When physical wellness is strong, energy and motivation are high. As Tony Robbins says, "The higher your energy level, the more efficient your body. The more efficient your body, the better you feel and the more you will use your talent to produce outstanding results." For increased levels of success and productivity, programs must take careful measures to maintain employees' physical well-being, such as providing support in eating nutritious foods, getting adequate sleep, and exercising.
2. Emotional Well-Being
As reported by Mental Health America, almost 20% of Americans are currently struggling with mental illness. Of course, mental illness isn't treated overnight or with a wellness program. However, by implementing healthy employee wellness strategies that promote emotional well-being—like mindfulness and meditation programs, dynamic support programs, free wellness journals, and access to therapy and psychological resources—a company can lay the groundwork for nurturing a safe and positive work environment.
3. Financial Well-Being
Experts at Graystone Consulting, part of Morgan Stanley, recently investigated the impact of employee financial stress on productivity. They found that financial stress is more burdensome for many employees than even health or work stress. Their research shows that 52% of employees with an income of $100,000 or more are worried about finances. 49% of employees also admit to spending three or more hours each week thinking about their finances, demonstrating how much financial concern impacts a person's work life.
Fortunately, financial wellness and literacy programs can help. According to Graystone, a corporate wellness program can save a company up to $4,000 in reduced productivity and output.   
4. Social Well-Being
In an interview with Forbes, author and research professor Brené Brown says, "Our belief in the inextricable human connection is one of our most renewable sources of courage in the wilderness."
Humans need connection. We rely on each other for acceptance, support, belonging, and love. Without this sense of inclusion, feelings of isolation and disconnect can creep in, challenging our ability to confidently navigate the "wilderness" of life. For this reason, a company should include employee wellness programs that foster social well-being. These programs can be anything that promotes positive collaboration, interdepartmental interactions, and general camaraderie. 
5. Occupational Well-Being
According to a recent SHRM culture report, businesses have lost $223 billion in employee turnover in the past five years alone. This occurred because 58% of employees don't like their company culture, and 25% dread going to work. 
Examine the current climate of your employees' satisfaction and sense of purpose. Are they happy and engaged? Do they have a sense of fulfillment from the work they do? By reigniting excitement and building new relationships with their teams and company, corporate wellness programs can help employees find renewed joy in their work.
6. Sense of Purpose
Anthony L. Burrow, Director of Human Development at the College of Human Ecology and author of The Ecology of Purposeful Living Across the Lifespan, describes purpose as "a forward-looking directionality, an intention to do something in the world." He explains that having a sense of purpose is an integral part of the human experience. It also allows people to live longer, healthier lives. 
Having a sense of purpose makes us feel innately connected to something greater than ourselves. It keeps our eyes focused on bigger goals and helps us to weather life's daily challenges. As Burrow says, "We are confronted with the ups and downs of life, but purpose is an active ingredient that helps us stay stable."
Sense of purpose is an individualistic concept, so implementing a wellness program that confronts it head-on may be difficult. However, consistenly communicating the company's purpose, discussing the business's core values, doing vision boards together, and showing employees how to effectively set goals helps people identify and work toward their purpose. 
7. Intellectual Well-Being
Intellectual well-being refers to how intellectually engaged and stimulated you are. Are you learning new skills? Exploring interests? Engaging in habits that promote a growth mindset? Nurturing intellectual well-being can boost creativity and innovation, foster curiosity, and help people lead successful lives. 
The Journal of Neuroscience conducted a study proving that the connectivity and structure of brain white matter—which contributes to active learning and memory—can be re-organized and strengthened to meet new intellectual needs over time. In short, the mind craves growth. As far as employee wellness programs, make sure to include engaging workshops, lectures, classes, books, and other mentally stimulating activities.
8. Environmental Well-Being
According to Harvard Business Review, access to natural light and outdoor views improves the well-being of 78% of employees, and 70% experience greater productivity. 
Air quality, natural light, and relaxing aesthetics are all components of healthy environmental well-being at work. Therefore, employee wellness programs that promote sustainability and healthier workplace habits can be instrumental in fostering a great work culture.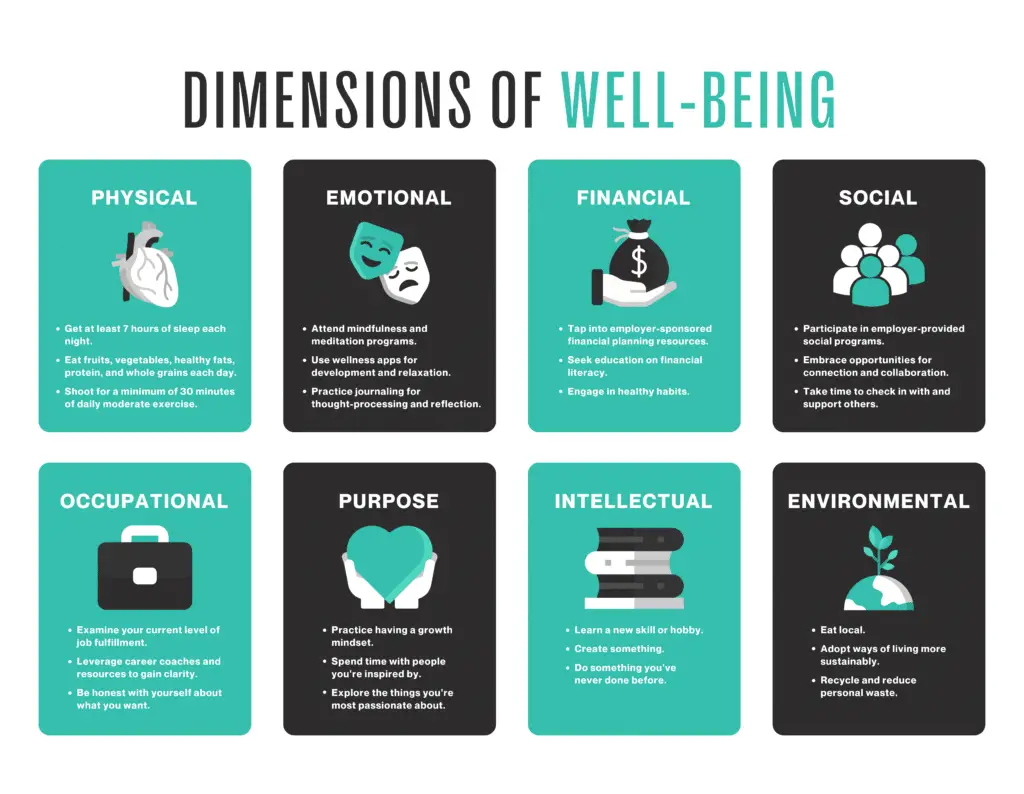 The Various Types of Employee Wellness Programs
There isn't a one-size-fits-all approach when it comes to designing employee wellness programs. The types of programs that will best benefit your employees depends on their specific needs and challenges. For example, a company of 500 employees in Texas may have a large population of people struggling with high cholesterol. In this case, the company may want to focus more on physical well-being programs. 
Conversely, a small company of 50 employees in New England may be battling seasonal depression in the winter. In this case, that company may want to focus more on social and emotional well-being programs. The key is to examine your employees and develop an intimate understanding of their unique needs and challenges. Doing so ensures that both employers and employees gain the most from wellness programs.
Common Types of Employee Wellness Programs
Health and wellness fairs
Biometric screenings
Yoga and fitness classes
Guided meditation 
Cooking classes
Health education seminars
Flu shots
Smoking cessation programs
One-on-one health coaching
Group wellness challenges 
How to Design a Wellness Program for Your Employees
When designing an employee wellness program, begin by evaluating your employees. Then, follow these steps to start crafting a strategy using what you've learned. 
Conduct employee assessments: Use surveys to evaluate your employees' specific interests and concerns. This will help you clearly understand what's needed and what's wanted. 
Recruit support from leadership: Any wellness program, no matter how small or large, will require management support, funding, and advocacy. Get leadership on board by sharing your corporate wellness plan, objectives, and how it will positively impact the bottom line. 
Build a wellness committee: Bulk up support and build a culture of success by establishing an employee-driven wellness committee. This will not only help obtain participation but will also give you access to key employee insight and program feedback. 
Identify program objectives and measurements of success: What is the desired outcome? What does success look like? And how will it be measured? Consider these questions as you craft a wellness program. Knowing this will help you make adjustments and improvements for future initiatives. 
Set the budget: Some companies, like Google, have massive budgets for wellness, while others may have a more modest one. Consider program costs, incentive costs, provider fees, and any other time and resources you need. Doing so will ensure your wellness program is financially feasible while also impactful. 
Assemble program components: This step will depend on your initial evaluation as well as the results from the assessments. Which types of concerns were there? Are there particular programs all employees said they wanted? Consider these as you decide on program components, like seminars, health clinics, and exercise classes. 
Establish any program incentives: Of course, it's ideal if intrinsic motivation is the incentive to improve one's health and well-being. If employee wellness programs are new to some employees, however, incentives can help generate initial interest. Do you want to offer prizes or rewards for participation or attendance? Consider what your employees would be most incentivized by. 
Communicate the plan: Once these steps are complete, it's time to launch the program. Use catchy marketing and communication to generate awareness. Be clear about when the program starts, what is being offered, and the benefits of participating. Introduce your wellness committee or program point-of-contact so that employees know who to reach out to with questions and concerns. 
Evaluate program participation and success: What were the objectives of the wellness program? Did the programs meet their designated key performance indicators (KPIs)? If not, examine areas of improvement. Numbers and data are good, but the best indicator of success can be found by simply speaking with employees. 
3 Great Examples of Wellness Programs for Companies to Model
1. Asana (Office-Centric Hybrid Work Model)
Summary: With an A+ Comparably score for both culture and leadership, Asana's standing as a Fortune "Top Place to Work" is well-earned. Asana has offices worldwide, but they make it their mission to support healthy and collaborative work environments, no matter where they might be. 
Key components: According to Monster, Asana offers on-site "nap rooms" for recharging; unlimited PTO; daily yoga programs and free gym memberships; three healthy meals a day provided by an in-house culinary team; free executive coaching and mentorship programs; plus monthly, health-themed workshops aimed to educate and support employee health and well-being. 
As Asana employee and writer Alicia Raeburn says, "At Asana, for example, we prioritize the economic health of our employees with competitive salaries, emotional health with access to free therapy sessions, and community health through a hybrid workplace."
2. Intuit (Hybrid Work Model)
Summary: Intuit also has an A+ Comparably score for culture and leadership. Intuit recently recognized the value of in-person interaction and collaboration, as well as work-life balance and flexibility. In May of 2022, the company announced a new hybrid work model, requiring employees to only be onsite 2–3 days per week. 
Key components: On-site employees benefit from a range of employee wellness programs. According to Monster, Intuit's "Fit for Life" program reimburses employees for taking meditation and mindfulness classes. Additionally, their "Well-being for Life" program provides eligible employees with a one-time $1,300 per year payment to help with health-related expenses. Lastly, Intuit contracts with Virgin Pulse, one of the largest vendors of health management programs, to offer a "Well-being Hub and Activity Program." With this, employees can participate in Virgin Pulse Journeys, challenge friends, meet with wellness coaches, and keep themselves on track.
3. Google (Hybrid Work Model)
Summary: "Best Company Leadership," "Best Company Global Culture," and "Best Place to Work" in New York, Denver, and Austin are just a few of the recent Comparably Awards Google has won. Google used to be fully onsite but today employees only need to be onsite three days a week, and with opportunities for some to apply to work fully remotely. Plus, with management approval, employees can work from another location for up to four weeks per year, no matter what. 
Key components: Google's campus offers almost everything an employee could need for health and well-being. According to Monster, some of the benefits include an onsite physician; chiropractic, physical therapy and massage services; fitness centers and classes; community bikes; cooking classes; educational programs; guitar lessons; nutritious on-site micro-kitchens; access to financial advisors and financial planning services; plus flexible work hours and vacation time. During the pandemic, Google also created a series of "resilience training" videos to help with employees' mental health challenges. 
Wellness Programs Benefit Everyone at a Business
Leila Janah once said, "True leadership isn't about having an idea. It's about having an idea and recruiting other people to execute on the vision."
It's important to remember the vision, not just the goal of boosting employee productivity and reducing healthcare costs. Those are byproducts. The true vision should be to use authentic leadership to guide others towards becoming the best version of themselves. When employee wellness is approached in this way, everyone will benefit, regardless of whether the programs worked or not. 
Take your corporate culture to the next level by coupling wellness programs with other benefits employees want, like taking time off and unlimited PTO.