Imagine attending a work meeting with your colleagues, except everyone's admitting their failures instead of sharing their successes. If you suffer from perfectionism, this scenario is one of your worst nightmares. However, these meetings are the status quo for employees at SPANX. CEO and founder Sara Blakely frequently presents her own failures while encouraging her team to share theirs because she believes growth comes from owning our failures.
Despite thousands of mistakes, Blakely's company is worth $1.2 billion, proving success isn't an error-free journey. Her approach shines a positive light on failure, recognizing it as an essential part of growth and progress.
Contrary to Blakely's mindset, perfectionists strive for a professional and personal life free of mistakes. Yet, anyone who is a perfectionist knows it is one of the most stressful mentalities to have. There is a constant pressure to perform at the highest level and a sickening fear that if you fail, you'll disappoint—and even possibly lose—people you care about.
In this article, learn why perfectionism develops in people and how to put a wrench in the mentality that is holding you back and hurting you.
Key Takeaways
Perfectionism is the difference between having a fixed mindset and a growth mindset.
Perfectionist tendencies develop during childhood.
Three different types of perfectionism exist.
Perfectionism breeds many problems, including an inability to finish projects or maintain healthy relationships.
There are several strategies for overcoming perfectionism. 
What Is Perfectionism?
Perfectionism is the belief that being or appearing perfect makes you more valuable to others. While perfectionists are widely recognized for their high performance, they never achieve their full potential. Those with this mentality avoid risky situations and opportunities where failure could occur because they fear rejection and shame.
Brené Brown, researcher and author of The Gifts of Imperfection, defines perfectionism as "a self-destructive and addictive belief system that fuels this primary thought: 'If I look perfect and do everything perfectly, I can avoid or minimize the painful feelings of shame, judgment, and blame.'"
5 Signs You're a Perfectionist
Your work never feels complete: Perfectionists are rarely satisfied with their work and may even be obsessive-compulsive.
You never stop working: Perfectionists don't maintain a healthy work-life balance. 
You shy away from vulnerability: Perfectionists always maintain a polished appearance and demeanor, even when stressed or frustrated. 
You're always procrastinating: To avoid failure, perfectionists often procrastinate on assignments.
You struggle to turn in a finished product: Perfectionists sometimes spend so much time making something perfect that they end up never finishing it at all. 
Problems Associated With Being a Perfectionist
"Research shows that perfectionism hampers success. In fact, it's often the path to depression, anxiety, addiction, and life paralysis."

Brené Brown, The Gifts of Imperfection
Carrying unobtainable perfectionist standards, whether for oneself or others, can lead to a variety of issues. For example, a 2020 study published by the National Library of Medicine found a special connection between anxiety and perfectionism. By assessing 356 treatment-seeking patients, they discovered a higher prevalence of generalized anxiety disorder (GAD) and Post-Traumatic Stress Disorder (PTSD) amongst individuals with "perfectionist cognitions."
Negative Effects of Perfectionism
Depression
Anxiety
Low self-esteem
A negative outlook on life
Inability to cope when self-inflicted standards aren't met 
Trouble accepting yourself as you are
The constant drive to earn or prove your worth
Acting inauthentically to mask feelings of inferiority
Difficulty maintaining personal relationships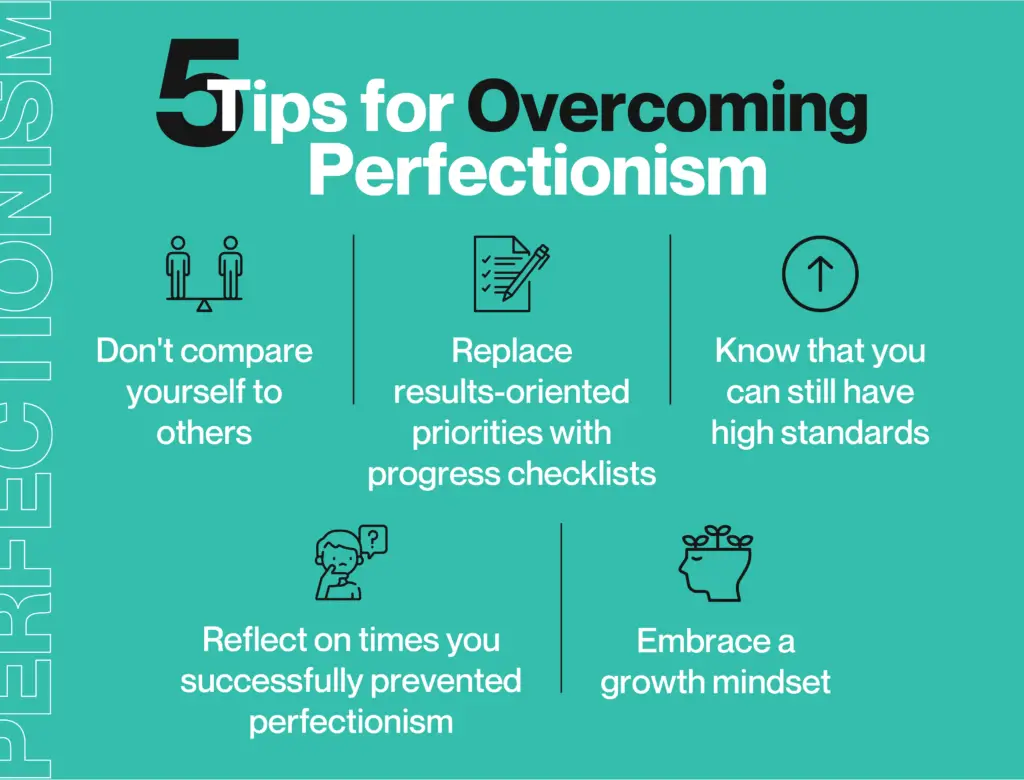 What Causes Perfectionism?
Perfectionism stems from lessons learned as a child. Children develop perfectionist tendencies when they feel their value is measured by how well something is done or by the rewards and praise it attracts.  
Melinda Wenner Moyer, science journalist and author, shares that perfectionism in children could also develop when they crave a sense of control. She says, "The more kids feel out of control on the inside, the more controlling they get on the outside." 
Perfectionism can also be a form of anxiety for children. They may be heightening the risk of mistakes into something catastrophic, so to avoid those feelings, they may avoid doing certain activities altogether. Without careful course correction early on, perfectionist avoidance tendencies can carry on into adulthood.
How Perfectionism Develops
Being forced to live up to unrealistically high expectations and standards.
Trying to obey rigid, black and white rules and thinking.
Feeling helpless and having a lack of control.
Believing achievement equates to love and acceptance.
Understand Perfectionism Psychology to Shift Into a Growth Mindset
"As humans, we're not perfect, and our sense of being adequate and good enough comes from embracing our humanness, never from perfection."

Dr. Maika Steinborn
In 2006, Carol Dweck, psychologist and author of Mindset: The New Psychology of Success, conducted a study to examine brain activity when reviewing mistakes.
For the study, she organized students into two groups based on responses from a goals questionnaire.
The questionnaire revealed that one group of students prioritized learning goals and the other group prioritized performance goals. 
Dweck then gave each group a test to complete.
While each group reviewed mistakes they had made on their test, Dweck performed EEG analysis to measure brain activity.
The group who prioritized learning—those with a growth mindset—showed neurological processing activity as they reviewed their mistakes.
The group who prioritized performance—those with a fixed mindset—showed no brain activity when checking their mistakes.
Having a Growth vs. Fixed Mindset
Understanding growth vs. fixed mindset is essential for understanding (and correcting) perfectionism psychology. Dweck's studies tell us that having the ability to perceive mistakes as learning opportunities is crucial for personal growth and success.
In The New Psychology of Success, Dweck explains:
A fixed mindset "is about the outcome. If you fail—or if you're not the best—it's all been wasted." For example, perfectionists have a fixed mindset. They deeply believe their success means they have intelligence and skill and that failure means a lack of both.
A growth mindset "allows people to value what they're doing regardless of the outcome." Those who have an open mind and a hunger to learn approach situations with a mindset that accepts mistakes and commits to learning from them. In the end, this results in greater success.
Tips for Developing a Growth Mindset
Accept that perfection does not exist.
If you have negative thoughts, add "yet" to make them positive.
See challenges as adventures.
Accept mistakes as a part of life and learn from them.
Believe that you will see progress if you work hard.
How to Stop Being a Perfectionist
Perfection is a concept, not reality. It's the tree of a negative mindset planted in childhood that grew roots and branched off into all aspects of your life. Reverse engineering this mindset will take time and practice, but fortunately, there are ways to kick perfectionism.
Tips for Perfectionism Recovery
Stop comparing yourself and your accomplishments with others.
Acknowledge that perfectionism is harmful and counterproductive.
Recognize that you can hold high standards without them being perfect.
Replace results-oriented priorities with progress checklists. 
Practice accepting that sometimes the goal should be to get something done, even if it doesn't meet standards of perfection. 
Reinforce new behaviors by reflecting on and remembering moments you successfully avoided perfectionism. 
Meet with a cognitive behavioral therapist (CBT) or use online therapy to overcome perfectionism.
Perfectionism vs. Excellence: Making the Switch
As a perfectionist, you might not be willing to give up your careful attention, diligence, organization, and fortitude—and that's a good thing. All of these qualities are shared with people who strive for excellence. However, those striving for excellence have a growth mindset. They focus on the quality of their work, how much effort they put into it, and what they learn from challenges. They know perfection is not achievable, but doing their very best is.
Summary
When you wake up each morning, commit yourself to be just one percent better each day. You won't reach perfection, but you'll be 365% better in a year.
Still need help fighting perfectionist tendencies? Discover other tips for reducing stress while developing a growth mindset by reading "8 Strategies for Handling Work Stress as a Leader."