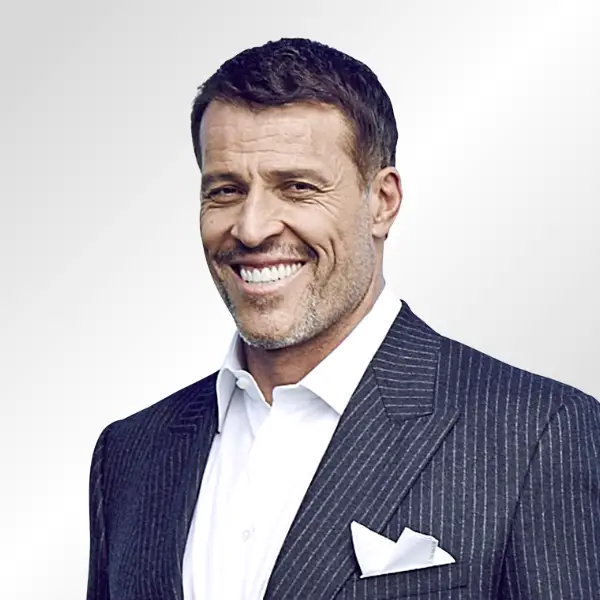 Tony Robbins
Authors, Non-Fiction
Personal Growth
DOB:

February 29, 1960

Age:

63

Country:

United States

Resides:

San Diego, CA

Hometown:

North Hollywood, CA

Known For:

Best-Selling Author and Coach

Spouse/Partner:

Sage Robbins

Religion:

Christianity

Education:

Glendora High School
About Tony Robbins
Having coached 50 million people worldwide, Tony Robbins is one of the most internationally known names in business.[4] Robbins has been named one of the Top 200 Business Gurus by Harvard Business Press and has also landed in the Top 50 of Worth Magazine's 100 most influential people in finance three times.[3] American Express also named Robbins one of the World's Top Six Business Leaders.[5] Robbins' early interest in the inspirational teachings of Dale Carnegie, Ralph Waldo Emerson, Jim Rohn, and John Grinder is the root of much of his immense success.[1]
Early Life and Education
Robbins was born February 29th, 1960, in Glendora, California, as Anthony Jay Mahavoric before changing his surname to his stepfather's.[1] Contrary to assumptions, Robbins' upbringing was a far cry from a launchpad for success. Robbins' father left home when he was very young, leaving him and his two younger siblings with their mother, who battled substance abuse. Without a father figure or strong mentor, Robbins leaned on books to escape his reality.[2] In a podcast interview, Robbins shares that his first job was as an after-school janitor to help his family, and that he ultimately left home at 17 and never returned.[6] 
It was during Robbins' childhood that he discovered his talent and interest in public speaking.[1] This interest was further fueled as he began reading the works of thought-leaders like Dale Carnegie and Ralph Waldo Emerson. As a teenager, he read more than 700 books over seven years on biographies, human development, and psychology.[2] Over time, Robbins began to view the leaders he read about as "mentors," learning that often they, too, endured personal challenges before achieving success.[2] 
Tony Robbin's Health
Tony Robbins has endured several health challenges.[7] According to Entrepreneur, Robbins was 5'1" tall when he entered high school and only grew to 5'7" by the age of 16. Today, however, Robbins is known for his tall stature, standing at 6'7," ten inches taller than he was as a teenager.[7] This significant change in height was later attributed to a pituitary tumor in his brain that caused his growth hormones to spike unusually fast.[7]
In the early 1990s, Robbins began incorporating a lot of fish into his diet to combat some of the effects of maintaining an alkaline vegan diet.[8] As a result, he suffered extreme mercury poisoning and almost died. He shared with Men's Journal, "I was eating swordfish and tuna and built and incredibly painful amount of mercury in my blood." His diet now is mostly made up of vegetables and land-based protein.[9]
Mentorship
Tony Robbins was 17 when he first saw Jim Rohn speak.[2] According to TonyRobbins.com, Rohn was a farm boy and retail clerk who became a millionaire by 31 from holding motivational seminars nationwide for 40 years. Inspired by Rohn's success and teachings, Robbins took a job organizing his seminars instead of attending college. Robbins would eventually also begin modeling himself after John Grinder, the founder of Neuro-Linguistic Programming (NLP).[10] Grinder was also a key figure in Robbins' success, having authored 14 books and still serving as a fundamental reference point in over 1,000 NLP seminars.[10]
Career
In his early 20s, Robbins started hosting his own seminars. A believer in the power of physiology on health, Robbins started integrating Grinder's technique of fire walking into his seminars. The firewalking exercises were aimed to cultivate strength and resilience for those courageous enough to do it. Robbins' fire walk seminars gained him national attention, particularly after Oprah Winfrey walked on fire during Robbins' Unleash the Power Within seminar.[11]
Eventually, Robbins gained more recognition by writing bestselling books, producing infomercials, and launching the six-day Date with Destiny seminar event.[1] In 2010, Tony Robbins also hosted a reality show called Breakthrough with Tony Robbins and gained more following from his 2016 documentary Tony Robbins: I Am Not Your Guru.[1]
Live Seminars, Virtual Programs, and Workshops
Tony Robbins has attracted and coached thousands of people through his plethora of national business and personal success programs. His programs are specifically designed to help attendees overcome the challenges holding them back from achieving success in the areas of financial success, leadership, and relationships. His recognizable high-energy approach to his live events integrates motivational speaking, storytelling, personal coaching sessions, and group exercises.[12]
Tony Robbins' Most Popular Programs:
Unleash The Power Within
Date with Destiny
Business Mastery
Leadership Academy
Life Mastery
Wealth Mastery 
Philanthropy 
Tony Robbins is a well-known philanthropist. Throughout his career, he has worked to support causes in health, education, youth development, and disaster relief.[13] In 1991, he established The Tony Robbins Foundation, which supports the youth, the homeless, and other underserved communities.[14] Robbins' partnership with Feeding America has provided meals to more than 525 million people in the last five years. The Tony Robbins Foundation provides an additional million meals worldwide each year.[14]
Financial Success
Tony Robbins' net worth and financial success are attributed to multiple achievements. It is said that he receives as much as $300,000 per speaking engagement and that his Unleash the Power Within program nets $9 million per year.[5] Robbins has also sold an estimated 15 million copies of his books, like Awaken the Giant Within, and 50 million audio programs.[5]
He also runs a top-notch certification program for aspiring life coaches and has partnered with celebrities, politicians, and other successful entrepreneurs. Tony Robbins is also the chairman of a company that operates more than 50 profitable businesses, including Robbins Research International and the Namale Resort and Spa in Fiji.[5]
Tony Robbins' current estimated net worth is $600 million.[15]
Family and Personal Life
Tony Robbins has had two marriages and five children.[16] His first marriage was to Becky Jenkins in 1984 until their divorce in 1997. Robbins and Jenkins did not have biological children together, but Robbins adopted her three children from a previous marriage.[16]
In 2001, Tony Robbins married Bonnie "Sage" Robbins, whom he met at a live event. Tony and Sage Robbins have been happily married since and welcomed their first child, a daughter, in April 2021.[17]
Tony Robbins' only biological son, Jairek Robbins, was born in 1984 from Robbins' previous relationship with Liz Acosta. Jairek Robbins follows in his father's footsteps with his performance coaching business.[18]
Tony Robbins Today
Today, Tony Robbins still devotes his energy to being a motivational speaker, philanthropist, and life coach. In January 2023, he hosted a 5-day program called the Become Unshakeable Challenge.[19] The challenge aimed to share tips and patterns of success to help people create a plan that fast-tracks them to achieve their goals in 2023. Tony Robbins is also active on social media, sharing insights and resources with his followers regularly in conjunction with his national speaking events.
When he's not coaching, speaking, or partnering with celebrities, Robbins devotes his energy to helping people through his philanthropy.The Tony Robbins Foundation has provided more than 2,000 grants to human service organizations, supported over 1,700 correctional facilities, and connected thousands of aspiring leaders globally through its youth programs.[14] His foundation continues to support charitable organizations for those in need and is currently on track to provide one billion meals to impoverished communities in the next five years.[14]
In his personal life, Tony Robbins is committed to living healthfully and offers his expertise in a curated 10-Day Health Challenge program.[20] While Robbins' has experimented with following a vegan diet, today, he subscribes to primarily a plant-based diet.[21] Robbins is also known for his daily morning regimen, which includes a workout, meditation, and a gratitude practice.[22]
In his book Money: Master the Game, Robbins reveals that it was the ever-climbing California taxes that prompted him and Sage to move to their ($25 million) home in Palm Beach, Florida.[23] 
Tony Robbins Quotes on Success
References
Leaders Media has established sourcing guidelines that rely on credible, expert-level, and primary sources for articles about people and companies. Articles are frequently edited by staff writers. Learn more about our mission, editorial ethics, and how we source references in our editorial policy.
Any reader who wishes to provide any additions or revisions to this article, including updating any out-of-date information, please email [email protected].