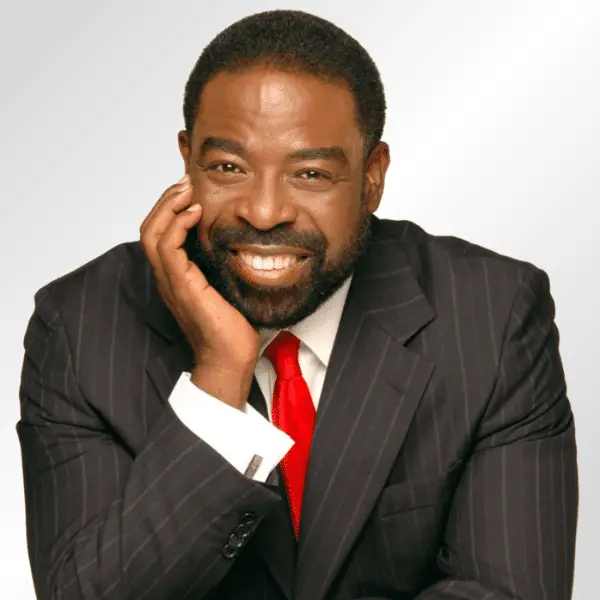 DOB:

February 17, 1945

Age:

78

Country:

United States

Resides:

Fort Lauderdale, FL

Hometown:

Liberty City, Miami, FL

Known For:

Motivational Speaking

Religion:

Christianity

Education:

Booker T. Washington High School
About Les Brown
Leslie "Les" Calvin Brown was born on February 17, 1945, in Liberty City, a neighborhood in Miami, Florida. His birth mother gave birth to him and his twin brother, Wes, on the floor of an abandoned building before putting the brothers up for adoption.[1] 38-year-old Mamie Brown, a cafeteria cook and housekeeper, adopted the twins and raised them on her own. Brown credits his adoptive mother as his source of determination.[2] 
Brown spent his childhood in Liberty City and Overtown, the poorest neighborhoods in Miami. When describing himself as a child, Brown says he was a mischievous student who had trouble concentrating. He was often disruptive in school, threw food during lunch, and, at one point, released pigeons in the school. Because of his poor behavior and his struggle with concentration while learning, he was labeled as "EMR," or educable mentally retarded. According to Brown, the label hurt his confidence, and he lost motivation to try during school.[2]  
While attending Booker T. Washington High School, Brown became more engaged and confident at school. He credits a theater and speech teacher for inspiring him to learn more about public speaking and encouraging him to take speech and debate classes.[2]  
Early Career
After high school, Brown worked as a city sanitation worker, though his goal was to become a radio DJ. He eventually got a part-time job running errands at a local Miami radio station. After observing the DJs, he was asked to cover for a DJ who could not work one day. After he performed well, he was hired as a regular DJ.[1] 
In the late 1960s, Brown left Miami to work at a radio station in Columbus, Ohio. While in Columbus, Brown became more vocal on air about social issues and community activism. However, the station believed Brown was becoming too controversial. In 1975, the station fired him.[3]
Politics and Community Activism
After losing his job with the radio station, Brown's interest in community activism led him into politics. In 1977, he ran as a Democrat for the Ohio State House of Representatives. His campaign was successful, and he went on to serve three terms in the legislature. During his first year, Brown passed more legislation than any other freshman representative in the state's history. During his third term, he served as the chair of the Human Resources Committee.[1] 
In 1981, Brown's mother got sick, and he moved back to Miami to care for her, giving up his position in the Ohio General Assembly. While in Miami, he started a local ministry and began a city contract to provide career coaching to youth. He also had many guest appearances on the local Miami radio station, WEDR-FM.[3]
Brown continued to participate in community activism. In 1982, he organized a voter registration drive, gaining 4,000 new voters. He also organized a demonstration in support of Haitian immigrants. The demonstration was called "the largest peaceful black demonstration in Miami since the civil rights demonstrations of the 1960s."[3]
Brown's youth-training program drew scrutiny from Dade County State Attorney Janet Reno, who opened an investigation claiming Brown had improperly used city funds intended for the program. The investigation went on for 11 months before being dropped.[3] 
Motivational Speaking Career
Because Brown's reputation had suffered during the investigation, he left Miami and moved to Detroit to pursue a public speaking career. Initially, he did not make much money. He lived in his office space and had to beg the landlord for three months of free rent.[2] 
However, Brown's business began to take off, and he eventually started charging $10,000 for each speech appearance. By 1993, he was making more than $1 million in revenue from speaking and selling videos and tapes of his speeches.[3] 
Brown gained national recognition for his talent in speaking. In 1989, the National Speakers Association awarded Brown the Council of Peers Award of Excellence (CPAE). In 1990, he recorded a speech titled "You Deserve," which won a Chicago-area Emmy. In 1992, Toastmasters International named Brown one of the top five speakers in America.[4] 
Brown's national success caught the attention of King Productions, the same network that launched The Oprah Winfrey Show. In 1993, Brown signed a contract with King Productions to host a talk show called The Les Brown Show.[5] The show ran for two seasons.[6]  
Published Books
After gaining attention for his public speaking, Brown decided to put his motivational ideas into a book. His first book, Live Your Dreams, was released in 1992. Brown's other books include the following: 
Family 
Brown has seven children and has been divorced three times.[3] His third marriage was to singer Gladys Knight. It lasted from 1995 to 1997. Brown met Knight while she was performing at the Regal Theater in Chicago.They were married in 1995 at a private ceremony in Las Vegas.[7] 
Many of Brown's children have followed in his footsteps, becoming motivational speakers, including John-Leslie Brown,[8] Serena Brown-Travis,[9] and Sumaya Brown.[10]  
Les Brown Today
Brown's in-person speaking engagements paused in 2020 during the COVID-19 pandemic. At that time, he launched the Prodigy Program, an online weekly training program that provides subscribers with weekly motivational content.[11]
Brown resumed his in-person speaking events in late 2021 with the Hungry for Greatness Live event.[12] He continues to present to both live and online audiences, with a virtual appearance at the Further, Faster Challenge Event in March 2023 [13] and a live appearance in Atlanta, Georgia, in April 2023.[14]
References
Leaders Media has established sourcing guidelines that rely on credible, expert-level, and primary sources for articles about people and companies. Articles are frequently edited by staff writers. Learn more about our mission, editorial ethics, and how we source references in our editorial policy.
The Honorable Les Brown's Biography. (2023). Retrieved 15 March 2023, from https://www.thehistorymakers.org/biography/honorable-les-brown 
Brown, L. (1992). Live your dreams. New York: Morrow.
Smith, W. (1993, May 1). The talking game les brown can't stop gabbing. That's why the ex-sanitation worker from Liberty City is now a best-selling author and TV star, and is rated the world's no. 1 inspirational speakers. Retrieved March 15, 2023, from https://www.sun-sentinel.com/news/fl-xpm-1993-05-02-9302090552-story.html 
Les Brown – Motivational Speakers Hall Of Fame. (2023). Retrieved 15 March 2023, from https://www.getmotivation.com/lesbrown.htm
Brown, L. (1998). It's not over until you win!: How to become the person you always wanted to be, no matter what the obstacle. New York: Simon & Schuster. 
Benson, J. 'Les Brown Show' terminated by King World – Variety. (2023). Retrieved 15 March 2023, from https://variety.com/1993/tv/news/les-brown-show-terminated-by-king-world-116633/
Jet. (2023). Retrieved 15 March 2023, from
https://books.google.com/books
John-Leslie Brown. (2023). Retrieved 15 March 2023, from 
https://www.johnlesliebrown.com/ 
Serena Brown-Travis(2023). Retrieved 15 March 2023, from
https://www.serenabrowntravis.com/home
Power of a Woman/Ignite Your Life Women's Health Event (2023). Retrieved 15 March 2023, from
https://www.youtube.com/watch
Les Brown Prodigy program. (n.d.). Retrieved March 15, 2023, from https://pay.hotmart.com/S60555606R
Muldrow, K. (2021). Les Brown To Host In-Person Motivational Event In Queens. Retrieved 16 March 2023, from https://www.blackenterprise.com/les-brown-to-host-in-person-hungry-for-greatness-live-motivational-event-in-queens/ 
The further faster challenge: Elevate, accelerate and celebrate your life. (n.d.). Retrieved March 15, 2023, from 
https://www.neuroencoding.com/further-faster-challenge 
Les Brown – The Official Website of Les Brown. (2023). Retrieved 16 March 2023, from https://lesbrown.com/
Any reader who wishes to provide any additions or revisions to this article, including updating any out-of-date information, please email [email protected].