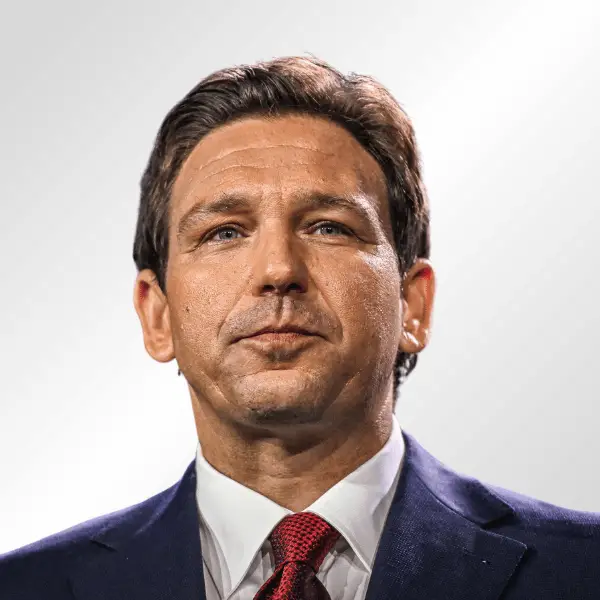 DOB:

September 14, 1978

Age:

45

Country:

United States

Resides:

Palm Coast, FL

Hometown:

Jacksonville, FL

Known For:

Politics

Spouse/Partner:

Casey DeSantis

Religion:

Christianity

Education:

Yale University
About Ron DeSantis
Governor DeSantis is an outspoken advocate of conservatism and an active critic of leftist ideologies. As Florida governor, he has focused on tax reduction, environmental conservation, and educational policies prioritizing school choice and parental involvement. 
As of 2022, DeSantis has a net worth of just over $300,000.[1] His assets include his governor's salary and some retirement and insurance savings plans, while his liabilities include over $21,000 in student loans. 
Ron DeSantis was born on September 14, 1978, to a working-class Italian-American family in Jacksonville, Florida. His mother, Karen, worked as a nurse, while his father, Ronald, installed Nielsen TV rating boxes.[2] The family practiced Roman Catholicism. The late Christina DeSantis, Ron DeSantis' only sister, was born in 1985.[3]
The DeSantis family left Jacksonville to live briefly in Orlando before settling in Dunedin, Florida. In Dunedin, Ron DeSantis attended Our Lady of Lourdes Catholic School and Dunedin High School. As an avid baseball player, DeSantis made it to the 1991 Little League World Series with his team.[4]
After graduating high school in 1997, DeSantis attended Yale University, studying history. While at Yale, he was captain of the varsity baseball team and held various jobs, such as baseball camp coach and electrician's assistant.[5] He graduated with honors in 2001.[6] Following graduation, DeSantis taught history and coached baseball at a private boarding school in Georgia.[7] DeSantis then turned his attention toward law, attending Harvard Law School and obtaining his degree in 2005. 
Family
Ron and Casey DeSantis (formerly Casey Black) were married in 2009 at a ceremony in Disney World.[8] Casey DeSantis is a former television news reporter, talk show host, and producer originally from Ohio. 
After a breast cancer diagnosis in 2021, Casey DeSantis has done extensive work raising funds for cancer research and spreading awareness of the need for early cancer screening. Doctors declared her cancer-free in 2022.[9] Ron DeSantis and his wife have three children, Madison, Mason, and Mamie, born in 2016, 2018, and 2020 respectively.[10]
Military and Legal Career
Following law school, DeSantis used his legal training when he was commissioned as an officer in the U.S. Navy. He was assigned to the Navy Judge Advocate General's Corps (JAG), the legal branch of the Navy. While in the Navy, DeSantis supported operations at the terrorist detention center Guantanamo Bay.[6]
While details about DeSantis' responsibilities at Guantanamo Bay have not been made public, Captain Patrick McCarthy, who supervised DeSantis at Guantanamo Bay, has reported on Desantis' responsibilities. He says DeSantis "made sure [detainees] were addressed in a way that was consistent with the law."[11]
Following his assignment at Guantanamo Bay, DeSantis was deployed to Iraq, where he served as a legal advisor. Upon his return to the United States in 2008, DeSantis worked as a federal prosecutor when the U.S. Department of Justice appointed him to serve as a Special Assistant U.S. attorney in Florida.[12]
DeSantis received numerous accolades during his military career, including the Bronze Star Medal, the Navy and Marine Corps Commendation Medal, the Global War on Terrorism Service Medal, and the Iraq Campaign Medal.[13]
Political Career
DeSantis has been involved in politics since 2012, first serving in the House of Representatives and later as a Florida governor. After being elected to the U.S. House of Representatives in November 2012 with 57% of the vote,[14] he was reelected again in 2014 and 2016. 
While serving as a U.S. House representative, DeSantis was a member of several committees, including the Committee on Foreign Affairs, Committee on the Judiciary, Committee on Oversight on Government Reform, and Republican Study Committee. He also served as chairman of the Subcommittee on National Security.[15]
In 2015, DeSantis joined other house representatives to become a founding member of the House Freedom Caucus, a conservative congressional caucus. While DeSantis was involved, some of the group's key tenets included opposition to Speaker of the House John Boehner and the rejection of the American Health Care Act—the proposed bill to replace the Affordable Care Act.[16]
In 2018, DeSantis resigned his seat in the U.S. House of Representatives to campaign for governor. His campaign platform included support for constitutional carry gun legislation,[17] a state-wide ban on sanctuary cities, lowering corporate taxes, protecting Florida's environment, and improving school's reading and math scores.[18] DeSantis beat his opponent in the election, becoming governor by a 0.4% margin of victory. In 2022, DeSantis was reelected with a 19% margin of victory.[19]
Policies and Beliefs
Conservatism and Anti-Leftism
As a Republican politician, Governor DeSantis supports conservative policies and has been an outspoken critic of leftist ideologies. In April, DeSantis signed legislation designed to "take on both corporate wokeness and Critical Race Theory in schools in one act."[20]
Governor DeSantis said about the act, "No one should be instructed to feel as if they are not equal or shamed because of their race. In Florida, we will not let the far-left woke agenda take over our schools and workplaces. There is no place for indoctrination or discrimination in Florida."
Continuing his criticisms of "wokeness" and leftist ideologies, DeSantis made a statement criticizing the NCAA for allowing transgender swimmer, Lia Thomas, to compete in the women's swimming championship and become the first transgender athlete to win an NCAA Championship.[21]
DeSantis stated, "The NCAA's actions serve to erode opportunities for women athletes and perpetuate a fraud against women athletes as well as the public at large. Florida rejects the NCAA's efforts to destroy women's athletics, disapproves of the NCAA elevating ideology over biology, and takes offense at the NCAA trying to make others complicit in a lie."
Governor DeSantis has actively supported other Republican politicians, like Donald Trump,[22] while also speaking out against Democratic politicians. In April 2022, he expressed his distaste for Georgia's Democratic gubernatorial candidate, Stacey Abrams. He said, "If Stacey Abrams is elected governor of Georgia, I just want to be honest, that will be a cold war between Florida and Georgia," he said. "I can't have [former Cuban communist leader Raul] Castro to my south and Abrams to my north. That would be a disaster."[23]
Environmental Conservation
During his 2018 campaign for governor, DeSantis promised to be a strong advocate for the environment and believes conservation is an essential conservative value. Soon after his inauguration in 2019, DeSantis pledged to secure $2.5 billion for Everglades restoration projects and the protection of water resources.[24] His other environmental conservation projects include creating an algae task force, a wildlife corridor, an Office of Environmental Accountability, and protections for manatees.[25]
Education
Education has been a significant focus of DeSantis' work as governor. He signed legislation providing $24.3 billion for public education, which went toward increasing teacher pay and improving school safety.[26]
Governor DeSantis supports school choice, parent involvement in children's education, and local control of curriculum. In 2021, he signed legislation expanding the state's private school voucher program by $21 million.[26] In 2022, he passed the Parental Rights in Education Act, which has colloquially been referred to as the "Don't Say Gay" act.[27] This act prohibits schools from holding classroom discussions involving sexual orientation or gender identity for kindergarten through third-grade students.  
Other education laws passed during DeSantis' tenure as governor include a change to the testing system in Florida schools,[28] a requirement for high school students to enroll in a financial literacy course,[26] and a mandate to observe Victims of Communism Memorial Day in public schools.[29]
Economy
Governor DeSantis has worked to lower corporate and consumer taxes, enacting multiple tax holidays through a $1.2 billion tax relief package.[30] In 2022, DeSantis announced a budget surplus of $21.8 billion, a record for the state of Florida.[31] He believes the federal deficit should be reduced primarily through cutting spending and sparking economic growth rather than through major tax increases.[32]
Immigration
Governor DeSantis does not support the creation of sanctuary cities, cities that limit their cooperation with the federal government's efforts to enforce immigration law. In 2019, DeSantis signed a bill banning sanctuary cities from the state.[33]
Additionally, DeSantis has heavily criticized the Biden administration's immigration policies and frequently refers to the current state of immigration in the U.S. as the "Biden Border Crisis."[34] Upon declaring a state of emergency in the state of Florida to manage an influx of migrants from Cuba and Haiti, DeSantis gave a statement. He said, "As the negative impacts of Biden's lawless immigration policies continue unabated, the burden of the Biden administration's failure falls on local law enforcement who lack the resources to deal with the crisis."[35]
Due to the numerous migrants arriving in Florida from other countries, the DeSantis administration signed legislation allocating $12 million to relocate migrants to other states.[36]
Other immigration policies from the DeSantis administration include the requirement for government employers and private companies that contract with the government to use E-verify, a system that ensures the legal immigration status of all employees.[37]
DeSantis Today
DeSantis continues to serve as Florida Governor in 2023. However, many believe he will announce a U.S. presidential campaign before the end of the year. Although he tops many publications' lists of likely candidates to run for the 2024 Republican presidential nomination against Donald Trump,[38][39] DeSantis has declined to confirm or deny his presidential run.[40]
Many people point to evidence of an upcoming DeSantis presidential run, such as ad spending targeting early voting states,[41] a forthcoming autobiography,[42] and multiple polls suggesting he would perform well in an election.[43]
Former president Donald Trump similarly believes DeSantis is considering a presidential run. However, Trump is unsupportive of a DeSantis presidential campaign. He said, "Ron would have not been governor if it wasn't for me . . . when I hear he might run, I consider that very disloyal."[44]
References
Leaders Media has established sourcing guidelines that rely on credible, expert-level, and primary sources for articles about people and companies. Articles are frequently edited by staff writers. Learn more about our mission, editorial ethics, and how we source references in our editorial policy.
Any reader who wishes to provide any additions or revisions to this article, including updating any out-of-date information, please email [email protected].