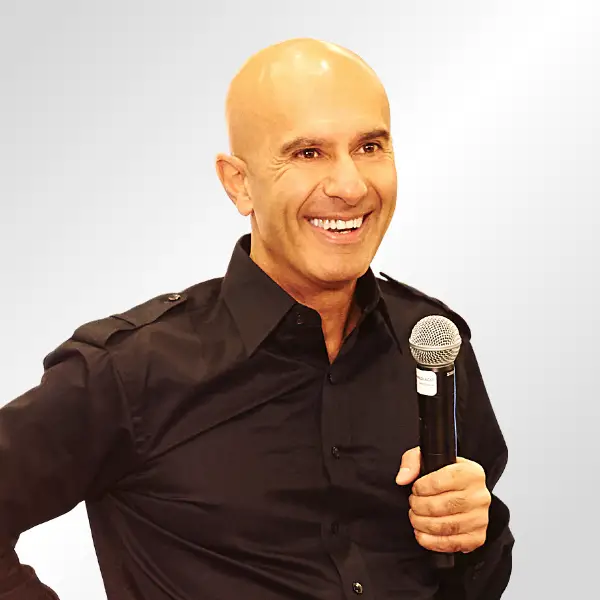 Robin Sharma
Authors, Non-Fiction
Spiritual Leaders
DOB:

June 16, 1965

Age:

58

Country:

United States

Resides:

Toronto

Hometown:

Port Hawkesbury, Canada

Known For:

Author of The Monk Who Sold His Ferrari

Religion:

Hinduism

Education:

Dalhousie University
About Robin Sharma
Robin Sharma was born on June 16, 1965, in Uganda and raised in Port Hawkesbury, Canada. His father was a physician and mother was a teacher. He was raised in a family of traditional Indian values.[2][3] 
Sharma pursued his studies in the field of law and attended the Schulich School of Law at Dalhousie University in Halifax, Nova Scotia, where he earned his Bachelor of Laws (LL.B.) degree. After completing his legal education, he became a lawyer and practiced law for a short period of time.[4]
While Robin Sharma had a successful career as a lawyer, he eventually transitioned into the realm of personal development, leadership, and writing. He began writing books, delivering speeches, and coaching individuals and organizations to help them achieve personal and professional excellence. His first book, which he wrote when he was 25 (and was edited by his mother), was published at a Kinko's copy shop. He stored 2,000 copies in his kitchen and gave them out to family members, friends, and colleagues.[5] 
His second book is his most notable work, and although it was originally self-published, Sharma was discovered by former HarperCollins president Ed Carson at a bookstore and took on the now international bestseller The Monk Who Sold His Ferrari. This book catapulted him into the global spotlight and established him as a prominent figure in the field of personal development and leadership. Since then, he has authored several other best-selling books and has sold millions of copies in over 92 languages and dialects, making him one of the most widely read authors in the world.[5] 
The success of Sharma's books has made him a sought after speaker, and he's now considered a leadership guru. His main message on leadership is that it's not about having a title, but instead about a mindset and way of being. Sharma believes that every person at every level of an organization can be a leader, and that mentality builds undefeatable companies.[6] 
Publications
​​Megaliving: 30 Days to a Perfect Life (1995): In this book, Sharma shares practical principles and techniques to help readers transform their lives and achieve personal and professional success.[7]
The Monk Who Sold His Ferrari (1999): This best-selling book tells the story of a lawyer who embarks on a journey to find true happiness and fulfillment. It offers life lessons and wisdom on how to live with purpose, balance, and inner peace.[8]
Leadership Wisdom From The Monk Who Sold His Ferrari (2003): Building upon the success of his first book, Sharma provides leadership insights and practical strategies for individuals seeking to lead themselves and others with excellence.[9]
Who Will Cry When You Die? (2003): In this book, Sharma offers valuable lessons and principles for living a meaningful life and making a positive impact on the world.[10]
The Saint, the Surfer, and the CEO (2003): Combining fiction and wisdom, this book presents a powerful story that explores the important aspects of life, including purpose, success, and happiness.[11]
Family Wisdom From The Monk Who Sold His Ferrari (2004): In this book, Sharma delves into the theme of family and relationships, offering guidance on how to nurture and strengthen family bonds while achieving personal growth and fulfillment.[12]
Discover Your Destiny with The Monk Who Sold His Ferrari (2004): This book explores the quest for personal destiny and provides practical insights and strategies for finding one's life purpose and living a fulfilling life.[13]
The Greatness Guide: Powerful Secrets for Getting to World Class (2006): Sharma shares practical tips and strategies for achieving excellence and becoming world-class in various aspects of life, including work, relationships, and personal well-being.[14]
The Greatness Guide, Book 2: 101 More Insights to Get You to World Class (2008): Building on the success of the first volume, this book provides additional insights and principles to help readers reach their full potential and live a life of greatness.[15]
The Leader Who Had No Title (2010): This book introduces the concept of "Lead Without a Title" and offers principles and strategies for leading with excellence and making a positive impact, regardless of one's position or title.[16]
The Secret Letters of The Monk Who Sold His Ferrari (2011): In this book, Sharma presents a collection of letters from a fictional character named Julian Mantle, offering profound wisdom and life lessons for personal growth and transformation.[17]
The 5 AM Club: Own Your Morning. Elevate Your Life (2018): Sharma shares a compelling story and presents a formula for personal and professional success by leveraging the power of early mornings, productivity, and self-mastery.[18]
Sharma Leadership International
Today, Robin Sharma is considered to be one of the top leadership and personal mastery experts in the world. He is the founder of Sharma Leadership International Inc., a global consultancy firm with clients that include NASA, Microsoft, Nike, Starbucks, General Electric, Yale University, IBM Watson, and many more.[6] 
He currently works as a global speaker who "possesses the rare ability to electrify an audience while delivering uncommonly original and tactical insights that lead to individuals doing their best work, teams providing superb results and organizations becoming unbeatable," according to the Robin Sharma website.[5] 
According to an independent survey of over 22,000 business people, Robin Sharma is ranked in the top five of the world's leadership gurus, along with Jack Welch, Jim Collins, and John Maxwell. Through his writings, speeches, and coaching programs, Robin Sharma has inspired millions of people worldwide to lead extraordinary lives and reach their fullest potential.[5]
Sharma is also the founder of the Robin Sharma Foundation for Children, which raises funds from around the world and donates them to children's causes.[19] 
References
Leaders Media has established sourcing guidelines that rely on credible, expert-level, and primary sources for articles about people and companies. Articles are frequently edited by staff writers. Learn more about our mission, editorial ethics, and how we source references in our editorial policy.
Any reader who wishes to provide any additions or revisions to this article, including updating any out-of-date information, please email [email protected].