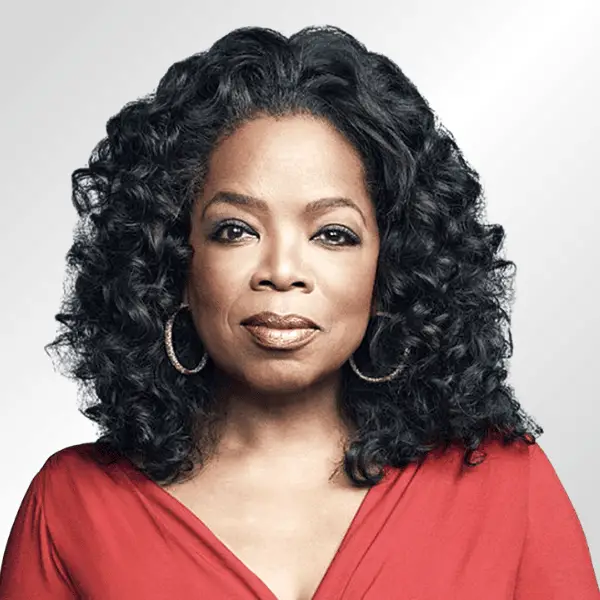 DOB:

January 29, 1954

Age:

69

Country:

United States

Resides:

Montecito, CA

Hometown:

Kosciusko, MS

Known For:

The Oprah Winfrey Show

Religion:

Christianity

Education:

Tennessee State University
About Oprah Winfrey
Rising from a traumatic childhood into self-made stardom, Oprah Winfrey is an icon of American success. Winfrey was raised by her grandmother in Mississippi before moving to Wisconsin to live with her mother. Sexual abuse and teenage pregnancy, however, drove Winfrey to seek a fresh start with her father in Nashville, Tennessee, when she was 14 years old.[4]
It was in Nashville that Winfrey began exploring a career in broadcasting, ultimately leading her to become a CBS news anchor at 19.[1] Her success catapulted from there with various other media pursuits and, ultimately, her name-sake TV show, The Oprah Winfrey Show.[1] Today, her net worth is estimated at $2.5 billion.[5] 
Early Life
Oprah Winfrey was born on January 29th, 1954, in rural Kosciusko, Mississippi.[1] Winfrey's parents, Vernita Lee and Vernon Winfrey, were never married, and Winfrey's teenage mother lacked the ability to care for her. Winfrey, therefore, was raised by her maternal grandmother on her pig farm until she was six.[4] Life on the farm was challenging. Winfrey wore potato sacks as a dress to school because her family couldn't afford clothing.[6] Despite the hardships, Winfrey's grandmother taught Winfrey how to read by two and a half years old, and Winfrey had even given an address to their church congregation at two.[7] 
When Winfrey was six, she was sent to live with her mother and two half-brothers in Milwaukee, Wisconsin.[4] The neighborhood they lived in was very poor and dangerous. When Winfrey was nine, she began experiencing sexual abuse by male relatives and her mother's friends. When she was 14, Winfrey became pregnant. 
Life With Her Father 
To start fresh, Winfrey moved to Nashville, Tennessee, to live with her father while she was pregnant. Sadly, Winfrey's baby died in the hospital weeks after its birth.[4] Still, Winfrey has said that living with her father saved her life.[7] Vernon Winfrey, who was a councilman and had made a name for himself as a prominent Nashville barber, gave Winfrey structure.[8] He also provided her with books and required her to complete weekly book reports. Winfrey would be denied dinner until she could prove that she had learned five new words each day. Vernon Winfrey's strict rules resulted in his daughter excelling at school and even joining the student council, drama club, and debate club.[7] 
In 1971, when Winfrey was 17, she enrolled in Tennessee State University with a full scholarship.[1] During her freshman year, Winfrey became Miss Black Nashville and Miss Tennessee.[7] While she left Tennessee State University to pursue a broadcasting career, she eventually completed her degree in 1986.[1] 
Television and Media
Winfrey received two job offers from the Nashville Columbia Broadcasting System (CBS) while at Tennessee State. A speech professor advised her to take the job, which is why she left, and by age 19, Winfrey had become a news anchor for CBS. By 22, Winfrey was a reporter and co-anchor for ABC News. Then, in 1977, at 23, Winfrey left news reporting to co-host People Are Talking, a daily morning show in Baltimore, Maryland.
Media career snapshot:[1]
1984: Winfrey moves to Chicago to host AM Chicago.
1985: Winfrey's success with AM Chicago prompts the renaming of it to The Oprah Winfrey Show.
1985: Winfrey plays Sofia in Steven Spielberg's movie adaptation of The Color Purple.
1986: The Oprah Winfrey Show becomes the highest-rated daily talk show, winning several Emmy Awards.
1986: Winfrey forms her own TV production company called Harpo Productions, Inc.
1989: Winfrey lands a role in the TV miniseries The Women of Brewster Place.
1990: Winfrey forms her own film production company called Harpo Films.
1997: Winfrey stars and produces a movie adaptation of Before Women Had Wings.
1998: Winfrey stars and produces a movie adaptation of Beloved.
1998: Winfrey co-founds Oxygen Media, a television network for women.
2011: Winfrey's Oprah Winfrey Network (OWN) replaces the Discovery Health Channel.
2014: Winfrey produces and appears in Selma, which was nominated for an Academy Award.
2017: Winfrey stars in the HBO TV series The Immortal Life of Henrietta Lacks.
2018: Oprah Winfrey signs a deal with Apple TV+ to produce content.
2020: Winfrey produces and hosts Oprah Talks COVID-19.
2021: Winfrey is the first to interview Prince Harry and Meghan Markle since leaving the British royal family.
The Oprah Winfrey Show
The Oprah Winfrey Show launched in 1986 following the success of its former name AM Chicago. The show ran for 25 seasons, until 2011, gathering an audience of 10 million people from across 120 different channels. At the end of the first year, The Oprah Winfrey Show had grossed $125 million. In 1990, when Winfrey formed Harpo Productions ("Oprah" backwards), she bought the show from ABC, becoming the host and the owner.[2] 
Winfrey's commitment to demonstrating value toward others while remaining true to herself was evident on The Oprah Winfrey Show. While other TV talk shows were becoming increasingly tabloid-centered and dramatically rehearsed, Winfrey kept her show authentic and inspirational.[2] Instead of exploiting viewers and guests, Winfrey's show became known for the abundant giveaways and free trips audience members would receive. Winfrey also took care of her show's staff. Once, Winfrey gave each of her 1,000+ employees a trip to Hawaii, all expenses paid.[9]   
The Oprah Winfrey Network (OWN)
In 2008, Winfrey made a 50/50 deal between Discovery Communications and her Oprah & Friends radio channel, bringing to life the Oprah Winfrey Network (OWN). In 2011, Winfrey announced that The Oprah Winfrey Show would be discontinued, and in 2012, she launched Oprah's Next Chapter.[1] OWN went on to have considerable success, particularly after partnering with Tyler Perry for scripting in 2012, and even signed a deal with Apple TV+ in 2018.[10] 
In 2017, Winfrey sold 25% of OWN to its partner, Discovery Communications, for $70 million.[11] In 2020, Winfrey sold an additional 20.5% to Discovery for $36.5 million. OWN is said to be valued at about $180 million.[10] Her financial success has put Winfrey at the top of the "Billionaires," "Power Women," and "Top Celebrity 100" Forbes lists.[12]
Publications
In 1996, Winfrey launched an on-air book club for The Oprah Winfrey Show. For the book club, Winfrey would announce a few books to viewers a couple of weeks before the book club airing. Then, during the airing, Winfrey and a group of guests would discuss the book.[1] 
Winfrey's on-air book club, which has now featured 98 books, had a significant positive impact on the publishing industry, massively boosting the sales of each book she featured.[1][13]The success of this led her to publish her own magazine in 2000, called O, the Oprah Magazine, which became a digital publication in 2020 called O Quarterly.[1]   
Winfrey has also written and published many books. Her most recent, What Happened To You?, was co-written with brain expert Bruce D. Perry, M.D, Ph.D., and explores how trauma shapes behavior. 
Other books by Oprah Winfrey:
What I Know For Sure (2014)
Mr. or Ms. Just Right (2016)
Food, Health, and Happiness (2017)
The Wisdom of Sundays (2017)
The Path Made Clear: Discovering Your Life's Direction and Purpose (2019)
Religion and Leadership Philosophy
Oprah Winfrey was raised in the Baptist theology and identifies as a Christian today. According to Kathryn Lofton, a Yale religious studies professor and author of Oprah: The Gospel of an Icon, Winfrey believes in the New Testament in the Bible and in serving others.[14] Winfrey is also an advocate of manifestation and more new-age thoughts such as those presented in The Secret, a bestselling book Winfrey piously promoted.[15] 
Winfrey's core beliefs are reflected in her leadership. As she, herself, has credited authenticity, vision, and philanthropy for her success, she leads with those values front and center, encouraging others to do the same in their own lives.[9] Her inspirational and visionary leadership is what has earned the respect of her viewers and followers.[2] 
Family and Personal Life
Oprah Winfrey lives in Chicago, Illinois, with her long-time partner, Stedman Graham. Graham, a public relations executive, and Winfrey have been together and engaged since 1992 but have yet to be married. Winfrey and Graham also share homes in Montecito, California, Rolling Prairie, Indiana, and in Telluride, Colorado.[2] Winfrey has no children of her own, and she has been open about her decision and beliefs on that.[16] 
In her spare time, Winfrey enjoys organizing political fundraisers and starting her mornings with meditation and exercise.[17][18] She also enjoys watching the sunsets from her porch at her home in Montecito, California, which she calls the "Promised Land."[18][19]
Oprah Winfrey's father, Vernon Winfrey, died on July 8, 2022, after battling cancer.[20] Winfrey's mother, Vernita, died in her home in 2018.[21] 
Oprah Winfrey Today
Today, at 69, Oprah Winfrey honors her daily routines, taking careful measure to enjoy each small, simple moment.[1] When Winfrey is home, she begins each day at 7:10 a.m. She then takes her time getting out of bed before making her favorite espresso and meditating. Winfrey enjoys having lunch with her partner using vegetables from her garden and sometimes inviting friends like Jennifer Lawrence to join her.[18] 
Winfrey is active on social media, with millions of followers on Instagram. She has recently shared videos of making homemade breadsticks with friends, hiking—"because it's my new passion"—traveling in Hawaii, and sharing post-hike recipes.[22]
Oprah Winfrey Quotes
References
Leaders Media has established sourcing guidelines that rely on credible, expert-level, and primary sources for articles about people and companies. Articles are frequently edited by staff writers. Learn more about our mission, editorial ethics, and how we source references in our editorial policy.
Any reader who wishes to provide any additions or revisions to this article, including updating any out-of-date information, please email [email protected].