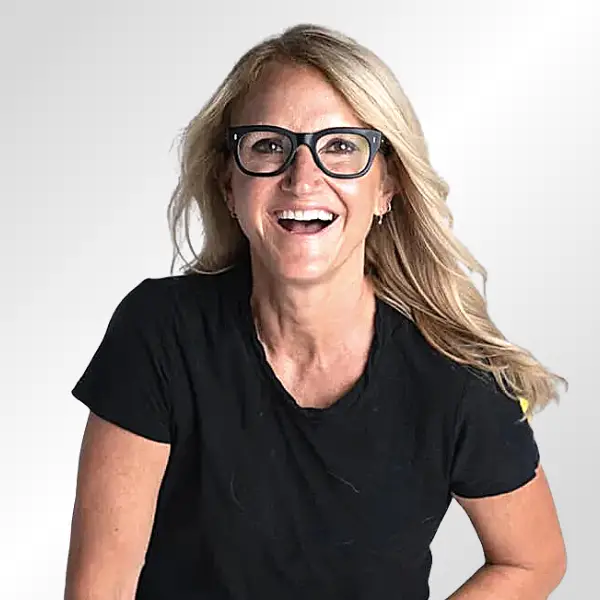 Mel Robbins
Authors, Non-Fiction
Personal Growth
DOB:

October 6, 1968

Age:

55

Country:

United States

Resides:

Boston

Hometown:

Kansas City, MO

Known For:

TEDx Talk and bestselling books

Spouse/Partner:

Christopher Robbins

Education:

Dartmouth College
About Mel Robbins
Mel Robbins has been a frequent guest on television and radio programs, and is one of the most-booked speakers in the world, providing advice and inspiration to entrepreneurs, small business owners, female CEOs, and more.[3] 
Robbins was born on March 2, 1968, in Kansas City, Missouri, to parents Robert and Marica Schneeberger. When she was a young girl, her family moved to North Muskegon in West Michigan.[4] 
Robbins attended Dartmouth College in New Hampshire and earned a degree in history. She then enrolled in Boston College's Law School and graduated with her law degree in 1994. In 1996, she married Christopher Robbins, founder of Soul Degree, an adventure-inspired personal development program for men. The couple has three children.[5][6]
Robbins initially pursued a successful career as a criminal defense attorney and worked in New York City. She went on to join CNN as a legal analyst and covered topics such as the George Zimmerman trial.[7] "Being a lawyer taught me how to be a bold speaker, and it taught me how to look at arguments from both sides, which gives me a broader perspective on almost any topic," Robbins said for a Boston College article.[8] 
Robbins started her own business as a life coach after getting help from a life coach who suggested she'd be helpful to others. She attracted executives from Johnson & Johnson and Wells Fargo with a unique approach to making change: doing it with small decisions that add up over time.[7] 
She began hosting her own syndicated radio show named The Mel Robbins Show, which offered advice to callers across the United States. She also hosted an A&E television series called Monster In-Laws and a series by Fox called Someone's Gotta Go. [9][10]
The 5 Second Rule
The "5 Second Rule" is a self-help technique and psychological trick popularized by Robbins during her famous 2011 TEDx Talk, which launched her public speaking career. When you have an impulse to take action toward a goal, you should count backwards from 5 to 1 and then take immediate action, according to Robbins. The theory is that counting backwards for five seconds disrupts the negative self-talk and hesitation that often accompanies decision-making. This allows individuals to take action toward their goals without procrastination.[11]
In her speech, Robbins discusses the "inner snooze alarm" that stops people from taking action to change their lives. "In any area of your life that you want to change, there's one fact that you need to know: You are never going to feel like it," she says. Robbins explains that people need to come face to face with the physical force (scientifically called "activation energy") that's required to change their behaviors in order to get out of autopilot. "It's your job to do the crap you don't want to do, so you can be everything that you're supposed to be," she said. Using the 5 Second Rule gets people to act right away, putting in that activation energy before fear comes into play.[11] 
Author
Stop Saying You're Fine: The No BS Guide to Getting What You Want was published in 2012 and discusses the psychological and social factors that repeatedly hold people back. Robbins offers a unique set of tools and methods that help people get to where they want to be.[12] 
The 5 Second Rule: Transform Your Life, Work, and Confidence with Everyday Courage was published in 2017 and it expands on Robbins' "5 Second Rule" discussed during her 2011 TEDx Talk. She explains the science of habits and the power of a "push moment" to drive action.[13] 
In 2018 and 2019, Robbins collaborated with Audible to release three original programs, Kick Ass with Mel Robbins, Take Control of Your Life, and Work It Out.[1]
In Kick Ass with Mel Robbins, listeners can experience private sessions between Robbins and eight people who are working through life problems. She discusses the underlying issues that are holding people back and how to disrupt their patterns.[14] 
In Take Control of Your Life, Robbins helps listeners overcome fear, which she describes as their single biggest obstacle. She discusses the fear of change, rejection, being alone, and imposter syndrome using one-on-one coaching sessions and personal narratives.[15] 
Work It Out provides advice and inspiration on how to create the career of your dreams, using research-based strategies.[16] 
The High 5 Habit was published in 2021 and suggests giving yourself the same love, or high fives, that you give everyone else in life.[17] 
Speaker and Podcast Host
Mel Robbins' well-known TEDx Talk has been viewed by over 30 million people on YouTube, where she introduced the 5 Second Rule that would become the topic of her bestselling book.[3] 
Robbins is hired as a speaker at various events, supplying advice on online marketing and advertising, internet monetization models, Google Analytics, content aggregation, improving productivity, among other topics. She creates customized speeches and participates in multi-event leadership series, including a 19 city event tour with a Fortune 50 financial services client and an eight series tour for a Fortune 10 telecommunications company.[3] 
Robbins has also appeared on numerous television shows and networks to discuss her work and offer advice, including CNBC, the Fox Business Network, The Today Show, and Dr. Phil.[17] 
As a CNN legal analyst, Robbins regularly appears on the network's programming and in 2014, she won "Outstanding News Talk Show Host" at the Gracie Awards.[10] 
In 2022, Robbins launched The Mel Robbins Podcast with the mission to "inspire, motivate, and empower you to create a better life," she said.[18] Her podcast gets personal, inviting the audience into her life to discuss relatable topics, tactical advice, screwups, tools, and inspirations for a better life.[19] 
Mel Robbins Quotes
"You need to hear this loud and clear: No one is coming. It is up to you." —Mel Robbins, Stop Saying You're Fine: Discover a More Powerful You
"If you only ever did the things you don't want to do, you'd have everything you've ever wanted." —Mel Robbins, Stop Saying You're Fine: Discover a More Powerful You
"That's the problem with so many adults, we're all focused on getting it perfect, instead of trying. What ever happened to good enough?" —Mel Robbins, Stop Saying You're Fine: Discover a More Powerful You
"Hesitation is the kiss of death. You might hesitate for a just nanosecond, but that's all it takes. That one small hesitation triggers a mental system that's designed to stop you. And it happens in less than—you guessed it—five seconds." —Mel Robbins, The 5 Second Rule: Transform Your Life, Work, and Confidence with Everyday Courage
"You aren't battling your ability to stick to a diet, execute a business plan, repair a broken marriage and rebuild your life, hit your goals, or win over a bad manager—you are battling your feelings about doing it. You are more than capable of doing the work to change anything for the better, despite how you feel. Feelings are merely suggestions, ones you can ignore. To change you must do the same, you must ignore how you feel, and just do it anyway." —Mel Robbins, The 5 Second Rule: Transform Your Life, Work, and Confidence with Everyday Courage
Impact 
Today, Mel Robbins is a world-renowned entrepreneur and one of the most highly paid and booked female speakers across the globe.[20] 
On the Mel Robbins website, she describes her overall mission: "To share proven tools that empower you to create a better life. And, it's to make you feel a little less alone, to encourage you every step of the way, and laugh a lot as we learn and grow together."[21] 
References
Leaders Media has established sourcing guidelines that rely on credible, expert-level, and primary sources for articles about people and companies. Articles are frequently edited by staff writers. Learn more about our mission, editorial ethics, and how we source references in our editorial policy.
Any reader who wishes to provide any additions or revisions to this article, including updating any out-of-date information, please email [email protected].