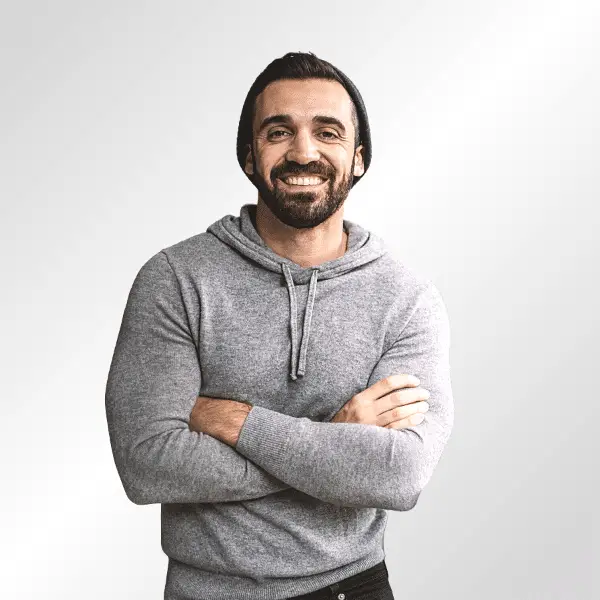 DOB:

December 15, 1987

Age:

35

Country:

United States

Resides:

Los Angeles, CA

Hometown:

USA

Known For:

Documentary Filmmaker

Spouse/Partner:

Natalie Pidding
About Matt D'Avella
Matt D'Avella was born on December 15, 1987, in New Jersey. As a young adult, he recalls graduating college with $97 to his name and then racking up a large amount of credit card debt to purchase things including clothes and a car.[4][5] Living in his parent's basement and struggling to climb out of debt was one of his main inspirations for becoming involved in the minimalist lifestyle and movement.[1] 
D'Avella spends much of his time discussing the concept of minimalism in his videos and podcast episodes, explaining how to focus on what's important in life and cutting out the excess. Before he became known on YouTube, D'Avella worked as a freelance filmmaker. One of his most notable works is Minimalism: A Documentary About the Important Things.[6]  
The film, which was co-directed and co-produced by D'Avella, follows the lives of Joshua Fields Millburn and Ryan Nicodemus, known as "The Minimalists," as they discuss living a meaningful life with less. The documentary was picked up by Netflix and brought attention to both D'Avella's work and the minimalist lifestyle.[2]  
Today, D'Avella and his wife, Natalie, a writer and editor, split their time between the U.S. and Australia.[7]In D'Avella's words, his main purpose today is to "create content about taking a realistic approach to minimalism, sustainable habits, and breaking out of your comfort zone."[1] His work has been featured in Forbes, The Guardian, BuzzFeed, Vice, and other major media outlets.[1] 
Filmmaking Career
D'Avella began his career as a freelance filmmaker and director. He started by making short films and videos before getting his big break directing Minimalism. His videos and films explore the modern movement toward a minimalist lifestyle, which promotes simplicity and the intentional reduction of possessions and distractions, focusing on what's truly important in life.[1]  
Here are some key aspects of minimalism covered in D'Avella's documentary, YouTube videos, and podcast episodes:[2][3] 
Intentionality: D'Avella recommends making conscious decisions about what you invite and keep in your life, as well as how you choose to spend your time and what goals or activities you prioritize.
Simplicity: At its core, minimalism is about simplicity and removing excess, clutter, unused physical possessions, tiresome commitments, or even distracting thoughts and habits.
Focus on Value: Minimalism isn't about owning as few things as possible; it's about focusing on what adds value to your life, such as a hobby, a passion, or relationships. 
Consumption: Minimalism often goes hand in hand with being mindful of consumption. This can mean choosing quality over quantity, being aware of environmental impact, and resisting the modern culture of consumerism.
Design: D'Avella directed the documentary Design Disruptors which explores some of the most successful design-related companies in the world and their "transformative powers."[8] 
YouTube and Social Media Content
D'Avella started his YouTube channel in 2016, where he posts videos about minimalism, habits, and personal development.[9] Since starting his channel, D'Avella has produced an extensive amount of content on his YouTube channel (over 417 videos) and has garnered over 3.7 million subscribers. His video called "A Day in the Life of a Minimalist" has over 17.5 million views.[10] 
His videos often involve personal experiments where he tries out different lifestyle changes and documents the results. For example, he's made videos about waking up at 5 a.m., giving up coffee, taking cold showers, or working out every day for a month. His videos are notable for their high production values, thoughtful narrative, and candid discussion of D'Avella's own journey toward growth and happiness.[9] 
In addition to his YouTube channel, D'Avella has a large following on Instagram that has more than 380,000 followers.[11] 
Podcast
Adding to his filmmaking and YouTube work, D'Avella hosts a podcast called The Ground Up Show. On this podcast, he interviews creators, entrepreneurs, and experts about their experiences, successes, and failures. The podcast is an extension of his work on YouTube, where he often discusses topics related to minimalism, personal development, and habit formation.[12] 
On The Ground Up Show, D'Avella airs interviews that are usually long-form and involve deep dives into the guest's experiences, successes, and failures. Topics can range from discussions about personal habits, "taking small steps" toward greater productivity, mental health, and the challenges of creative work.[12] 
The podcast's name reflects D'Avella's emphasis on the process of building success from the ground up. It's about starting from scratch, taking small steps, and working hard to achieve big goals. The podcast seeks to provide practical advice and inspiration for those looking to make changes in their lives or pursue creative endeavors.[12] 
Slow Growth Academy Courses
D'Avella is the creator of two courses, which are offered through his website and the Slow Growth Academy. Slow Growth Academy focuses on topics including habit formation, content creation, overcoming procrastination, and mastering YouTube. His courses are named "Simple Habits" and "Master YouTube," which have the goal of helping people overcome self-doubt, make better decisions, and produce valuable work that can be shared effectively with others.[13][14] 
References
Leaders Media has established sourcing guidelines that rely on credible, expert-level, and primary sources for articles about people and companies. Articles are frequently edited by staff writers. Learn more about our mission, editorial ethics, and how we source references in our editorial policy.
Any reader who wishes to provide any additions or revisions to this article, including updating any out-of-date information, please email [email protected].