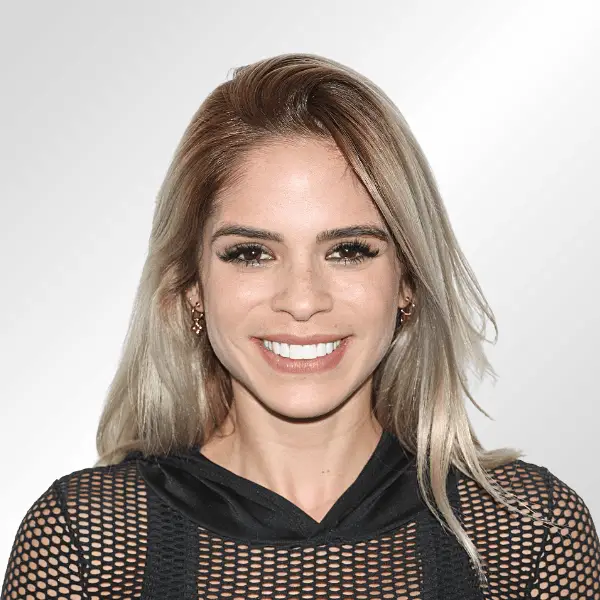 DOB:

February 25, 1986

Age:

37

Country:

United States

Resides:

Miami, FL

Hometown:

Maracay, Venezuela

Known For:

Fitness

Spouse/Partner:

Jimmy Lewin

Religion:

Christianity
About Michelle Lewin
Michelle Lewin was born on February 25, 1986, in Maracay, Venezuela. She started bodybuilding after she moved to the United States from Venezuela in 2012.[1] Before that, she had been a model and had done some fitness training but had not competed in bodybuilding. 
After moving to the U.S., Lewin was introduced to the world of bodybuilding by her boyfriend (now husband) Jimmy Lewin, who is also a bodybuilder.[4] She began training intensively, focusing on building muscle and developing her physique. She supposedly put on about 25 lbs of muscle at the time.[5] 
Along her fitness journey, Lewin has created various workout programs and nutrition guides, and authored a book on fitness and health. She has been featured on the cover of many fitness magazines and has appeared in music videos, commercials, and podcasts.
Today, Lewin is considered one of the most influential fitness models in the world, as she motivates people to live an active lifestyle.[6] After announcing she was pregnant in August 2022, she shifted to focusing on fitness during pregnancy, inspiring moms-to-be to take great care of themselves.[7] 
Fitness and Bodybuilding Career
Lewin has competed in many fitness and bodybuilding competitions throughout her career, especially in 2013 and 2014.[8] She placed in the top 10 in some of the following bodybuilding competitions:[2] 
NPC Fort Lauderdale Cup: Won the overall bikini championship in 2013.
NPC Southern States Championships: Placed second in the overall bikini championship in 2013.
Europa SuperShow Dallas: Placed third in 2014.
PBW Championships Tampa Pro: Placed fourth in 2014.
NPC Mid Florida Classic: Placed fifth in 2013.
IFBB Nordic Pro: Placed tenth in 2014
IFBB Prestige Crystal Cup: Placed fourth in 2014.
IFBB Legends Pro Bikini Classic: Placed third in 2014.
At 5'4 and 125 lbs, Lewin's athletic figure has landed her on the cover of some of the most popular bodybuilding and fitness magazines and websites, including Sports & Fitness, Her Muscle and Fitness, Fitness, Oxygen, and Iron Man.
On their website, Lewin and her business partner and husband, Jimmy Lewin, sell workout clothing, supplements, fitness gear and accessories, and swimsuits, all through their brand One0One.[9] One0One also has a storefront located in Miami, Florida, where the Lewins now reside. According to the store's website, "We wanted to create clothes that fit perfectly without risking the quality . . . Whether you want to use One0One in the gym, staying home, visiting your friends or heading out to do some shopping . . . we are sure you won't complain about the fit."[9] 
Social Media Presence and Net Worth
In addition to competing in bodybuilding and being a fitness model, Lewin is an influencer who is very active on social media. For example, she has over 13.3 million followers on Instagram and over 404,000 subscribers on her YouTube channel.[2][10] 
Lewin uses her social media platforms to share details about her fitness journey, workout routine tips, and motivational messages. She regularly posts pictures and videos of her workouts, including while she was pregnant, which often feature exercises for different body parts, such as abs, legs, and arms. Additionally, she shares her healthy meal ideas and nutrition tips, as well as her favorite supplements and workout gear.[2]
As of early 2023, it's estimated that Lewin's net worth is about $3 million, which she has earned from competitions, modeling, social media affiliates, book and guide sales, and her brand One0One.[11] According to Forbes, "she has raked in as much as $10,000 per Instagram post thanks to partnerships with health and workout brands." In 2017, Forbes named her a "Top Influencer in Fitness."[12] 
In addition to fitness-related content, Lewin also shares glimpses into her personal life on social media, including photos and videos related to her relationships, travels, adventures, and daily routines. She often interacts with her followers through comments and direct messages, answering questions and providing support and motivation to those looking to improve their fitness and health.[2] 
Lewin married her longtime boyfriend, Jimmy Lewin, in 2010. Jimmy Lewin is a Swedish personal trainer and fitness model who met her while working in the fitness industry. They have been together for over a decade and now run the One0One company together. Lewin announced she was pregnant in 2022 and gave birth to her child in early 2023.[10] 
Fitness Book 
Lewin is the author of the 2018 book The Hot Body Diet: The Plan to Radically Transform Your Body in 28 Days. The book acts as a guide to help readers achieve their fitness goals through exercise and nutrition. It includes a 28-day meal plan, workout routines, and motivational weight loss tips.[13] 
Here are a few of Lewin's favorite tips:[6] 
Eat a balanced diet: She believes in eating a nutritious diet that includes a variety of whole foods such as lean protein, complex carbohydrates, healthy fats, fruits, and vegetables. She recommends avoiding processed foods and sugary drinks.[14] 
Practice portion control: She suggests using smaller plates and measuring out portions to ensure you're not overeating. She recommends eating every few hours, or about four times per day.
Stay hydrated: Drink plenty of water throughout the day.
Incorporate strength training: Lewin is a big proponent of body weight exercises and strength training and recommends incorporating them into your fitness routine to build lean muscle and burn fat.[15] 
Mix up your workouts: To prevent boredom and keep your body challenged, she suggests mixing up your workouts with different types of exercises, such as cardio, strength training, and high-intensity interval training.[5] 
Get enough rest: Lewin emphasizes the importance of getting enough rest and recovery time to allow your body to repair and recharge.
In terms of what motivates her, Lewin says, "Progress is what motivates me to keep pushing harder and not give up. Also, it's extremely motivating to have so many female fans!"[16]
References
Leaders Media has established sourcing guidelines that rely on credible, expert-level, and primary sources for articles about people and companies. Articles are frequently edited by staff writers. Learn more about our mission, editorial ethics, and how we source references in our editorial policy.
Any reader who wishes to provide any additions or revisions to this article, including updating any out-of-date information, please email [email protected].