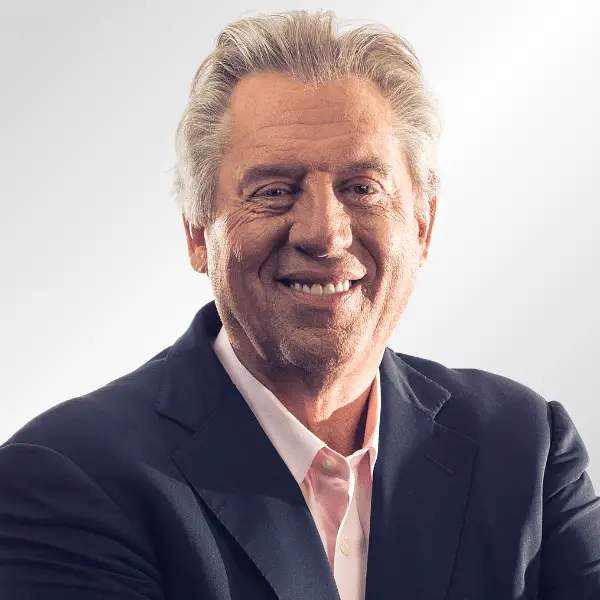 DOB:

February 20, 1947

Age:

76

Country:

United States

Resides:

Tequesta, FL

Hometown:

Garden City, MI

Known For:

Multiple bestselling leadership books

Spouse/Partner:

Margaret Maxwell

Religion:

Christianity

Education:

Circleville Bible College
About John Maxwell
Some of Maxwell's most popular books include The 21 Irrefutable Laws of Leadership and The 5 Levels of Leadership.[3] One of his most famous quotes is: "A leader is one who knows the way, goes the way, and shows the way."[3] In 2014, Inc. called Maxwell the #1 leadership expert in the world.[4] He has also been voted the year's "Top Leadership Professional" six times by LeadershipGurus.net.[5] 
John C. Maxwell was born on February 20, 1947, in Garden City, Indiana, a small farming town. He was raised in an Evangelical Christian home and was involved in his local church. At an early age, he showed an early interest in leadership and communication. He once stated that he felt God calling him to ministry at the age of five.[6] 
Maxwell attended Ohio Christian University (Circleville Bible College), where he earned a degree in theology. Later, he continued his studies at Azusa Pacific University and the Fuller Theological Seminary, earning a Master of Divinity and Doctorate of Ministry.[1] 
Early in his career, starting in the 1970s, he served as a pastor and also as a church planter (in which he helped to form new congregations). He continued to serve as a pastor and mentor in some capacity for over 40 years, including in churches in Indiana, Ohio, California, and Florida.[7]One of his longest-standing roles was as the pastor of Skyline Wesleyan Church in Indiana from 1981 until 1995.[6]In 2008, he began serving as a guest pastor at California megachurch Crystal Cathedral, which also featured his messages on television during the Hour of Power show.[8] 
Maxwell eventually became called to spread his message to leaders and to focus on bringing bible teachings to businesses, encouraging him to start his own company. He has since earned a reputation as a leading authority on leadership. 
John Maxwell Company and EQUIP
The John Maxwell Company was founded in 2011 with the goal of offering training, resources, and events for senior-level executives and other employees within a range of organizations.[9] 
Today, the business is called Maxwell Leadership, which provides "the tools and support you need to lead powerful, positive change through values-based leadership." The company's website states, "If you're ready to start or continue your journey to being the kind of leader others look up to, we're here to help."[10] 
The Maxwell Leadership team certifies team coaches to help develop their speaking, negotiation, and other skills. As of 2023, there are over 40,000 people that belong to the Maxwell Certified Leaders Team. Maxwell has stated that one of his main missions is to "teach businesses leadership methods obtained from the Bible."[11][12]
Maxwell's company called EQUIP is a nonprofit organization that has trained more than 6 million leaders, mostly of whom are Christian, in 180 countries. He started EQUIP in 1997 with his brother and other prominent Christian leaders in order to "specialize in providing Biblical leadership training and resources in the international, academic, and urban communities." [13][14] Other companies that Maxwell has founded include INJOY, which helps churches raise financial resources and impact, and Maximum Impact, a mentoring program that helps leaders grow and expand their network.[15][16] 
As part of his leadership training and experience in ministry, each year Maxwell speaks to Fortune 500 companies, presidents of nations, professional athletic teams, the U.S. military,  universities, and many of the world's top business leaders and organizations.
Books
Maxwell eventually transitioned away from working at churches full time and turned his efforts toward public speaking, writing, and consulting on leadership. He has written many popular books, some of which have become New York Times, Wall Street Journal, and Business Week best-sellers. He was named one of Amazon's top 25 authors inducted into the "10th Anniversary Hall of Fame."[17][2] 
Maxwell's top-selling books include:
Other books written by Maxwell include:[17][2] 
Change Your World
The 15 Invaluable Laws of Growth
The 17 Indisputable Laws of Teamwork
Sometimes You Win, Sometimes You Learn
How Successful People Think
Failing Forward
Everyone Communicates, Few Connect
Other Career Achievements and Net Worth
In 2016, Maxwell started a podcast called The John Maxwell Leadership Podcast, where he shares his insights and experiences working in various situations and building relationships. He regularly interviews influential leaders, experts, and authors, and also has solo episodes where he focuses on a particular topic in more depth. Topics covered on The John Maxwell Leadership Podcast include communication, teamwork, problem-solving, vision-casting, conflict resolution, and much more.[18] 
While Maxwell's net worth is not publicly known, he's considered one of the world's most successful leadership experts, authors, consultants, and speakers.[3][11] 
Due to his involvement in the Wesleyan Church, Maxwell has a building named after him at Indiana Wesleyan University called the Maxwell Center for Business and Leadership. He was inducted into the IWU Society of World Changers and awarded an honorary doctorate degree in 2015. This particular award "recognizes people who have been bold Christian examples in their professions and have made a positive or 'world changing' impact in society."[6] 
Personal Life
John Maxwell is married to Margaret Maxwell. They have four children and several grandchildren together. Their family remains devout Christians and are actively involved in his church community. Over the years, he has spoken publicly about the importance of his faith and family in his life, weaving his Christian beliefs into his views on leadership and personal growth. He has also written several books on the topic of Christian leadership, including The 21 Irrefutable Laws of Leadership: The Bible Edition. Throughout his career, Maxwell has been known for his strong values and commitment to excellence, and his family life has been a big part of that.
Quotes
Maxwell is known for his thought-provoking and inspiring quotes that teach people how to lead more fulfilled lives. He once said, "Everything rises and falls on leadership."[19]Some other popular John Maxwell quotes include those below.[5] 
"You can't move people to action unless you first move them with emotion . . . The heart comes before the head." ―John C. Maxwell, The 21 Irrefutable Laws of Leadership
"Great people talk about ideas, average people talk about themselves, and small people talk about others." ―John C. Maxwell, The 360 Degree Leader
"Fail early, fail often, but always fail forward." ―John C. Maxwell, Failing Forward
"People tend to become what the most important people in their lives think they will become." ―John C. Maxwell, Developing the Leader Within You
"Small disciplines repeated with consistency every day lead to great achievements gained slowly over time." ―John C. Maxwell, The 15 Invaluable Laws of Growth
"Leadership is more disposition than position—influence others from wherever you are." ―John C. Maxwell, The 360 Degree Leader
"When the leader lacks confidence, the followers lack commitment." ―John C. Maxwell, Developing the Leader Within You
"Busyness does not equal productivity. Activity is not necessarily accomplishment. Second, prioritizing requires leaders to continually think ahead, to know what's important, to know what's next, to see how everything relates to the overall vision." ―John C. Maxwell, The 21 Irrefutable Laws of Leadership
"The difference between average people and achieving people is their perception of and response to . . . failure." ―John C. Maxwell, Failing Forward
References
Leaders Media has established sourcing guidelines that rely on credible, expert-level, and primary sources for articles about people and companies. Articles are frequently edited by staff writers. Learn more about our mission, editorial ethics, and how we source references in our editorial policy.
Biography | John C. Maxwell | McLennan Community College. https://www.mclennan.edu/john-maxwell/biography.html
All Books. Maxwell Leadership. https://store.maxwellleadership.com/All-Books_c_237.html
Sanfilippo, A. A Leader Is One Who Knows the Way Goes the Way and Shows the Way. https://www.linkedin.com/pulse/leader-one-who-knows-way-goes-shows-alex-sanfilippo-
John C. Maxwell Says You Can Increase Your Level of Success by Making 3 Simple Choices. Inc. https://www.inc.com/marcel-schwantes/john-c-maxwell-says-you-can-increase-your-level-of-success-by-making-3-simple-choices.html
John C. Maxwell Quotes. BrainyQuote. https://www.brainyquote.com/authors/john-c-maxwell-quotes
(2015, October 15). IWU Inducts John Maxwell as 12th World Changer. GrantCOnnected.net. https://www.grantconnected.net/iwu-inducts-john-maxwell-as-12th-world-changer/
John Maxwell Company – Products, Competitors, Financials, Employees, Headquarters Locations. https://www.cbinsights.com/company/john-maxwell-company 
John C. Maxwell. CSuite Mind. https://csuitemind.com/biography/show/john-c-maxwell
Maxwell Leadership. (2022a, March 7). John C. Maxwell | Book A Speaker | Maxwell Leadership. Maxwell Leadership |. https://www.maxwellleadership.com/speaker/john-c-maxwell/
JMTcom: Maxwell Leadership Certified Team – Maxwell Leadership Certified Team is a unique group of people who have risen to the calling.
Certification Program – JMTcom: Maxwell Leadership Certified Team. (n.d.). https://johnmaxwellteam.com/john-c-maxwell-certification-program/
John Maxwell- Thrive Speakers. Thrive Speakers. https://thrivespeak.com/speakers/john-maxwell/
Maxwell Leadership. (2022, August 8). About Maxwell Leadership | Maxwell Leadership. Maxwell Leadership |. https://www.maxwellleadership.com/about/
Carter, D. (2021, August 9). Our Story – EQUIP. EQUIP. https://www.iequip.org/about-us/our-story/
INJOY About Us. INJOY. https://injoystewardship.com/about-us/
Maximum Impact Mentoring. https://www.johnmaxwellacademy.com/mentor-with-maxwell
New York Times Best Sellers. Maxwell Leadership Store. https://store.maxwellleadership.com/New-York-Times-Best-Sellers_c_205.html
John Maxwell Leadership Podcast. https://johnmaxwellleadershippodcast.com/
Costello, S. (2015, September 30). Everything Rises And Falls On Leadership. Business in Greater Gainesville. https://businessmagazinegainesville.com/everything-rises-falls-leadership/
Any reader who wishes to provide any additions or revisions to this article, including updating any out-of-date information, please email [email protected].