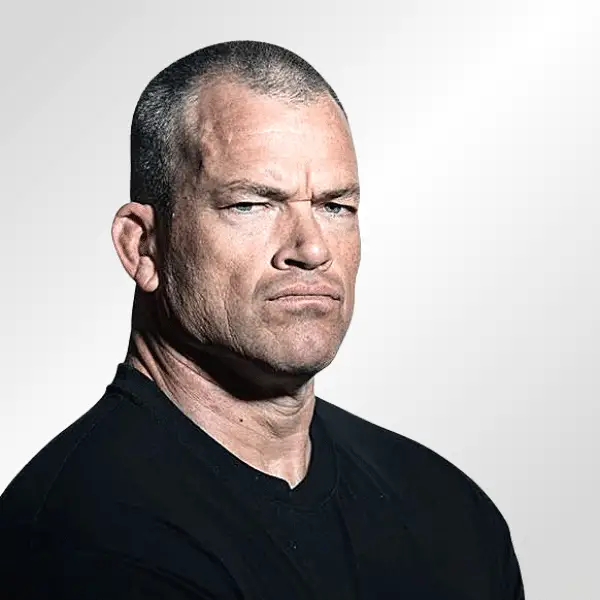 DOB:

September 8, 1971

Age:

52

Country:

United States

Resides:

San Diego County, CA

Hometown:

Torrington, CT

Known For:

Extreme Ownership

Spouse/Partner:

Helen Willink

Education:

University of San Diego
About Jocko Willink
After retiring from the Navy, Willink and fellow Navy veteran Leif Babin formed Echelon Front, a business leadership consulting company.[4] They eventually turned their experiences into a bestselling book, Extreme Ownership: How U.S. Navy SEALs Lead and Win.[5] Willink has written other successful books, as well, and continues to host a podcast dedicated to many of the same principles and veterans issues he has written about.[6]
Jocko Willink is a retired U.S. Navy officer who became a decorated Navy SEAL while serving in the Iraq War. Willink took his experiences and used them to co-found the consulting company Echelon Front, which focuses on teaching leadership principles. He is also a bestselling author, with his first book, Extreme Ownership, rising to become a #1 New York Times bestseller.[7]
Early Life
John Gretton Willink was born on September 8, 1971, in Torrington, Connecticut.[8] His father, John, provided for the family as a high school teacher who also coached middle school and varsity basketball teams.[9] While growing up, Willink learned about the importance of staying disciplined from his father. His competitive side eventually drew him to try the military route.[10]
Military Service
Willink joined the Navy in 1990 after completing regular recruit and Radioman "A" School training.[11] He followed that up by finishing BUD/s (Basic Underwater Demolition/SEAL) training, as well as SEAL tactical training (STT).[12] Willink would go on to serve eight years of active duty as a SEAL, serving in multiple deployments throughout the world. He became commanding officer of SEAL Team 3, also known as Task Unit Bruiser.[13] That team earned more awards during the Iraq War than any other Special Operations Unit.[14] Willink recalled that it was during the Battle of Ramadi that he learned some of the hardest and most important lessons about leadership, perseverance, and ownership, which he would later share with others.[15]
It was while on active duty in the military that Willink earned an English degree from the University of San Diego.[16] Thanks to his efforts and leadership, Willink received numerous awards and achievements during his time with the Navy, including the Silver Star and the Bronze Star.[17] Toward the end of his military career, Willink served as a Navy SEAL instructor, training SEAL teams along the West Coast.[18] Willink retired from the military in October 2010 after 20 years.[12]
Business After the Military
After Willink retired from the Navy, he decided to take what he had learned and offer consultant services to other companies about business leadership. To do this, he co-founded the leadership consulting company Echelon Front with Leif Babin, who is also a former Navy SEAL.[19] Babin and Willink had served together on the same unit, with Willink being the task-unit commander.[20] Willink and Babin also formed a writing partnership.
Additionally, Willink formed Jocko Industries in 2017 to sell apparel, supplements, and other goods.[21] Jocko Industries merged with Origin USA in 2017, with Willink becoming a co-owner of the martial arts wear and equipment manufacturer.[22] The business venture was part of an effort to expand while also sharing Willink's passion for martial arts.[23]
Books and Podcast
Jocko Willink has written 12 books, including children's books.[24] His first book, co-written by Leif Babin, was Extreme Ownership: How U.S. Navy SEALs Lead and Win, a book that would go on to become a #1 New York Times bestseller.[25] Other notable books he has written include The Dichotomy of Leadership: Balancing the Challenges of Extreme Ownership to Lead and Win, Discipline Equals Freedom: Field Manual, and Leadership Strategy and Tactics. While most of his books are nonfiction, some, like his Warrior Kid children's books and his novel Final Spin, are fictional.[24]
While promoting Extreme Ownership, Willink was a guest on the Tim Ferriss Show. It was this episode that marked the beginning of Willink's foray into podcasting. According to Willink, after wrapping up the episode, Ferriss said he had the ability to host his own podcast. "When we got done with that podcast," Willink recalled, "when Tim pressed stop on the recorder, he said, 'You should really have your own podcast!' and I kind of, you know, I listened to him." He received the same suggestion from Joe Rogan, which all led to him starting the Jocko Podcast.[12]
The Jocko Podcast has more than 370 episodes and features numerous guests who talk about many of the same principles and traits Willink advocates. Many of the guests Willink has on are people with military backgrounds or connections to veterans.[26]
Jocko Willink Quotes
"Implementing Extreme Ownership requires checking your ego and operating with a high degree of humility. Admitting mistakes, taking ownership, and developing a plan to overcome challenges are integral to any successful team." ―Jocko Willink, Extreme Ownership
"Don't fight stress. Embrace it. Turn it on itself. Use it to make yourself sharper and more alert. Use it to make you think and learn and get better and smarter and more effective. Use the stress to make you a better you." ―Jocko Willink, Discipline Equals Freedom
"After all, there can be no leadership where there is no team." ―Jocko Willink, Extreme Ownership
"Leaders must always operate with the understanding that they are part of something greater than themselves and their own personal interests." ―Jocko Willink, Extreme Ownership
"You have to BE VIGILANT. You have to be ON GUARD. You have to HOLD THE LINE on the seemingly insignificant little things—things that shouldn't matter—but that do." ―Jocko Willink, Discipline Equals Freedom
"When a leader takes too much ownership, there is no ownership left for the team or subordinate leaders to take. So the team loses initiative, they lose momentum, they won't make any decision, they just sit around and wait to be told what to do." ―Jocko Willink, The Dichotomy of Leadership
Jocko Willink Today
Jocko Willink remains the current CEO of Echelon Front. He stays active in the Brazilian jiu-jitsu community and even had the opportunity to promote his daughter, Rana, to blue belt in September 2022.[27] At the event where he promoted his daughter, Willink stated, "jiu-jitsu is the most important thing you can give to your kids."[28] Willink also continues to host his Jocko Podcast, which has over 370 episodes.[29] Willink is married to Helen Louise Willink, a former flight attendant. As a couple, they have four children—three daughters and a son.[30]
References
Leaders Media has established sourcing guidelines that rely on credible, expert-level, and primary sources for articles about people and companies. Articles are frequently edited by staff writers. Learn more about our mission, editorial ethics, and how we source references in our editorial policy.
Any reader who wishes to provide any additions or revisions to this article, including updating any out-of-date information, please email [email protected].