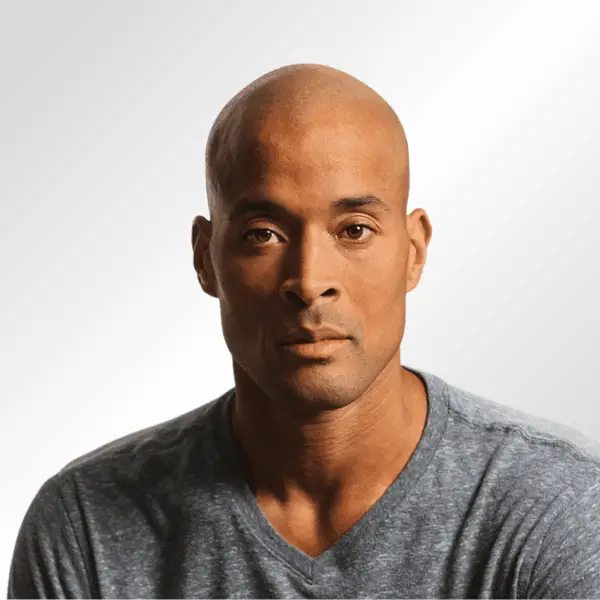 DOB:

February 17, 1975

Age:

48

Country:

United States

Hometown:

Buffalo, NY

Known For:

Best-Selling Author and Inspirational Speaker

Religion:

Christianity

Education:

U.S. Ranger School
About David Goggins
David Goggins seeks to inspire others to achieve their dreams and overcome adversity through his motivational messages. He provides an example people can follow, even if they come from a disadvantaged background. His memoir Can't Hurt Me talks about his rough upbringing and the challenges he overcame to reach unprecedented heights.[2]
Goggins has made a habit of achieving nearly impossible feats. Besides being a retired Navy SEAL, he is also the only person to ever complete the U.S. Army Ranger School, SEAL training, and training as an Air Force Tactical Controller.[3] He frequently places in the top five in ultra-distance races, and has competed in them more than 70 times.[1] Goggins is a highly sought after public speaker who regularly addresses major conferences and Fortune 500 companies, as well as smaller groups.[3][4] Additionally, he regularly gives to charities connected to veterans groups.
Early Life
Goggins was born on February 17, 1975, in Buffalo, New York. While growing up, Goggins, along with his brother and mother, experienced abuse at the hands of his father. They were able to flee from the horrible situation, eventually settling in Brazil, Indiana, though he was still the target of bullying at school.[5]
Joining the Military
After high school, he joined the Air Force where he served for several years, eventually completing training as a Tactical Air Controller before receiving a medical discharge.[6] He would later go on to become an exterminator where he lived paycheck to paycheck making only about a thousand dollars every month.[7] At only 24-years-old, Goggins weighed in at almost 300 pounds.[8] It was at that time that he saw a recruitment commercial and made the life-altering decision to become a Navy SEAL.
In order to pass training as a Navy SEAL, Goggins first had to shed the weight and get down to 191 pounds. To do this, he adopted an intense training regimen. This daily routine included riding on an exercise bike for an hour, swimming two miles, doing a full body workout for three hours, running between two and six miles, and ending with another two hours on the exercise bike.[9] It only took three months before he slimmed down to the correct weight. Goggins initially failed going through the Navy SEAL's "Hell Week" due to health problems twice but managed to pass the third time.[7] He graduated on August 10, 2001.
Military Life
David Goggins had a decorated military career, including joining SEAL Team 5.[10] He would go on to serve as an active duty member for 21 years. Part of his service included being on multiple tours in Afghanistan and Iraq.[11] During his time in the military, Goggins served with distinction and even graduated from Army Ranger School in 2004.[10]
Charity Work and Racing
Goggins was inspired to help fellow veterans not long after several friends died in a helicopter crash in Afghanistan back in 2005.[12] To pay tribute to his friends and help veterans in need, Goggins began to compete in endurance racing, namely ultramarathons which are marathons that extend beyond the usual distance of 26.2 miles. Goggins has competed in such events as the Ultraman World Championship, the McNaughton 150 Miler, the Hellgate 100k, the Music City Ultra 50k, and the Infinitus 88k, often placing in the top five.[13] The money he raises from these races goes to veterans groups. As just one example, he has raised over $2 million for the Special Operations Warrior Foundation.[14] Runner's World named Goggins as one of their Heroes of Running in 2008.[15]
Books
In 2018, David Goggins self-published his memoir Can't Hurt Me: Master Your Mind and Defy the Odds.[16] In it, Goggins writes about The 40% Rule, which describes his sincere belief that most people only achieve about 40% of what they're capable of doing. His memoir dives into tackling self-limiting beliefs and the need to do away with thinking of yourself as a victim all of the time.[17] The book sold 900,000 copies in the first four months and would go on to sell over 4 million copies.[18][19]
Goggins would follow this success up with Never Finished: Unshackle Your Mind and Win the War Within—his second book published in December 2022. The book further details how he was able to create the strategies and mindset that allowed him to overcome so many challenges and how people can apply them in their lives.[2]
David Goggins Quotes
Awards and Achievements
In addition to his impressive running accomplishments, in 2013, Goggins set the Guinness World Record for most pull-ups, doing 4,030 of them in only 17 hours.[1] This would later be broken by Brandon Tucker, who did 7,715 pull-ups in less than 24 hours.[24]
References
Leaders Media has established sourcing guidelines that rely on credible, expert-level, and primary sources for articles about people and companies. Articles are frequently edited by staff writers. Learn more about our mission, editorial ethics, and how we source references in our editorial policy.
Any reader who wishes to provide any additions or revisions to this article, including updating any out-of-date information, please email [email protected].