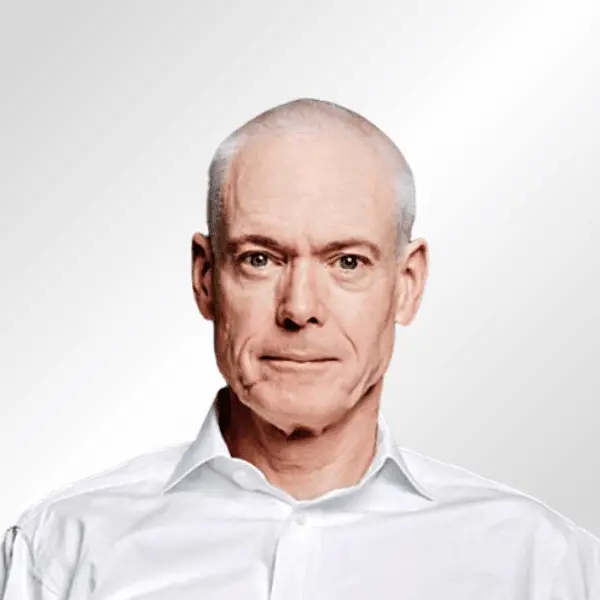 DOB:

January 25, 1958

Age:

65

Country:

United States

Resides:

Boulder, CO

Hometown:

Aurora, CO

Known For:

Author of Good to Great

Spouse/Partner:

Joanne Ernst

Religion:

Christianity

Education:

Stanford University, Stanford Graduate School of Business
About Jim Collins
Jim Collins was born on January 25, 1958, in Boulder, Colorado. He grew up in a family that owned a small business, which gave him early exposure to entrepreneurship and management. He attended Stanford University, where he earned a bachelor's degree in mathematical sciences and later obtained a master's degree in business administration (MBA) from the Stanford Graduate School of Business.[2] 
Collins is an avid rock climber, with over 40 years of experience. He has completed single-day ascents of El Capitan and Half Dome in Yosemite Valley.[2] 
Collins is married to Joanne Ernst, a former triathlete who won the 1985 Hawaii Ironman Triathlon.[3] 
Career
After achieving his MBA, Collins worked as a consultant with McKinsey & Company, a global management consulting firm that offers professional services to corporations and other organizations. He then worked as a product manager for Hewlett-Packard, an information technology company.[4] 
Collins began his teaching and research career at Stanford University's Graduate School of Business. In 1992, he received the Distinguished Teaching Award. In 1995, he founded a management laboratory in Boulder, Colorado, where he conducted research on what makes companies successful and what causes them to fail. This work formed the basis of his bestselling book Good to Great.[2] 
Collins has also been a faculty member at the University of Colorado and the Peter F. Drucker Graduate School of Management at Claremont Graduate University. He is passionate about teaching in several social sectors, including education, healthcare, cause-driven nonprofits, government, and faith-based organizations. He has worked with the Johns Hopkins School of Medicine, the United States Marine Corps, and the American Association of K-12 School Superintendents.[5] 
In 2010, Collins received the Sheedy Excellence in Teaching Award for his work at the University of Notre Dame. This is the highest award the university can give to a faculty member.[6] 
In 2017, Forbes selected Collins as one of the "100 Greatest Living Business Minds." Today, he is a sought-after speaker and consultant on topics related to leadership and management, and his books continue to be widely read and influential in the business world.[7]
Publications
Jim Collins has written several books on leadership, company growth, and leadership, including the following:[8]
Beyond Entrepreneurship: Turning Your Business Into an Enduring Great Company was published in 1992 and co-authored with William Lazier. The book provides practical advice and insights for entrepreneurs and business owners who want to build enduring, successful companies. It includes real-world examples drawn from Nike, Walmart, and Federal Express.[9] 
Built to Last: Successful Habits of Visionary Companies was published in 1994 and co-authored with Jerry I. Porras. It presents the findings of a six-year research project on what makes certain companies stand the test of time and become truly great. Collins and Porras examined 18 successful and long-lasting companies and developed a framework of concepts based on their research.[10] 
Good to Great: Why Some Companies Make the Leap… and Others Don't was published in 2001 and has become Collins' best known book. It presents the findings of a five-year research project on why some companies are able to make the transition from good to great, while others fail in the process. It identifies key characteristics and practices of successful companies, offering insights for business leaders looking to achieve greatness.[11] 
Good to Great and the Social Sectors: A Monograph to Accompany Good to Great was published in 2005 and serves as a monograph that applies the principles of Good to Great to the nonprofit and public sectors, providing insights and advice for leaders in these areas.[12]
How the Mighty Fall: And Why Some Companies Never Give In was published in 2009 and  examines the reasons why once-great companies fail. The book offers insights for leaders who want to avoid similar pitfalls and outlines the five common stages of decline.[13] 
Great by Choice: Uncertainty, Chaos, and Luck—Why Some Thrive Despite Them All was published in 2011 and co-authored with Morten T. Hansen. The book explores the question of why some companies are able to thrive in uncertain and chaotic environments while others falter. It identifies key characteristics and practices of successful companies, and offers insights for business leaders looking to succeed in difficult times.[14]
Turning the Flywheel: A Monograph to Accompany Good to Great was published in 2019 and expands on the concept of the flywheel effect introduced in Good to Great. The monograph provides practical guidance for business leaders looking to build momentum and achieve sustained success over time.[15]
Be 2.0 (Beyond Entrepreneurship 2.0) was published in 2020 and serves as a continuation of his 1992 book Beyond Entrepreneurship that Collins co-authored with William Lazier, who died in 2004. Be 2.0 includes four new chapters and 15 essays with a focus on small, entrepreneurial companies.[16] 
The Flywheel Effect
"The Flywheel Effect" is a concept developed by Jim Collins in his book Good to Great. It serves as a metaphor for how successful companies build momentum over time. According to Collins, a company's success is not due to one defining moment, one great idea, or one lucky break. Rather, it is the result of a series of actions and decisions that build upon each other over time, like a flywheel gaining speed and momentum as it turns. The flywheel represents the virtuous cycle of momentum that successful companies create through a series of consistent and disciplined actions.[17]
Collins argues that successful companies are able to build and sustain this momentum through a number of key elements, including disciplined people, disciplined thought, and disciplined action. He also emphasizes the importance of focusing on a company's core strengths, rather than constantly seeking new opportunities or diversifying too broadly.
The Flywheel Effect can be applied to various aspects of a company's operations, including marketing, sales, customer service, and product development. Collins argues that companies can achieve long-term success and create a sustainable brand when they focus on building momentum through consistent and disciplined actions.[18]
Quotes
"Each turn of the flywheel builds upon work done earlier, compounding your investment of effort. A thousand times faster, then ten thousand, then a hundred thousand. The huge heavy disk flies forward, with almost unstoppable momentum." —Jim Collins, Good to Great 
"Good is the enemy of great. And that is one of the key reasons why we have so little that becomes great. We don't have great schools, principally because we have good schools. We don't have great government, principally because we have good government. Few people attain great lives, in large part because it is just so easy to settle for a good life." —Jim Collins, Good to Great
"For, in the end, it is impossible to have a great life unless it is a meaningful life. And it is very difficult to have a meaningful life without meaningful work." —Jim Collins, Good to Great
References
Leaders Media has established sourcing guidelines that rely on credible, expert-level, and primary sources for articles about people and companies. Articles are frequently edited by staff writers. Learn more about our mission, editorial ethics, and how we source references in our editorial policy.
Any reader who wishes to provide any additions or revisions to this article, including updating any out-of-date information, please email [email protected].