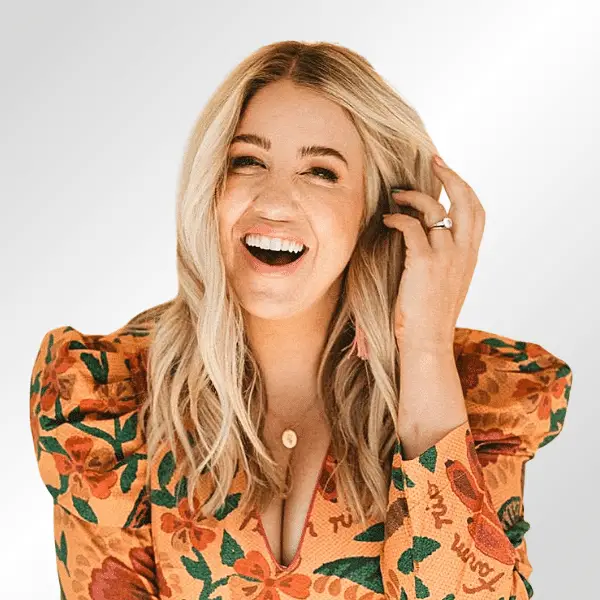 DOB:

April 8, 1988

Age:

35

Country:

United States

Resides:

Duluth, MN

Hometown:

Minnesota

Known For:

How Are You, Really?

Spouse/Partner:

Drew Kutcher

Education:

University of Wisconsin-Stevens Point
Personal Life
Jenna Kutcher was born on April 8, 1988, in a small town in Minnesota, where she was raised by her supportive parents. She is married to Drew Kutcher, a health and wellness expert, with whom she shares a passion for living life to the fullest, according to her website. Together, they have two children and reside in Minnesota.[2][3] 
Kutcher's love of photographing weddings and creating blog posts began when she shot a family member's destination wedding in Jamaica. They asked her to bring her camera and take some extra photos, but she took the job very seriously and realized she was good at making creative content.[3] 
Kutcher says that becoming an "overnight success" took her ten years of hard work. She launched her blog called Northwoods Wedding and photographed her first wedding in 2011. Within a year, she photographed 25 weddings and quit her nine-to-five job. By 2014, she hit six-figures and won "Wisconsin Bride Best of Weddings" for the first time. In the next five years she created online courses, began hosting workshops, became an Aerie Real Role Model, created a podcast that now has over 600 episodes, and gained one million Instagram followers.[4] 
Education
Kutcher attended the University of Wisconsin-Stout, where she pursued a degree in business administration and marketing.[2] During her time at university, she discovered her passion for photography and began to explore her creative talents. This education in business and marketing would later serve as the foundation for her successful entrepreneurial career.
Career
Jenna Kutcher began her career in corporate America, but soon realized that her true calling was entrepreneurship. After buying a $300 camera on Craigslist, she launched her photography business. Through years of hard work and photographing dozens of weddings, she gained recognition for her work.[5]
Her success in the photography world led her to expand her brand, using her expertise in marketing to help other women grow their own businesses. On her website, she writes, "Want to know what lights me up? Helping women harness the power to take control of their lives. Busting the myth of balance. Showing the dreamer that starting a business is closer than they think."[1] 
Today, she runs a company with a team of nine women, which includes a website and blog, a podcast, a book, and speaking engagements.[5] 
Podcast
In 2016, Kutcher launched Goal Digger Podcast, a process she says took less than two weeks. It has since become one of the top-ranked business podcasts, with over 600 episodes and 93 million downloads. According to its website, Goal Digger Podcast is a "live-workshop style business podcast" that's purpose is to help people redefine success and chase bold dreams.[4]
The podcast features interviews with successful female entrepreneurs and provides actionable advice for those looking to build their own businesses. Through this platform, Kutcher has inspired countless women to pursue their dreams and achieve success in their chosen fields.[5][6]
Book
Jenna Kutcher's book, How Are You, Really, was published in 2022, and became an instant New York Times bestseller. Kutcher discusses how to take control of your life and live it with more passion, joy, and fulfillment. The book serves as a guide to reframing your life with Kutcher using her own real-life experiences as an inspiration.[7] 
Jenna Kutcher Today
Today, Kutcher continues to inspire and empower women through her podcast, book, and social media presence. She has been featured on numerous platforms, sharing her story and offering valuable insights into entrepreneurship and personal growth.[8][9]
Kutcher remains a respected figure in the world of small business and an inspiration to aspiring entrepreneurs everywhere.
References
Leaders Media has established sourcing guidelines that rely on credible, expert-level, and primary sources for articles about people and companies. Articles are frequently edited by staff writers. Learn more about our mission, editorial ethics, and how we source references in our editorial policy.
Any reader who wishes to provide any additions or revisions to this article, including updating any out-of-date information, please email [email protected].