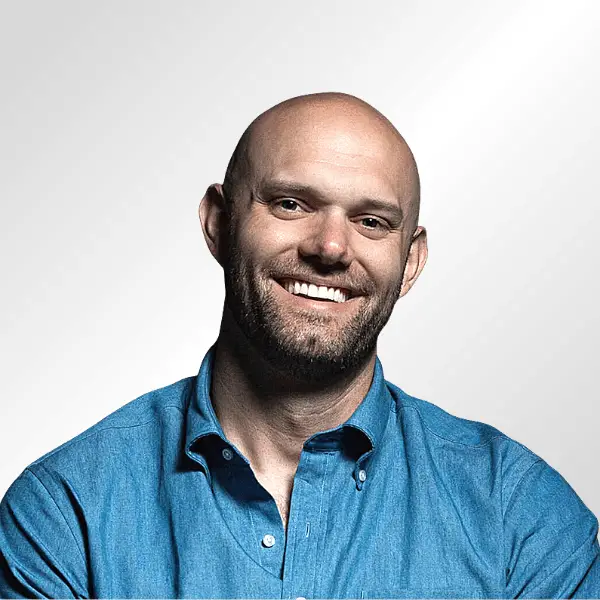 DOB:

January 22, 1986

Age:

37

Country:

United States

Resides:

Columbus, OH

Hometown:

Hamilton, OH

Known For:

Author of Atomic Habits

Education:

Denison University
About James Clear
James Clear began writing about habits and personal growth for his website jamesclear.com in 2012. He has since gained a weekly newsletter following of over 2 million subscribers. Today, he uses his platform to teach people about starting (and sticking to) good habits and creating better systems.[2]
James Clear was born on January 22, 1986, and raised in Hamilton, Ohio. Clear earned a bachelor's degree in biomechanics from Denison University in 2008.[3]
In college, Clear was an ESPN Academic All-American as a baseball pitcher, and he continues to be a weightlifter who posts his achievements on his website.[2] 
In 2015, Clear married his wife, Kristy; he keeps his personal life private.[4] Clear has several hobbies and personal interests. He has a passion for travel photography and has photographed more than 40 countries, including Iceland, Italy, Japan, and Norway. He also loves reading and transcribing inspirational speeches, and posts them on his website for readers to explore.[2][5] 
Views on Habits and Behavior Changes
Atomic Habits: An Easy & Proven Way to Build Good Habits & Break Bad Ones was published in 2016 and brought Clear notoriety by remaining on the New York Times bestseller list for over a year.[1] 
Atomic Habits explains how small, consistent changes in behavior can create remarkable results over time. He uses the phrase, "get 1% better every day," emphasizing the importance of starting and maintaining small habits. The book uses real-life examples and scientific research to validate Clear's points. He also provides practical strategies and tools for developing and sticking to good habits, while breaking bad ones.[6] 
Atomic Habits has three key lessons, including:
Small habits make a big difference: Clear says, "Don't underestimate the value of making small improvements on a daily basis." Improving by just 1%, a seemingly tiny difference, will make an astonishing impact over time. 
Forget about setting goals. Focus on your system instead: Clear defines systems as the processes that lead to results. Without the right processes in place, you won't be able to reach your goals, he says. 
Build identity-based habits: Your behaviors are a reflection of your identity, Clear argues, and you need to build identity-based habits that will allow you to become the person you want to be. 
Clear explains that tiny, or atomic, habits lead to incremental changes that are easier to maintain and can add up to significant progress over time. He also covers strategies for overcoming obstacles and dealing with setbacks.[6][7]
Atomic Habits brought Clear success, and since its publication, he has been hired to speak at corporate events for several Fortune 500 companies, including Intel, Honda, Cisco, General Electric, Lululemon, Merrill Lynch, and LinkedIn.[2] 
In addition to the popularity of his book, Clear's essay writing has appeared in the Wall Street Journal, The New York Times, and Time Magazine.[8][9][10]He has also been featured on CBS This Morning several times, where he has discussed building good habits, sticking to an effective morning routine, and starting healthy study habits.[11][12][13]
3-2-1 Newsletter and Website
Clear is the creator of jamesclear.com and the popular 3-2-1 weekly newsletter. He has over 2 million email subscribers, has published over 250 articles, and gets over 10 million website visitors per year.[2] 
The 3-2-1 Newsletter is one of the most popular newsletters in the world, according to Clear's website. It comes out every Thursday and contains three short ideas from Clear, two quotes from others, and one question to ponder.[14]
His articles are posted on the jamesclear.com website and cover topics such as health, happiness, creativity, and productivity. Clear explains that the central question that drives his work is "How can we live better?" He commonly uses science-based ways to solve practical life problems.[15] 
Some article examples include:
James Clear Quotes
"All big things come from small beginnings. The seed of every habit is a single, tiny decision. But as that decision is repeated, a habit sprouts and grows stronger. Roots entrench themselves and branches grow." —James Clear, Atomic Habits 
"Every action you take is a vote for the type of person you wish to become. No single instance will transform your beliefs, but as the votes build up, so does the evidence of your new identity. This is one reason why meaningful change does not require radical change." —James Clear, Atomic Habits
"You should be far more concerned with your current trajectory than with your current results." —James Clear, Atomic Habits
"When nothing seems to help, I go and look at a stonecutter hammering away at his rock, perhaps a hundred times without as much as a crack showing in it. Yet at the hundred and first blow it will split in two, and I know it was not that last blow that did it—but all that had gone before." —James Clear, Atomic Habits
"Be the designer of your world and not merely the consumer of it." —James Clear, Atomic Habits
Impact
Today, Clear continues to write articles for jamesclear.com and other well-read publications. Additionally, he still releases his weekly 3-2-1 newsletter to his subscribers. He also attends speaking engagements at various companies, conferences, and private events. In 2023, Clear is scheduled to speak at Chase, State Farm, and the Global Leadership Network, among others.[19] 
Jamesclear.com donates 5% of their profits to their charity partner, Against Malaria Foundation, which distributes nets to protect children, pregnant mothers, and families from mosquitos carrying malaria.[20] "It is one of the most cost-effective ways to extend life and fulfills my bigger mission of helping others realize their full potential," Clear wrote on his website. To date, Clear's company has provided nets for over 35,000 people.[15]
References
Leaders Media has established sourcing guidelines that rely on credible, expert-level, and primary sources for articles about people and companies. Articles are frequently edited by staff writers. Learn more about our mission, editorial ethics, and how we source references in our editorial policy.
Advice, How-To & Miscellaneous Books – Best Sellers – Books – The New York Times. (n.d.). https://www.nytimes.com/books/best-sellers/advice-how-to-and-miscellaneous/ 
About. (2022, December 29). James Clear. https://jamesclear.com/about 
Sferra, C. (2018, November 18). James Clear '08 creates his own future. The Denisonian. https://denisonian.com/2018/11/anl/james-clear-08-creates-his-own-future/ 
Who is James Clear( What is he Popularly known for?). (n.d.). Professional Leadership Institute. Retrieved February 3, 2023, from https://professionalleadershipinstitute.com/resources/who-is-james-clear/ 
Famous Speeches: A List of the Greatest Speeches of All-Time. (2021, August 2). James Clear. https://jamesclear.com/great-speeches 
Clear, J. (2018). Atomic Habits: An Easy & Proven Way to Build Good Habits & Break Bad Ones (Illustrated). Avery.
Atomic Habits Summary by. (2022, October 26). James Clear. https://jamesclear.com/atomic-habits-summary 
Odell, K. B. (2019, January 1). 'Atomic Habits' and 'The Bullet Journal Method' Review: New Year's Baby Steps. WSJ. https://www.wsj.com/articles/atomic-habits-and-the-bullet-journal-method-review-newyears-baby-steps-11546299276 
Shain, S. (2019, December 31). How to Crush Your Habits in the New Year With the Help of Science. The New York Times. https://www.nytimes.com/2018/12/31/smarter-living/better-habits-tips-new-year-resolutions-science.html 
Clear, J. (2016, September 1). What You Should Focus on Instead of Setting Goals. Time. https://time.com/4377097/success-tips-goals-systems/ 
CBS Mornings. (2018, December 4). How to maximize your morning routine. YouTube. https://www.youtube.com/watch 
CBS Mornings. (2019, August 19). Author James Clear on building good habits. YouTube. https://www.youtube.com/watch 
CBS Mornings. (2019b, August 19). Building better study habits for students. YouTube. https://www.youtube.com/watch 
3-2-1 Thursday newsletter. (2022, October 27). James Clear. https://jamesclear.com/3-2-1
Best Articles: Over 100 Interesting Articles to Read. (2021, December 8). James Clear. https://jamesclear.com/articles 
Clear, J. (2018a, June 8). The Creative Process: For a More Creative Brain, Follow These 5 Steps. James Clear. https://jamesclear.com/five-step-creative-process 
Clear, J. (2019, April 24). The Ultimate Productivity Hack is Saying No. James Clear. https://jamesclear.com/saying-no 
Clear, J. (2019a, March 6). 30 One-Sentence Stories From People Who Have Built Better Habits. James Clear. https://jamesclear.com/one-sentence-habits 
Speaking Events. (2023, February 2). James Clear. https://jamesclear.com/events 
Against Malaria. (n.d.). The Against Malaria Foundation. https://www.againstmalaria.com 
Any reader who wishes to provide any additions or revisions to this article, including updating any out-of-date information, please email [email protected].