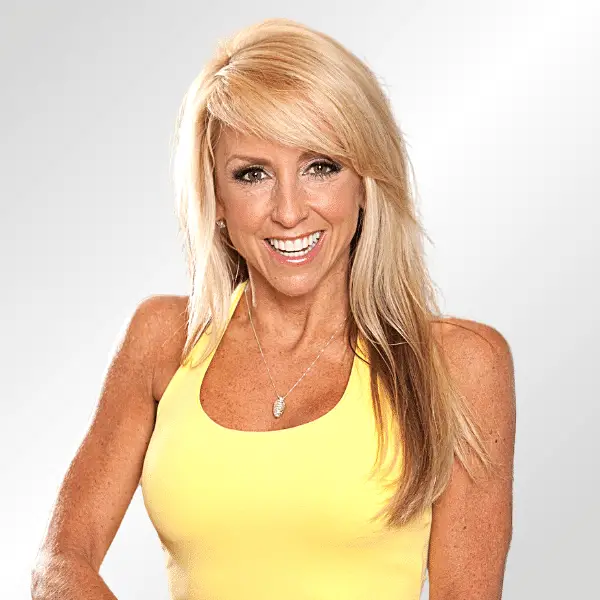 DOB:

February 2, 1969

Age:

54

Country:

United States

Resides:

Laguna Beach, CA

Hometown:

Michigan

Known For:

Business expert with ADHD

Spouse/Partner:

Bret Johnson

Religion:

Christianity

Education:

Michigan State University
About Chalene Johnson
Chalene Johnson was born on February 2, 1969, in Michigan, United States. From a young age, she had an interest in fitness and being active. She recalls that she grew up "playing hide and seek in fields of corn, riding motorcycles, building forts in the woods, summers water skiing, winters snow skiing and surrounded by supportive, loving parents." [1] However, Johnson has also mentioned that she dealt with mental health issues when younger, including anxiety.
After graduating from Michigan State University, Johnson's career in the fitness industry began with her passion for teaching fitness classes.[3] In the 1990s, she started teaching fitness classes at a local gym while attending college. She quickly became known for her high-energy teaching style, incorporation of emotions into exercise, and innovative choreography, all of which made her classes highly in demand.[4] 
She has a large social media following, including over 768,000 followers on Instagram and 139,000 on YouTube.[5] [6] Johnson has since grown into a multifaceted career as a fitness expert, entrepreneur, business coach, and motivational speaker.
Fitness Career
Johnson has helped millions of people learn about nutrition, fitness, and tips for improving their heath.[7] In 1997, she and her husband opened their own health club, Powder Blue Productions, in Laguna Beach, California.[8] There, she developed her own fitness programs, including Turbo Kick and PiYo, which combines elements of kickboxing, dance, and yoga. These programs became popular across the country, leading Johnson to travel and train other instructors so they could teach her programs to a wider audience.
In 2004, Johnson partnered with Beachbody, a leading producer of fitness programs, to create Turbo Jam, which became one of Beachbody's most successful programs. She went on to create other programs for Beachbody, including ChaLEAN Extreme and PiYo.[8] 
Johnson has sold more than 10 million fitness DVDs on networks including QVC. She also currently holds The Guinness Book of World Records' title for the most fitness videos.[9]
Here's more about some of Johnson's most popular fitness programs:[1] 
Turbo Jam: Turbo Jam is a high-energy cardio workout that combines kickboxing and dance moves. It features fun, easy-to-follow choreography set to upbeat music and is designed to burn calories and boost cardiovascular fitness.
ChaLEAN Extreme: ChaLEAN Extreme is a strength training program that uses heavy weights and slow, controlled movements to build muscle and increase strength.
PiYo: PiYo is a low-impact workout that combines elements of Pilates and yoga to improve flexibility, strength, and balance.
131 Method: The 131 Method is a comprehensive nutrition and lifestyle program that focuses on personalized nutrition and habit change to improve overall health and well-being.
Books and Programs
Johnson has authored several books, some of which are best sellers, focused on fitness, business, and personal development.[10] In her books, she outlines plans for creating healthy eating and exercise habits, achieving personal and professional goals, and growing businesses using social media.
Johnson's most popular books, guides, and programs include:[1][11] 
The 131 Method: Your Personalized Nutrition Solution to Boost Metabolism, Restore Gut Health, and Lose Weight
The Chalene Johnson Collection 
Instagram Impact
The One Thing: 66 Day Workbook
30-Day Goal Challenge: Commit to Her Your Goals
Declutter Project
Balanced Seven: Set Your Intentions
In addition to her fitness career, Johnson has become a successful entrepreneur and business coach.[12] She founded the Marketing Impact Academy, an online training program that provides entrepreneurs with the tools and strategies they need to build and grow their businesses.[13] The program covers a range of topics related to marketing, social media, and business development, and is designed to help entrepreneurs build a strong online presence and attract more customers.
The Marketing Impact Academy includes a range of training materials, including video lessons, live coaching calls, and downloadable resources. Participants also have access to a private Facebook group where they can connect with other entrepreneurs and receive additional support and guidance.[13] 
Some of the topics covered in the Marketing Impact Academy include:[13] 
Creating a strong brand identity
Developing a social media strategy
Building an email list and using email marketing effectively
Creating engaging content that resonates with your target audience
Developing sales funnels and using them to convert leads into customers
Additionally, she's created mini courses on business and marketing topics, including money matters, brand deals, and reselling guide programs.[1] She's also the creator of the organization journal line called Push Journals, which are "life journals" that aim to help people reach their goals more easily.[14]
Podcast
Johnson hosts a podcast called The Chalene Show, which covers a variety of topics related to health, fitness, personal development, and business.[15] In the show, Johnson shares tips and strategies for building a healthy and fulfilling life, and interviews experts in various fields. The podcast has been ranked as one of the top business and health podcasts on iTunes and has a large and dedicated following. 
According to the show's website, "The Chalene Show is life coaching, personal development, nutrition, exercise, focus, faith, family & fun all rolled into one!"[15]
Awards and Achievements 
Johnson's work in the fitness industry and as an entrepreneur has been widely recognized and celebrated. She's won the IDEA World Fitness Inspiration Award and Huffington Post's "Top 50 Female Entrepreneurs to Watch" in 2017 award. [7][16] 
Aside from being a writer and fitness enthusiast, Johnson is a popular motivational speaker. She has given keynote speeches at numerous events and conferences around the world on business, growth, and health-related topics.
Johnson and her husband and business partner Bret have been married for more than 20 years. Johnson is a mother of two and is known for her commitment to promoting healthy family lifestyles. Additionally, she's an advocate for mental health and has been open about her struggles with anxiety and depression. She frequently speaks on the topic and offers resources and support for those who may be struggling.[17]
References
Leaders Media has established sourcing guidelines that rely on credible, expert-level, and primary sources for articles about people and companies. Articles are frequently edited by staff writers. Learn more about our mission, editorial ethics, and how we source references in our editorial policy.
Fitness – Chalene Johnson Official Site. (2020, November 18). Chalene Johnson Official Site. https://www.chalenejohnson.com/fitness/
About – CHALENE JOHNSON. (2023, January 27). CHALENE JOHNSON. https://chalene.com/about/
Muhonji, M. (2022, November 28). Chalene Johnson's biography: age, measurements, family, net worth. Legit.ng – Nigeria News. https://www.legit.ng/ask-legit/biographies/1456670-chalene-johnsons-biography-age-measurements-family-net-worth/
J. (2021, December 28). Great Lessons Learned from Chalene Johnson. Sources of Insight. https://sourcesofinsight.com/lessons-learned-from-chalene-johnson/
Charlene Johnson. Instagram. https://www.instagram.com/chalenejohnson/?hl=en
Chalene Johnson. Youtube. https://www.youtube.com/chalenejohnson
Chalene Johnson | Keynote Speaker | AAE Speakers Bureau. https://www.aaespeakers.com/keynote-speakers/chalene-johnson
Attwood, E. (2013, November 20). Beachbody and Powder Blue Productions Announce Certification Partnership. Athletic Business. https://www.athleticbusiness.com/industry-press-room/article/15144165/beachbody-and-powder-blue-productions-announce-certification-partnership
Johnson, C. Chalene Johnson. SUCCESS. https://www.success.com/author/chalene-johnson/
Chalene Johnson: books, biography, latest update. Amazon.com. https://www.amazon.com/stores/Chalene-Johnson/author/B005VH4E40?ref=ap_rdr&store_ref=ap_rdr&isDramIntegrated=true&shoppingPortalEnabled=true
Books by Chalene Johnson (Author of PUSH). https://www.goodreads.com/author/list/4127183.Chalene_Johnson
Chalene Johnson. LinkedIn. https://www.linkedin.com/in/chalenejohnson/
Marketing Impact Academy Expert & Business Directory – CHALENE JOHNSON. (2022, December 8). CHALENE JOHNSON. https://chalene.com/marketing-impact-academy-expert-business-directory/
The PUSH Journal: an All-In-One life planner and much more. . . Chalene Johnson. https://pushjournal.com/
CHALENE JOHNSON. (2023, March 14). CHALENE JOHNSON. https://chalene.com/podcast/
Minich, J. (2021, August 30). 2021 IDEA World Fitness Awards. IDEA Health & Fitness Association. https://www.ideafit.com/event-coverage/2021-idea-world-fitness-awards/
$10M+ in annual revenue – Chalene Johnson – Beyond 8 Figures Podcast. (2022, November 4). Beyond 8 Figures Podcast. https://beyond8figures.com/podcast_episode/10m-in-annual-revenue-chalene-johnson/
Any reader who wishes to provide any additions or revisions to this article, including updating any out-of-date information, please email [email protected].