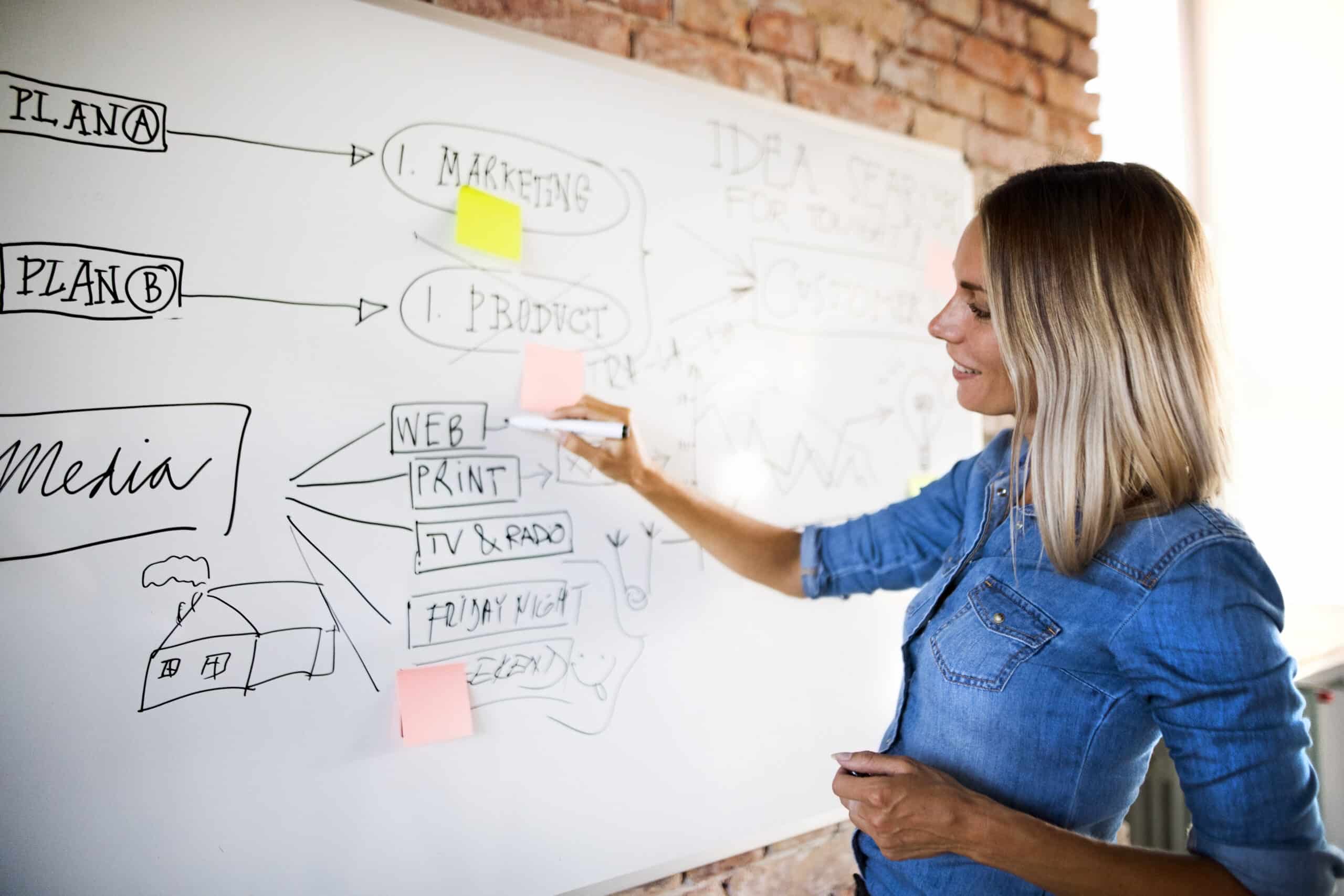 Research from McKinsey & Company shows only 13 percent of consumers are brand loyalists. This is a stark reminder that most businesses struggle with spinning their wheels trying to acquire new customers which can cost up to five to 25 times the cost of repeat customers according to Harvard Business Review. So, how can you make your business stand out in a sea of other options, increase brand loyalty, and stop flying through your marketing budget? One of the best solutions for retaining long-term customers and cutting customer acquisition costs is transforming your marketing funnel into a marketing flywheel. This sales and marketing model saves business owners time, money, and energy spent on customer acquisition.
Below, learn more about:
What a marketing flywheel is
What one looks like in motion
How they're different from a traditional sales funnel
How flywheels work
Tips for putting a flywheel into action
What is a Marketing Flywheel
A marketing flywheel is a cyclical sales model that's purpose is to delight customers so much they turn into loyal, raving fans. These brand advocates are repeat buyers who drive growth not only through their purchases but by sharing their experiences and bringing in a network of referrals.
Jim Collins first mentioned "the flywheel effect" in his best-seller, Good to Great. The book presents Collins' findings on how companies make the transition from mediocrity to greatness. The author explains that businesses gain momentum through a series of concerted actions. He compares this to pushing a flywheel, an extremely heavy wheel that powers steam engines like those used in old trains. While it takes a while to fire up, each turn of the flywheel generates more and more power and momentum. By the time the train reaches its full speed, it's unstoppable.
Marketing Funnel vs. a Flywheel
Marketing funnels aren't dead—they're one component of a marketing flywheel. Attraction and engagement are still necessary for either model, but the end goal of a flywheel is different. In contrast to a funnel, momentum doesn't stop at the end of the buying process. Those with marketing flywheels aim to delight customers so much, they become marketers for your brand.
Efficiency
To visualize this point, look at the linear shape of a funnel. At the bottom of the funnel (BOFU), there's nowhere for customers to go after they decide to buy. To get more buyers, the whole process has to start back at square one. As mentioned before, gaining new leads is expensive. The flywheel solves the problem by shifting to a cyclical sales model that intentionally plans out delightful experiences and results customers search for.
Education
Marketing flywheels also focus more heavily on educating their customers so buyers can educate their family, friends, and personal network about the business's offerings. They do this by explaining your brand message, how products and services work, and the best benefits the company provides. For example, say your company sells supplements. When a buyer loses 30 pounds and achieves the results they're looking for, they'll undoubtedly be happy. Maybe they'll write a testimonial or share a review online. But when a person knows what to do to lose weight, how the supplement works, and why your business wants to help them achieve their goal, a deeper, more meaningful connection gets built between customers and companies. Because of this, buyers are more likely to share their personal experience using your product with their inner circle.
Referrals
Another key difference is the role referrals play in a flywheel. When a buyer is delighted, they testify their happiness out loud. This attracts even more customers to your brand, saving the business time, energy, and money. Typically, funnels don't concentrate heavily on the referral process since marketers' main goal is making a short-term sale. Yet, in a flywheel, referrals are the driving force of long-term momentum.
As Nielsen reports, nothing beats word-of-mouth marketing. The company cited "92 percent of consumers around the world say they trust earned media, such as word-of-mouth or recommendations from friends and family, above all other forms of advertising." This means flywheels capitalize on buyers' influence within their personal network, leading to more expansive growth.
Non-Linear Decision-Making
Additionally, the linear structure of funnels doesn't reflect the modern buying decision-making process. As explained at ContentTECH by Anna Talerico, co-founder of Ion Interactive, "Buyers are in control. And they're not going from step one to step two to step three in this process that you define as linear . . . They are jumping around . . . They're comparing. They're doing their self-education on their own terms in their own time frames." Flywheels support the ways in which customers make purchasing choices by delighting them, no matter what stage they're at in their decision-making process.
What a Flywheel Looks Like in Motion
Flywheels operate by aligning marketing and sales strategy with focused actions meant to wow customers. Zappos is an amazing example of a business implementing a flywheel. Sasha Ilic reveals some of the ways the company does this. She writes, "While assisting them [customers] on the phone, it's not uncommon for us to send a baby blanket to a customer who has a screaming infant in the background, or even a wine set for that stressed-out mommy. I once sent a Slip 'N Slide to a family with four little girls who needed something fun to do over summer." Without a doubt, these actions gained the company repeat customers who advertise their wonderful experience, thus creating momentum in the flywheel.
How Amazon's Flywheel Works
Amazon's "virtuous cycle" is another example of one of the world's most powerful flywheels. The model is designed to stimulate growth by providing an amazing customer experience. As founder Jeff Bezos explained in a 1999 interview with CNBC, "If there's one thing Amazon.com is about, it's obsessive attention to the customer experience, end-to-end." The company's sales and marketing strategy reflect this statement.
By providing a remarkable customer experience, buyers bring in more buyers from within their network. An increased amount of customers results in more third-party sellers. More sellers benefit buyers because they provide a wider variety of products and services to choose from. Additionally, prices drop as sellers get more competition. As demonstrated, their entire business model functions to benefit customers. The model clearly works. As of 2020, the company ranked number four on Forbes' list of the world's most valuable brands with an estimated worth of $135 billion.
How to Build Your Own Flywheel
The great news is that any company owner in any industry can reap the benefits of switching over to a flywheel. Yet, this process might seem tedious to business owners who've already invested in marketing funnels. Don't worry, your funnel isn't going to waste. A flywheel only improves what you already have in place. Think of it as developing a 2.0 version that optimizes every detail of the customer journey and brand experience through the three different stages listed below. Keep in mind that each step needs to flow cohesively to the next. Also, think about ways to make it easy for customers to come back by doing things that surprise, delight, and excite them.
Phase 1: Attract
Like a marketing funnel, flywheels still cover the buying decision process:
Problem/need recognition
Information search
Evaluation of alternatives
Purchase
Yet, these stages are all part of the attract phase. This means that, unlike in a funnel, they don't culminate in one final action.
Attracting customers is done by drawing attention and intrigue to your product or service. The Rule of 7 states that it takes seven interactions with a company before a person makes a purchase. With this in mind, what is your plan for retargeting and building interest? Educational content is one way of capturing attention and growing trust. For example, say you own a company that sells essential oils. One idea for attracting customers would be creating a guide on essential oils. It's a great free resource that serves potential customers. Teaching materials also communicate a brand message and let customers know what to say when they're advocating your business to others.
Other avenues of attraction include, but aren't limited to:
Brand message, which is how you uniquely communicate with your customers. Two great questions to ask are, "How does our business's message differ from competitors?" and "What is the WOW factor in our company's message?"
SEO-friendly content that identifies and solves customers' problems or needs. Use an SEO toolkit like SEMrush to discover top keywords and phrases buyers search for. Then, create content that uses these keywords and positions your product as a solution.
Paid ads
Retargeting ads
Engaging marketing such as blogs, podcasts, videos, and social media posts
Free trials
Remember, the entire purpose of a flywheel is to delight customers, even during the introductory phase. This means any resource in the attraction phase should benefit potential buyers. The best way to keep customers' attention is to go above and beyond in nurturing and serving your audience.
Phase 2: Engage
Companies that succeed with using a flywheel implement a variety of ways to engage with customers. Since likely other companies are competing with yours, think of ways to set yourself apart. For instance, Warby Parker's focus on customer experience set them apart from age-old ways of getting a pair of specs. Why spend $700 on a pair of designer glasses, when you could spend $95 on a company that operates on the premise of delighting you? From quirky stores to in-house developed technology that personalizes the shopping experience, their surprising, entertaining, and beneficial way of doing business stands out. At the end of the day, customers want a fun, positive experience they can share with their friends and family.
Get together with your creative team to brainstorm ways your company can engage like no other before and after a purchase.
Ideas for engaging with potential buyers before a purchase include:
Telling a compelling, distinctive

brand story

that your target audience identifies with.
Starting or joining online conversations that foster a sense of community. For example, the e-bike company Super 73 regularly participates on Reddit threads regarding their product. This is a great way to show potential customers the business actively supports its buyers.
Building trusting relationships through nurture email sequences, free guides, eBooks, case studies, consultations, and testimonials.
Providing attentive support when potential buyers ask questions via social media, email, or phone.
Creating fun contests and giveaways on Instagram or Facebook.
Educating potential customers on your product or service with a free webinar.
After a purchase, work toward:
Creating ways to onboard new customers as soon as they make a purchase. A welcome email series is an excellent way to do this.
Sending out guidebooks and tutorials with insider knowledge or overlooked features and benefits. Make sure this content is fun, helpful, and uses the brand voicing to further connect with buyers.
Triggering repeat purchases by reminding customers when it's time to reorder. Make this experience as rewarding and easy as possible. For example, Amazon features a "subscribe and save" button for many items. Another option is to send a reminder email with a coupon code for reorders. Also, introduce customers to other products that complement an item they've purchased.
Starting a loyalty program with attractive rewards. For example, beauty company Sephora's rewards points accumulate toward free samples of cosmetics.
Stage 3: Delight
The final stage of the marketing flywheel is delighting consumers. This is something companies can't afford to be conservative about. Otherwise, the flywheel won't generate enough momentum to be effective. Sending an endless string of upsell emails after a purchase does not delight customers. It annoys them. Remember, the more surprising and fun the customer experience is, the more likely people will return as repeat customers. They'll also promote the business to friends and family who will also be interested. As they are welcomed into the flywheel and delighted by the company, new customers will continue the process of bringing in more buyers. This infinite cycle of delighted customers and referrals keeps the flywheel spinning in a powerful cycle.
A great example of a company thinking outside the box to do this is Kleenex. Using social media, they searched for people suffering from a cold. Instead of reaching out directly, they coordinated with the sick person's friends and family. Then, they sent a Kleenex Kit full of "get well soon" branded items. Even better, they made this all happen within an hour. 100 percent of those who received a package posted about it online. While only 50 Feel Good by Kleenex kits were sent out, the campaign led to 650,000 impressions and 1,800 interactions. It goes to show surprising and delighting customers generates massive traction for flywheels.
To accomplish a delightful customer experience:
Invest in an automated onboarding program
Send meaningful, special surprises that customers don't expect—for example, UniQorn Coffee sends out exclusive Spotify playlists
Provide helpful, beneficial content and resources
Train an excellent customer service team
Put internal systems in place for quickly resolving problems
Make adding real value to people's life a key focus
Empower customers to use your product or service to overcome their roadblocks in life
Focus on maximizing buyers' happiness, joy, and satisfaction
Implement loyalty and affiliate programs that provide perks and prizes
Create contests for user-generated content
Send out unexpected gifts or perks to customers with the most referrals
Get regular feedback with surveys to improve your customer experience
Tips for Getting a Flywheel Moving
As powerful as flywheels are, they don't gain speed autonomously. Now that you understand how a flywheel works, it's time to learn how to get yours to increase in power. In total, three factors drive energy and speed in this business model: force, friction, and size. When one of these components is off, some repairs will be necessary to ensure your flywheel keeps gaining speed. Find out how to do this, below.
1. Reassess and Monitor the Force Being Applied to the Flywheel
Force is how a team creates momentum through various programs and strategies. For example, this could be anything from lead magnets, to discount codes or exclusive free trials. It's important to make sure you're tracking the success of each force in your flywheel since they're what keeps the wheel turning.
Start by stepping back to assess your entire customer journey and brand message. During this phase, look at the forces that are working and those that aren't. Apply more force to the strategies growing the business, and change up those that are less effective. For example, even changing one word in an email can make a difference in rising conversions.
Increase your flywheel's impact by finding the places where you're losing leads. Then, start experimenting and evaluating the success or failure of various forces and how they measure up with your key performance indicators (KPIs). This might look like reviewing the use of referral codes to see if they align with the goals you set for lead generation from the delight phase.
2. Pinpoint and Remove Friction from the Flywheel
Friction is what limits the wheel's movement, and therefore, speed. This might look like terrible customer service, improperly trained employees, shipping delays, or delivering poorly made products. To remove friction, think about what's preventing purchases, repeat purchases, and customers' delight.
Here's a few steps for decreasing friction:
Start by looking at the business's top complaints from customers. Doing so requires systems in place for receiving feedback such as post-purchase surveys and regular reports from customer service and social media teams that handle angry or disappointed customers.
Next, strategize ways to make things right with buyers and prevent these problems from happening in the future. What does it look like to transform a negative experience into a positive one?
Develop a list of treatments that absolve the pain customers feel.
Then, communicate any changes with your team and the "why" behind it.
Make sure every department is on board with any new objectives. All team members, despite the role they play in the customer journey, need to be working toward the same objective: delighting the buyer.
Finally, develop a plan for implementing these solutions so friction can quickly get resolved.
Other ways of eliminating friction also include:
Investing in automation for tasks that show a high amount of human error.
Empowering your team with the tools they need to make a customer's day. This might look like giving customer service representatives an amount of company credit to use on buyers.
Ensuring customers receive companion content that teaches them how to get the most out of the product or service.
Making the checkout process simple—for instance, a "one-click to buy" button.
Implementing a "subscribe and save" sales model that makes repurchasing easy.
Integrating a referral system into the post-purchase customer experience. Make sure it benefits both previous customers and new buyers. For example, the grocery delivery service Shipt ran a promotion where referrals got $50 off their annual membership, while the people who referred them also received $50 credit.
Force Friction Out with Creative Solutions
Chewy, an e-commerce pet products company, creatively removes friction through excellent customer service. For example, after the death of her cat, TikTok user SFapps asked if she could return the unused food she had purchased from them. If they weren't concerned about eliminating friction, they would have simply said "no." Instead, Chewy not only accepted the return but also sent flowers and a card to express their condolences. Even though she no longer had a use for pet products, the company still went out of its way to delight her. As a result, her video received over 26,500 likes and 2,000 comments.
It goes to show, offering excellent customer support—even when a sale isn't on the line—has the power to decrease friction and increase sales. This one positive interaction introduced thousands of people into Chewy's flywheel. Multiplying these interactions only decreases more friction and welcomes more customers into their remarkable brand experience.
3. Determine the Size of Your Flywheel
Finally, the size of the flywheel determines how much energy and effort you'll need to start generating movement. The bigger and heavier the wheel is, the more exertion is necessary to get it turning. This means more creative strategies that'll generate buzz and excitement around your product or service. Determine ways to inspire customers to start conversations about your brand. For example, send balloons with a purchase, develop weird campaigns that make people laugh, or donate money to causes that customers care about. Do everything possible to attract, engage, and delight.
The size of a flywheel also determines how much maintenance and repair it needs over time. The larger the flywheel, the higher volume of customers a company handles. Naturally, as more business growth occurs, business owners need to hire people who can keep driving momentum. Understaffed teams experience more friction because they don't have the manpower to keep larger, and therefore heavier flywheels spinning. Putting a plan for growth in place supports employee retention, fights work burnout, and keeps the ball rolling at higher speeds.
What Else to Know Before Implementing a Flywheel
Before transforming your marketing funnel into a flywheel, there's a few more things to know. As Jim Collins, the author who popularized this concept, describes in a video on his YouTube channel, "It's very helpful to rigorously ask the question, 'How does our flywheel turn?' 'What are the components of our flywheel?' 'What's the sequence in the flywheel?' 'How can we do for ourselves what Amazon did for itself?'" Thinking through strategy is a huge component of ensuring business owners receive an ROI on the time, energy, and money they put into developing a flywheel.
Additionally, Collins says while flywheels are a symbol of continuity, they also present a bit of a paradox. He writes in Turning the Flywheel, "On the one hand, you need to stay with a flywheel long enough to get its full compounding effect. On the other hand, to keep the flywheel spinning, you need to continually renew, and improve each and every component." This means that there's never a point when a company can expect its flywheel to perpetually turn itself. While it'll gain momentum, great leaders make sure their flywheels are dedicated to always improving the customer experience during every phase.
With this being said, an innovative, service-oriented attitude is a must for CEOs, executives, and team members. Check out these articles next that discuss more on innovation and servant leadership.
Servant Leadership: The Ultimate Key To A Healthy Business
Cheryl Bachelder Saved Popeyes with Servant Leadership