For most of us, putting Kerrygold butter into your tea or coffee and eating "jungle bacon" sounds like something from another planet. Yet, health leaders—like the bestselling author of The Four-Hour Body, Tim Ferriss, and the founder of Bulletproof 360, Dave Asprey—encourage people to do these things. While their advice might sound foreign, the concept behind these suggestions is likely one you've heard of: biohacking.
The word "biohacking" often conjures up images of robots, medical labs, white coats, and experimental injections filled with green liquid. In reality, drinking coffee with butter and eating crickets tend to be more common among biohackers.
But what is biohacking? Can it actually help you optimize your body?
Despite being a $15.42 billion industry as of 2020, the global biohacking market and how biohacking works is still a mystery—or misconception—for many. Yet, learning more about biohacking and practicing it can result in benefits like losing weight, reducing your blood sugar, and generally improving your mental and physiological health. By the end of this article, you will be able to apply methods of biohacking that can lead to a healthier, more productive life.
Key Takeaways on Biohacking
Biohacking methods exist on a spectrum, from mild to extreme.
There are three different forms of biohacking: nutrigenomics, DIY biology, and grinder.
Some ways of biohacking are safe and backed by science; some are not.
There are natural and non-invasive methods for biohacking you can start doing today. 
What Is Biohacking?
Biohacking refers to any small lifestyle changes done over time to enhance—or "hack"—your natural biology and physiology. It stems from the belief that what a person puts into their body or restricts it from, plus the environment cultivated for it, has a profound effect at a molecular level.
The practice of biohacking occurs on a spectrum. Anything from natural sleep-enhancing supplements to intermittent fasting can be a method for "hacking" your biology. Most biohackers use completely safe methods while others experiment with dangerous and even illegal techniques. The types of biohacking used ultimately depend on a person's goals. Most objectives are improving physical performance, weight management, enhanced cognitive function, and optimal health.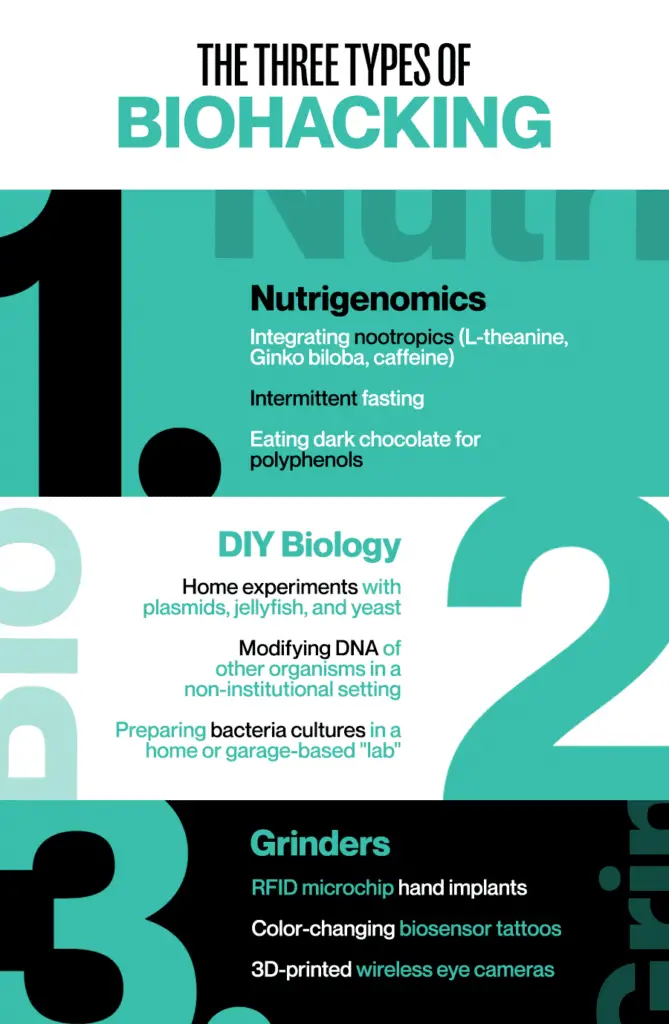 Understanding the Different Types of Biohacking
Nutrigenomics
According to the National Library of Medicine, nutrigenomics (nutritional genomics) is "the study of the effects of nutrients on the expression of an individual's genetic makeup." In the context of biohacking, it refers to the potential effects that certain foods have on gene expression. 
"Nutrigenomics is a way to zoom in on what will help you reach your goals based on what we know about your genes and how they interact with the food you eat," registered dietitian Devon Peart tells the Cleveland Clinic.
Red wine, for example, contains resveratrol, which is said to stimulate a gene that protects the body from free radicals, helping to prevent cancer. Therefore, drinking red wine to obtain this benefit would be a form of nutrigenomics.
Other examples of practicing nutrigenomics:
Eating dark chocolate for its cancer-preventing polyphenols.
Eating a high-protein diet for weight loss. 
Reducing sodium intake to prevent high blood pressure and cholesterol. 
Not sure which foods to seek or avoid? Take a nutrigenomic test to learn how your body responds to certain nutrients, and then develop a plan. 
DIY Biology
Do-it-yourself biology is a subculture of biohackers who are typically scientific researchers and bio enthusiasts. In an effort to make biological discoveries they can share with non-experts, they conduct experiments for modifying DNA that is often unbacked by science.
Some examples of DIY biology experiments include:
Fermenting your food.
Preparing cultures of bacteria.
Extracting your own DNA.
Modifying the DNA of other organisms to create modified versions.
While DIY biology may sound appealing, especially for those who loved conducting science experiments in high school, approach this controversial method of biohacking with caution. Without the proper education and research, the explored science and solutions can result in risky errors or even dangerous situations.  
Grinder
Movies like iRobot, RoboCop, and Terminator touch a little on what the grinder subculture of biohackers believes. Grinder refers to a collective of biohackers who want to "hack" their whole body to its limits using implants, chemical injections, gadgets, computer chips, and other technology. Essentially, their goal is to create a community of cybernetic organisms (cyborgs).  
For example, Rob Spence, a filmmaker with vision in only one eye, wears a prosthetic eye camera. He tells Medical Technology, "I swap between the two of them, as a prosthetic eye is as switchable as a pair of earrings . . . I can celebrate my cyborgness and individuality. In other words, being one-eyed can be [cool]."
According to Medical Technology, some additional example hacks grinders advocate for are:
Skull implants that allow people who are color blind to hear colors through a hand-implanted medical ID chip.
Color-changing biosensor tattoos that indicate changes in specific biomarkers (like pH and blood sugar).
3D-printed, wireless eye cameras that allow people with vision in only one eye to see with both for up to 30 minutes using a battery-operated camera module.
Benefits of Biohacking
Biohacking can have profound health benefits if done well and with a plan. Whether you're seeking weight loss, disease prevention, a boosted memory, or simply want to live as long as possible, the benefits vary almost as much as the methods. It all depends on your goals.
Some of the most common benefits people reap from biohacking include: 
Enhanced cognitive function: Whether you're taking brain-boosting nootropics or integrating supplements into your daily routine, enhanced cognitive function is nearly always a byproduct of biohacking efforts. Eric Matzner, a biohacker who admits to taking 50-100 different vitamin supplements each day, can now read 1,000 words per minute and type 150 words per minute, way above the average for both. 
Weight loss: Healthy weight loss can result simply by prioritizing sleep and nutrition. Dave Asprey, "The Father of Biohacking," has spent a million dollars and the last 20 years of his life working towards biohacking his biology. At 46, Asprey is only about 10% body fat, down significantly from weighing 300 lbs at 29. He claims his cravings are reduced and he has more energy now than he did 20 years ago. "I feel amazing, my brain works, I can remember all of the things I wanna remember," he says. 
Increased energy: Things like poor sleep, dehydration, and vitamin deficiencies can really zap your energy. So as you optimize certain healthy habits, like drinking more water, getting higher quality sleep, and eating nutrient-dense meals, your energy levels will naturally increase. 
Disease prevention: Biohacking is improving your biology and physiology on a molecular level. When you change your molecular structure, that also changes the inherent mutations and variations within your DNA that make you susceptible to certain diseases in the first place. This alteration in your DNA is what aids in disease prevention.
Pain management and reduction: If you have a herniated disc, lumbar spinal stenosis, a back sprain, or any other form of chronic pain, some biohacking methods can help. Infrared therapy, cold therapy, and even certain yoga poses have proven effective for pain management. Honey Singh, a biohacking blogger, shares that infrared therapy "enhances and improves circulation in the skin and other parts of the body, it can bring oxygen and nutrients to injured tissues, promoting healing. It helps ease pain, relieve inflammation, and protect against oxidative stress."
Prolonged life span: Laura Niedernhofer of the Institute of Biology of Aging and Metabolism says that in the future, there is potential to "reduce the risk of many diseases at the same time if we could target the biology of aging." However, Niedernhofer says that right now, the only way we can "age well" is by controlling our diet and exercise.
4 Natural Ways to Start Biohacking Right Now
1. Get a Good Night's Sleep
Slowed thinking, low energy, and irritability are just a few of the problems that result from not getting good quality sleep. Despite this, many of us don't get the recommended seven to nine hours as regularly as we should. According to the Sleep Foundation, almost one-third of adults experience sleep deprivation. The benefits of getting quality slumber each night, though, can be life- and biology-changing.
Here are some tips for biohacking your sleep for improved performance and energy:
Avoid any electronics or stimulants one hour before going to sleep. 
Keep your cell phone out of reach from your bed.
Avoid ingesting any caffeine or alcohol before bed. 
Keep your bedroom dark or wear an eyemask to reduce light exposure. 
Integrate the use of lavender and chamomile essential oils to help induce sleep.
Take magnesium supplements, valerian root, or passionflower capsules.
2. Change What You Eat
Everything you eat has the potential to either replenish or reduce your health and energy. This concept is why the saying "you are what you eat" is so commonly cited when discussing the importance of diet. When it comes to biohacking, progress is bolstered by clarifying exactly which foods nourish you the most and avoiding everything else.
Here are some tips on biohacking with food:
Complete a food sensitivity test (like this one) to identify any intolerances.
Practice intermittent fasting for weight loss, improved cognitive function, and disease prevention.
Try an elimination diet to see how certain foods affect you.
Limit or cut sugar intake.
Eat fiber-rich foods and fatty fish that are rich in omega-3 fats.
Explore the ketogenic diet for increased energy and brain function. 
Consider using clean, natural nootropics, like green tea, Ginkgo biloba, and medical mushrooms like lion's mane and Cordyceps.
3. Add Physical and Spiritual Practices to Your Schedule
According to a Harvard Health study, exercising stimulates physiological changes in the body that both, directly and indirectly, boost memory and thinking. Similarly, they've linked profound mental and emotional benefits to the practice of mindfulness meditation, which can decrease depression, chronic pain, work stress, and anxiety.
Here are some ways to incorporate physical and spiritual practices into a biohacking routine:
Attend in-person yoga or meditation classes.
Download a mindfulness app (like Calm) for guided and unguided meditations.
Monitor your heart rate with heart rate variability training to self-regulate breathing patterns and alleviate stress.
Restore muscles, reduce pain, and increase energy with cold therapy, like a cryotherapy chamber, ice bath, or a cold shower.
4. Embrace Biohacking Technology
There are several good methods for non-invasive, technological biohacking. Even if the idea of using technology is intimidating, it is necessary to have actual, physiological responses when biohacking. Without tracking your progress, biohacking is less effective since it will be unclear which strategies work best for your body.
Here are three technological devices biohackers should consider using:
Oura Ring: Unlike common wrist-based fitness trackers, the lightweight Oura Ring uses your finger to measure your heart rate, sleep patterns, body temperature, and more. The ring then provides a 360-degree view of the information it collects in a reviewable report each morning, so you're always in the loop. 
Apple Watch or Fitbit: These super-watches redefine watch technology. They track sleep, daily steps, heart rate, menstrual cycles, calories burned, and more. A smartwatch is good if you want to closely monitor physiological changes due to your biohacking efforts.
HabitShare: By sharing your new habits with others, you hold yourself accountable and increase your likelihood of sticking with them. This is what HabitShare, a social habit tracker app, allows you to do. With it, you can establish habits, share them, and follow your friends' habit progress as well. You can even create a community of people with similar goals. 
Biohacking FAQ
Is There Scientific Evidence Biohacking Works?
A study published in the New England Journal of Medicine found that intermittent fasting can improve thinking, blood pressure, and weight loss. Recent research conducted by Johns Hopkins University revealed that caffeine can enhance long-term memory. 
Furthermore, two EEG studies by the National Library of Medicine found that daily dietary doses of L-theanine positively affected alertness and attention. Additionally, studies by Springer Nature have proven that cryotherapy is an effective solution for short-term pain management.
Some biohacking methods, therefore, like fasting, consuming caffeine, and taking L-theanine, are backed by scientific evidence and research. Other methods, like using RFID chip implants or spiking your coffee with butter, are still being studied. 
Is Biohacking Safe?
Some biohacking methods, like wearable fitness technology and general nutrigenomics, are safe. These are natural, non-invasive methods backed by science that have virtually no risk associated with their use. 
Other methods, particularly those used most commonly by DIY biohackers and "grinders," can border on the edge of safety. From DNA self-injections to chemical experimentation and implantation, attempting these extreme biohacking methods without expert medical guidance puts people at risk and creates the potential for new health concerns. 
How Is Biohacking Different From Biotechnology?
Biotechnology is a term that broadly refers to products and technologies that help improve our lives and health by using biomolecular processes. According to BIO, biotechnology, aka "biotech" aims to use natural cellular systems to guide developments that reduce the risk of disease, detect illness, streamline chemical manufacturing, cut greenhouse gas emissions, and more. Fitbits, GMOs, and even the processes of using microorganisms to make bread are all examples of solutions born from biotechnology.
Biohacking, on the other hand, uses biotechnology to make new biological discoveries and advancements. Similarly, biotech experts examine the efforts of biohackers to gain new biotech ideas and data. While the two terms have similarities, they represent differences in objective, approach, and purpose. Additionally, you can biohack—like with nutrigenomics—without using biotechnology. 
Where Should Beginner Biohackers Start?
Like with any new routine, progress starts with building atomic habits that stack positive habits on top of one another. Nootropics, natural, supplemental substances, are a great and easy way to start if biohacking is new to you. They can safely integrate into your diet for improved cognitive function. Common nootropics used by biohackers include caffeine, piracetam, turmeric, and L-theanine. 
Build a new habit by drinking coffee in the morning or taking safe nootropic supplements. If you do this daily, it will become second nature to you and you'll be able to easily up-level your biohacking efforts if desired.
Blood testing is another good place for beginner biohackers to start. Blood testing can reveal your body's current and future levels of various nutrients and show how diet changes affect you on a molecular level. If you haven't had a blood test in a while, it's a good idea to get a basic panel done as a starting point. Make a habit of getting it regularly tested to compare the results and see the progress.
Reverse Engineer Your Biohacking Plan
Biohacking is about experimentation. Whether adding new foods, eliminating some, trying new supplements, or adopting a new routine, changing your biology requires trying new things. Some of the methods you try will work, while others may not. Everybody's biohacking plan looks different, and it may take trial and error before you find what works best for you. 
A biohacking app may help lay the initial groundwork if you're just starting. Programs like Quantified Mind, Lumosity, and Inner Balance (among countless others), are some examples of biohacking apps to start with. 
Continue your path to self-improvement and creating an abundant life by reading "How to Create a Vision" and "Goal Setting: 4 Keys to Increase Success as a Leader."