When young Paul Farmer picked citrus fruits with his parents one summer alongside migrant Haitian workers, he was just trying to help make ends meet. Each day, he dutifully gathered fruit and interacted a little with the workers. 
Fast forward decades later, after receiving a medical degree from Harvard Medical School, Farmer and his colleagues opened a two-room health clinic in 1985—the first of its kind, in Haiti. The clinic quickly became an entire hospital, complete with operating rooms, a blood bank, and a nursing school. The hospital, serving more than 150,000 local Haitians, treated infectious diseases for a fraction of the cost in the U.S. He later co-founded Partners in Health, a global organization that provides high-quality health care to low-income communities. 
Providing medical care to the world's most under-served communities was Dr. Paul Farmer's ikigai. His story shows that committing your life and profession to something you're passionate about can be incredibly fulfilling. In fact, a 2015 study showed that those who are happy with their job are 12% more productive than those who aren't. So while adopting this concept of Japanese balance and finding your ikigai takes time and self-reflection, doing so can improve your happiness and productivity both at work and at home. And perhaps even change the world.
In this article, begin your journey of ikigai discovery by learning:
What it is
How to identify it
What the intersections mean and how to find your sweet spot
How to apply ikigai in daily life
What is Ikigai? (ee-key-guy)
The Japanese concept of ikigai describes a person's reason for being and purpose in life. Stemming from the words iki, meaning "alive," and gai, meaning "worth," it's the belief that aligning your passion and vocation with your mission and profession is the secret to a long and happy life.
In Japan, ikigai is embedded in the joy of small daily actions and is why we get up in the morning. From taking a walk, to spending time in nature, to eating nourishing food, simply experiencing what you love is ikigai. 
Since there isn't a direct English translation for the meaning of ikigai, a westernized interpretation of this Japanese concept has gained popularity. Finding your ikigai is also used for finding your purpose professionally. For instance, if you know what you love and what you're good at, you can use that to help you determine your ideal career using the ikigai diagram tool.
Ultimately, ikigai comes when one entirely devotes themselves to exploring their existence and their purpose of leading a fulfilled life. It's about the daily rituals and tasks we do that can bring joy and good health with the broader understanding of our larger role in life. Someone who has found their ikigai is a perfect mentor when it comes to learning how to find yourself.
How to Find Your Ikigai
There is no future, no past. There is only the present.

hector garcia puigcerver
Finding purpose may not be one of your natural skills. Because of this, exploring the ikigai diagram below is a good way to start the process of pinpointing it.
Start by asking yourself these four questions:
What do I love?
What am I good at?
What does the world need?
What can I be paid for?
Let's look at each of these key sections so you can easily find your ikigai.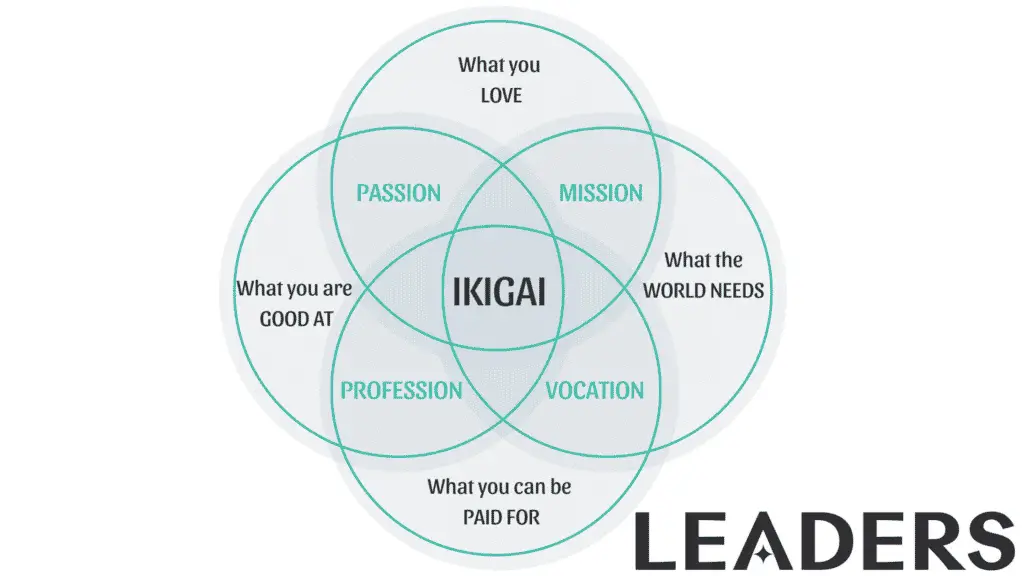 Passion (What Do I Love Doing?)
What do you love doing most? Is there something that truly brings you joy and fulfillment, regardless of skill, access, profitability, or need? Maybe it's creating designs, educating customers on the right products, or keeping a pulse on industry trends.
Here are some questions to ask yourself to find your passion:
Which responsibilities at work do you love?
What would you do for free?
What kind of work makes you feel fulfilled?
Talent (What Am I Good At?)
Are you exceptional at math or have great problem-solving skills? Do you have a knack for meeting people and creating new partnerships? Are you constantly coming up with fresh, innovative ideas? Spend time exploring your natural gifts.
To do this, ask yourself: 
What are you an expert at?
What do others lean on you for advice on?
Why are you the best at a particular responsibility or task?
What qualities do you have that help you succeed at work?
Purpose (What Does the World Need?)
Here, the "world" could be your city, country, or even just your neighborhood. No matter how local or global your interests extend, think about what needs exist and how your passion and talents can fulfill those needs.
When exploring your purpose, consider:
How to solve a social, environmental, political, or economic problem. 
What work will be valuable in the future.
What type of demand there is to solve a particular need.
Work (What Can I Be Paid For?)
Is someone paying you or willing to pay you for your work? Knowing your passion and talents is essential, but you've truly found your ikigai when what you love, what you're good at, and what the world needs are also something you can be paid for.
Consider the following questions to determine if your current work is in alignment:
Are you or can you make a good living doing your current work?
Is your work competitive?
Are others also being paid for the same kind of work/career?
Start with the Five Pillars of Ikigai
Ken Mogi, neuroscientist and author of The Little Book of Ikigai, shares in his book five pillars to consider for finding your ikigai:
Starting small
Releasing yourself
Harmony and sustainability
The joy of little things
Being in the here and now
Using these pillars will help guide you on your journey of discovering your ikigai.
Finding Your Sweet Spot
If you look the right way, you can see that the whole world is a garden.

frances hodgson burnett
Passion, mission, vocation, and profession all lie within the four overlapping Venn diagram circles of what you love, what you're good at, what the world needs, and what you can be paid for. When you know these key components of life, you can find your ikigai with precision.
Essentially:
What you love + what you're good at = passion.
What you love + what the world needs = mission. 
What the world needs + what you can be paid for = vocation.
What you're good at + what pays you = profession. 
The "sweet spot" is where the four circles and their intersections align evenly in the diagram. For Dr. Josh Axe of Ancient Nutrition, this was helping people improve their health by making natural medicine and nutrition products widely available for everyone. His passion for health met with his mission to serve and create change. His expertise in nutrition became his vocation, and ultimately his dedicated profession. 
Suppose one circle overlaps slightly more or slightly less than another, then your ikigai is off-balance. For example, if writing poetry is what you love and what you're good at, but it isn't filling a need, and you're not getting paid for it, then your vocation and profession are imbalanced, and writing poetry may not be your ikigai. 
An off-balance ikigai may manifest itself in symptoms of burnout, stress, depression, and overall poor work-life balance. Combat these symptoms and reclaim your happiness by investing the time and energy into finding your ikigai.
Ikigai Examples
Ikigai is the action we take in pursuit of happiness.

Yukari mitsuhashi
Pursuing your passion is practicing ikigai. But life's uncertainties can make pursuing your dreams not only difficult, but terrifying. As the popular Isaac Slade quote goes, "Sometimes the hardest thing and the right thing are the same."
Some have made the leap of faith, sacrificing their financial stability, personal relationships, and even their homes, in pursuit of what they love, despite any uncertainties. Denise Schelbergen, the creator of The Ikigai Entrepreneur, has witnessed many ikigai journeys. For example, one of her clients, Mary, waited almost 10 years to become a trademark lawyer. After she landed her dream job in Australia, she realized this wasn't what she imagined for her life. She ended up quitting her job and returning back to her home country, the Netherlands. Free to start over new, Mary realized her love of dogs and decided to become a dog trainer. Today, she now owns and runs three well-known, accredited dog training schools, with ambitions of opening more. 
Another person Denise worked with, Kelly, was an online marketing consultant. Her dream was to be a "digital nomad" who lives and works on the road, traveling from city to city freely. With kids at home, though, Kelly knew that that dream would have to wait. Eventually, after some coaching, she felt encouraged to talk with her kids about her dream. Once she did, she was ecstatic they gave their full approval. They wanted to go, too! Shortly after their discussion, Kelly terminated their apartment lease and made her business officially virtual. Today, they are happily living and working remotely, and Kelly's business is multiplying. 
World-renowned free surfer and marine life advocate Dave Rastovich is also living by his ikigai. From surfing and spending so much time in the ocean, he realized his love for dolphins, whales, and porpoises, and created an organization, Surfers for Cetaceans, dedicated to protecting them.
Applying Ikigai in Daily Life 
Only staying active will make you want to live a hundred years.

japanese proverb
For those familiar with Abraham Maslow's hierarchy of needs, finding your ikigai falls at the top of the pyramid of needs, under self-actualization. Looking inward and fully reflecting on your needs and desires will be an important step in your journey of finding your ikigai.
You can begin self-actualizing by building a new daily habit of devoting time to exploring yourself. Once you have experience in this habit, use that time to visualize the future, increase self-awareness, and consider your answers to the four diagram prompts. The more time you devote to exploration, the more precise your concept of ikigai will become.  
Applying ikigai to your daily life will also help kickstart your journey. Authors Hector Garcia and Francesc Miralles have defined ten rules of ikigai that will help you embody the essence of ikigai living, just as the Japanese do. 
The Ten Rules of Ikigai:
Stay active; don't retire.
Take it slow.
Don't fill your stomach.
Surround yourself with good friends.
Get in shape for your next birthday.
Smile.
Reconnect with nature.
Give thanks.
Live in the moment.
Follow your ikigai.
You can find these rules and more insights in their book, Ikigai: The Japanese Secret to a Long and Happy Life.