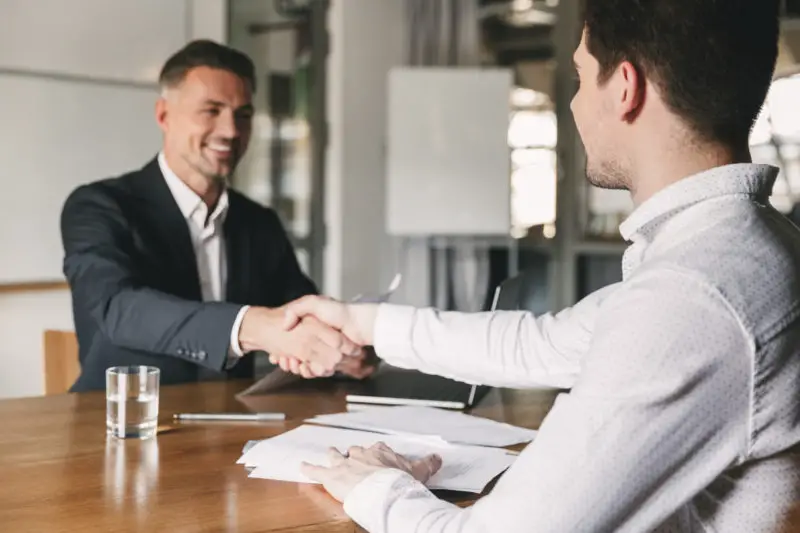 "Will you admire this person? Will this person raise the average level of effectiveness of the group they're entering? Along what dimension might this person be a superstar?"​​ These are the questions Amazon founder Jeff Bezos says he asks himself before hiring new employees. What Bezos is referencing is hiring A team players: self-motivated people who make it their mission to ensure the organization succeeds and grows into its full potential. Yet, to do this, business leaders need to create a hiring process similar to sifting for gold. To find A team players, you need to first build a sifting pan with job interview questions that weed out the dirt and uncover the treasure you seek.
According to a three-year study conducted by Leadership IQ, making the wrong hire occurs more often than not. Of the companies studied, hiring managers said only 19% of their new hires "achieved unequivocal success." This shows the majority of businesses have room to grow when it comes to developing an interview process that finds A team players.
In this article, learn which questions to ask during a job interview to minimize the risk of hiring someone who will negatively impact your business. Get started by using the questions and interview process outlined below.
What to Know Before Conducting a Job Interview
Before beginning the hiring process and asking job interview questions, leaders must get clear on the role that needs fulfilling. This should be directly communicated in the job description the company posts. To find gold, you need to know what gold looks like. If you don't have a mental image of what you're searching for, you won't recognize it when you find it.
To do this, you'll need a strategy. Start by getting clear about the business you're creating. Where are the gaps? Which hire do you need to make to scale the company? What goals must this person accomplish to grow the business? From there, begin developing the job description and key performance indicators (KPIs), so you know exactly who you're looking for and what role they'll be playing.
Think of the hiring process more like an investigation. Once you know exactly who you want to hire and why, you can be more specific with the job interview questions you ask. Doing so will help uncover whether or not the person in front of you is an A team player you'd hire time and time again.
What the Interview Process Should Look Like
A great hiring process breaks job interview questions down into three separate interviews. While this might seem time-consuming, it's important to remember it takes time to find gold. What you're searching for usually doesn't appear 10 minutes after you start the hunt. A three-part interview with the job interview questions outlined below allows hiring managers the time needed to determine if the candidate in front of them is fool's gold or the real deal.
Interview #1: Screening Call
The first interview is a screening call. Conduct this call with the intent of finding out more about who the candidate is as a person. This includes their professional background, personality, and mindset. It's important to note that if a hiring manager gets indicators the interviewee is not a good fit, they can end the call (or any one of the following interviews) at any time. Because of this, these calls can range from five minutes to one hour.
Questions to Ask During the First Job Interview:
Can you give me a 30,000-foot view of your background?
What were you hired to do for each of the positions on your resume?
What prompted the move between these roles?
Can you describe your career goals?
What are you really good at professionally?
Name what you are not good at or not interested in doing.
What kind of culture are you looking for?
Tell me about what motivates you.
What turns off that motivation?
Tell me about a time you did something and it worked out great.
Tell me about a time when you did were responsible for something that didn't go so well. What happened, and what did you learn from this experience?
Who were your last two bosses and how would they rank you on performance when we talk to them?
Why are you interested in this role with our team?
What is your current compensation?
What questions do you have about this position?
Tips for Conducting the First Interview
Pay attention to inconsistencies between a person's resume and cover letter versus what they tell you. For example, if a candidate says, "I was a primary player in helping my previous employer raise Series A funding," but tells you they've never worked with investors before, you'll know they're bluffing.
Notice when they dodge questions or don't provide honest answers. If you ask about why they left their last role and they give a vague response, consider this a red flag.
Stop interviews when a person lacks accountability or shows signs of entitlement. If they aren't willing to take ownership of problems when things go wrong or feel like you owe them something, they'll bring the same toxic behavior into your company.
Consider whether or not their vision for the future aligns with the organization. Are they a copywriter who wants to become a New York Times best-selling author or a copywriter who wants to own a gym in three years? Ultimately, what they're passionate about achieving in life needs to complement the job they're applying for.
Listen for signs of internal motivation. A team players are driven by an intrinsic desire to succeed. They'll carry this attitude into your organization, too.
Don't keep discussing the job with candidates who aren't within your business's budget. You want to create a win-win situation for everyone.
Stick to discussing extracurricular activities and personal information a candidate shares with you. Personal questions, such as ones about religion, family, and health, are legally permitted only when an interviewee brings these things up or includes them in their resume or cover letter.
Interview #2: Optional Second Interview Call
If the hiring manager feels like the person is an excellent fit for the role, team, and company, they can conduct a second phone interview. With these job interview questions, you want to reaffirm the information they gave you last time and determine what lights the candidate up. Additionally, try narrowing the scope by asking more specific questions about their experience, abilities, leadership traits, vision, and values.
Questions to Ask During the Second Job Interview:
Can you give me a brief 10-minute overview of your career history?
What accomplishment are you most proud of?
List some low points in your last job.
Describe what are you passionate about.
What drains you at work?
What energizes you?
Tell me about what your ideal work environment looks like.
Who did you work most closely with at your last role?
What was your boss's name, and what kind of relationship did you have with them?
What will they tell me about your greatest areas of strengths and need for improvement?
Why would you be a great fit at our company?
What to Take Away From the Second Interview
Watch for any inconsistencies with what they initially told you. Mismatched stories indicate the person is not telling the truth, which is not a quality you want in a new hire who will inevitably influence your team culture.
Get information on what their working relationship with their former employer and coworkers was like. End interviews with candidates who seem to blame everyone else for previous problems at work, speak about others with a tone filled with anger and resentment, or convey they might be withholding information.
Listen for honesty, humility, and a team mentality. For instance, if a person uses the interview to exclusively talk about how great they are or refuses to say they've ever made a mistake, they will not be a good addition to your team.
Receive insight into who they are as a person. Do they know themselves? Do they have a vision in life? Can they identify their core values? These are important things to know before hiring someone who will add to the fabric of your team.
Interview #3: In-Person Interview
Finally, if possible, an employer needs to have an in-person interview with candidates who seem to represent A team players. With these job interview questions, the hiring manager should learn more about who a person is, while also ensuring they have the experience necessary for performing their potential job duties.
To do this, dig deeper into the answers the interviewee gives you. Actively listen and show genuine curiosity toward what they're saying. For example, if someone says they helped grow the business 200 percent, ask them how they did this and why it's important. They might say, "Well, we implemented a social media campaign that drove traffic to our core offering, which raised sales." In response, a great interviewer might ask, "Can you describe how your team developed and implemented the campaign?" Ultimately, you want to see how the accomplishments on their resume played out in real life. This helps leaders understand what type of team player the candidate is and how they might impact the business in the right or wrong way.
Questions and Topics to Discuss During the Final Job Interview
What are your biggest accomplishments in your career? (These answers will focus on outcomes and results.)
What are your insights into your biggest mistakes and lessons you learned in this area?
Ask about measurables, metrics, and specific things they put on their resume.
Go into detail about the positions they've been in. It indicates how they'll act in the position you're trying to fill.
Dive deep into their answers. For example, you can say, "Talk to me more about that, how did you do that?"
Here's What to Look For During an In-Person Interview
Read their body language throughout the interview. Does the candidate shift in their seat when they talk about previous failures? When they discuss a previous employer, does their tone of voice change? Use these non-verbal cues to gain as much insight as possible to ensure their words are truthful and sincere.
Consider their personality, leadership traits, and energetic influence. If they walk into the interview with low confidence and low energy, more than likely, they'll come to work like this. If the synergy between you and them feels off, don't move the candidate forward.
Find someone who is coachable. It's a good sign if an interviewee openly lets you know they don't have all the answers, but they're hungry to learn.
Discover their beliefs on how a person becomes a great team member. While knowing they have the skillset needed to successfully do their job is important, it is equally critical they walk into work on day one ready to serve as an A team player.
Asking the Right Job Interview Questions Reveals Quality Candidates
Truthfully, the "Top 10" lists of job interview questions you'll find on many websites that feature obscure questions like, "If you were a color, what color would you be?" aren't very beneficial to employers. You need to spend time developing a strategy for how a future employee will grow the business. Leaders also need to figure out what gaps this person will fill, understand what role they'll play, and know exactly what an A team player looks like in this position. Otherwise, your chances of finding gold are low.
However, those who take the time to create a hiring process with the job interview questions above will undoubtedly find employees who will grow their companies tenfold. These are the people leaders can invest in, mentor, and develop into leaders in their own right. This type of employee is a necessity for purpose-driven companies because they are the ones who bring a leader's vision to fruition.
Want additional information on outlining a great, full-scale hiring process? Learn more with The Hiring Process: A 9 Step Guide For Finding A-Team Players.
Who by Geoff Smart and Randy Street is another resource all hiring managers should read to learn how to find A team players.