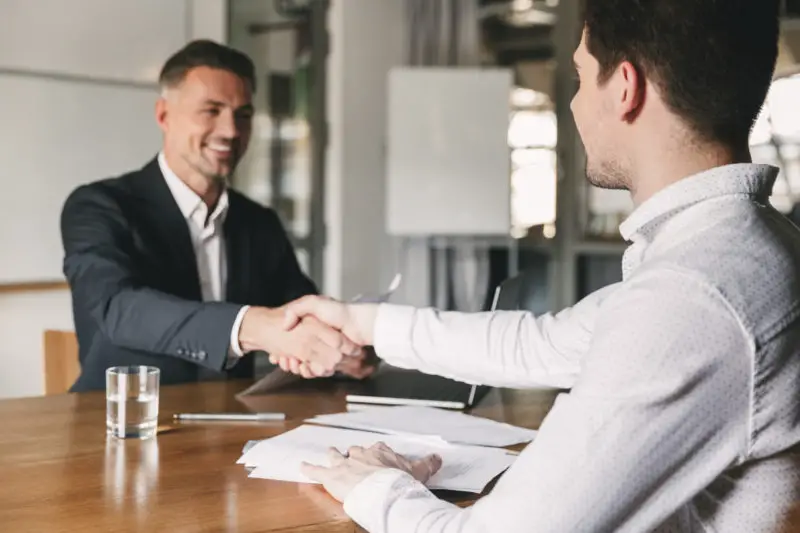 How do you find quality team members who are a perfect fit for the job? Failing to hire the right people can devastate a business and destroy team culture. In Jim Collins' bestselling book, Good to Great he states, "If we get the right people on the bus, the right people in the right seats . . . we'll figure out how to take it someplace great." Yet, according to a three-year study conducted by Leadership IQ, only 19% of new hires "achieved unequivocal success." Even seasoned leaders wonder, how to hire the right person? So, how can business leaders minimize risk and select candidates who add value to the team and benefit the organization? Achieving this objective begins with asking the right job interview questions.
The same study also revealed candidates who display strong interpersonal skills are most likely to be successful hires. By asking job interview questions that specifically target how well a person interacts with others, business leaders can better gauge whether or not someone is a good overall fit for the team.
The following questions will help you find more ambitious, long-term team members during the hiring process.
Job Interview Questions And Techniques
The first key to finding the right person is to think proactively. Often, companies wait to hire employees for a position until they need to fill a position immediately. This creates a sense of urgency, which can rush the hiring process. It's really important to spend a good amount of time with a candidate. Consider holding several rounds of interviews, such as a phone interview, and two in-person interviews. This really gives your leadership team the chance to get to know the candidate more in-depth and ensure you're making the right decision.
Learn more about our guide to Hiring "A" Team players.
Interview Question 1
"What should I know about you that your resume doesn't tell me?"
This is a twist on one of the most common job interview questions, "So, tell me about yourself." Going into an interview, people often anticipate this icebreaker. Transforming it into a more developed, personal question sets the tone for the rest of the interview. While most people focus on performance and results, this open-ended question provides room for discussing who the candidate is as a person. While this might be intimidating to some people, a great interviewee will see it as an opportunity to bond with the person asking questions.
Resumes already list work history, accomplishments, education, and accreditations. What does the candidate really want the company to know about themselves? Maybe they use this time to discuss how influential their father was on their entrepreneurial spirit, or they share an interesting story about why they decided to change careers. Pull this question out of the hat to find out who communicates well, emotionally connects, thinks quickly, and handles the unexpected with grace.
Interview Question 2
"How could our company improve?"
This question, one of the most difficult on the list, shows the interviewer who did their homework. But it also speaks to the general character of the candidate. Pay attention to how they tackle this question. Is this person a problem-finder and solver? Do they communicate issues without being hyper-critical? How they respond can provide great insight into how well they would fit into your organization.
Research from Bloomberg on recruiters searching for talent from a pool of MBA candidates named creative problem solving and strategic thinking as top skills that are less common but highly desired. Candidates who can identify problems and also approach them as opportunities for innovation and creative solutions express a great attitude toward work. These people tend to be more proactive, rather than reactive.
Candidates who respond with an answer that radiates positivity and a willingness to take charge of company issues communicate their desire to be a leader on the team. People with this attitude often show an aptitude for using motivational words and energy to inspire others into action. Those with high amounts of initiative will demonstrate genuine excitement for helping the company problem solve.
Interview Question 3
"When was the last time you failed at work and how did it affect you?"
During his "Day of Affirmation Address" at the University of Capetown, Robert F. Kennedy told the crowd, "Only those who dare to fail greatly can ever achieve greatly." Everyone who experiences success also experiences failure. This interview question can reveal a candidate's reluctancy or openness to talk about the times they've jumped, but missed the mark.
As a hiring leader, discover how candidates react to failure. Do they look back and grimace at their mistakes? Do they take responsibility for failure or do they make excuses and blame others? Watch for interviewees who can view their failures with grace and find tokens of gratitude and growth when reflecting back on them. These people show a knack for accountability and resiliency.
Interview Question 4
"Tell me about a time you experienced conflict in your last job—how did you handle it?"
Before adding a new individual to the team, the interviewer should find out how they manage clashes of interest at work. This question measures the candidate's people skills and how likely they are to negatively interact with those within the group during disagreements.
Work conflict itself isn't necessarily a bad thing, although the way in which people manage it can be. "Conflict is neither good nor bad; it can be handled functionally or dysfunctionally," says author Phil La Duke in an article for Entrepreneur. Most important is how the person handles conflict.
As they tell their story, look for signs of pointing fingers and contempt for others involved. How did the person reach a resolution? Were they the first to extend an olive branch, or did they wait for an apology? Listen intently to find out if they take a mature approach when conflict arises. Discovering someone's position on conflict management helps decrease drama and office politics—two factors that negatively impact team culture and a company's work environment.
Interview Question 5
"What motivates you?"
Those with a high level of emotional intelligence know how to answer this question. Self-awareness and self-regulation are indicators of a high emotional quotient (EQ). If someone can't tell you what drives them toward achievement, it is likely they lack the important qualities needed for staying personally and professionally motivated. Candidates who can articulate how they stay motivated have done the work of self-analyzation and know what activates and equips them for optimal performance.
Insight into the ways in which the right employee stays motivated and responds to certain incentives can guide decision-makers in putting together a thoughtful, personalized, competitive job offer. Furthermore, it is helpful information to have on file if they are hired.
Interview Question 6
"Describe the most difficult decision you've had to make in your career. How did you come to this choice?"
When testing interpersonal skills during an interview, take time for questions that focus on leadership traits, such as decision-making. Even if the right person isn't applying for a management role, hiring those with leadership qualities can enhance work cultures. Additionally, these people show potential for growing with the company and possibly moving into upper-level positions.
In particular, this question targets a person's decision making process. Listen for indecisiveness and lack of self-direction when faced with tough choices. Author and keynote speaker, Scott Mautz writes for Inc., "Indecision can paralyze an organization. It can create doubt, uncertainty, lack of focus, and even resentment." Individuals without self-guidance are likely less suited for positions requiring concentration, self-motivation, and leadership traits.
Interview Question 7
"How would you handle working with someone you don't personally like?"
You've got a magical team on your hands if every person gets along. The truth is, personalities often clash in organizations—the more people within a company, the more likely the occasions for conflict.
It's important to know how a job candidate relates to teammates they don't jive with on a personal level. Working in a professional environment means having the maturity to show mutual respect and empathy for people you don't always agree with. Get to the heart of how the potential hire deals with people with who they may not see eye-to-eye.
In the hiring process, it's important to protect the business's culture. Eliminate from further consideration candidates who may have impressive skills but shows a weakness for emotional control or a penchant for drama. Look for people who have developed positive ways of working with those they find difficult in order to contribute to the greater good of the company.
Interview Question 8
"If you could only have three leadership qualities, which ones would you choose and why?"
Leadership isn't just for people with executive or managerial titles. Every individual you hire needs to be capable of displaying good leadership skills, whether that's leading themselves or leading others.
When responding to this interview question, people give insight into their leadership style. They also tell hiring managers what is important to them and what traits they believe great leaders need.
As someone who is in a leadership role in the organization, this also provides a great opportunity to get feedback from an outsider. Are all of these traits evident in the company? If not, how could lacking aspects of leadership be addressed? If this person is applying for a management role, how could they contribute to filling in the organization's gaps? When filling a void within a company, these are important questions to consider during the hiring process.
Interview Question 9
"If you knew the sky was truly red, instead of blue, but no one else could see it, how would you convince others it's red?"
You might be thinking, "How does this question relate to a person's ability to do their job?" Again, it determines interpersonal skills by explaining the way in which a person thinks and communicates with others. In an article about strange interview questions used by companies like Google and Apple, Suki Shah for The Muse says great candidates show how they'll "approach a difficult situation, and, most importantly, whether [they] can remain positive and proactive and make progress in the face of a challenge."
Throwing creative, unexpected job interview questions into the mix gives people a chance to describe their thought process. During the job interview, try to give the candidate a few curveball questions. This breaks up the formalization of hiring. Additionally, it gives employers the chance to see a bit more of a person's personality. This could be the difference between finding a great fit or selecting a person who isn't right for the job.
Interview Question 10
"Share with me a time in your life or your last job where you demonstrated leadership or initiative thinking."
This job interview question helps identify the ways in which a person contributes to the world around them. Not everyone shows a knack for leadership in the exact same way. There are seven leadership styles, which is why it's important to provide people with space to answer this question. Nevertheless, it's important for interviewees to demonstrate initiative when it comes to serving others.
Additionally, this question allows for more insight into the way people exhibit initiative and creativity within their personal and professional communities. Not limiting the answer to work situations gives a candidate more opportunity to share leadership attributes in all facets of their life. For instance, they might volunteer, mentor students, or support a particular cause. Regardless of what they share, it's important for interviewees to show the drive, passion, and the work ethic needed to be an star team player.
Asking the Right Job Interview Questions Makes All of the Difference
Asking these job interview questions during the hiring process helps you find candidates with strong interpersonal skills. People who communicate signs of high emotional intelligence are more likely to integrate better into the team culture. These interview questions can also help to reveal someone's creative ability, critical thinking skills, and capacity for performing under pressure.
While these may not be the standard job interview questions, candidates' answers say a lot about their character. Being a high performer doesn't equate to being a quality hire. Remember that whenever a new hire gets added to a company's culture, they contribute to the entire business's DNA. Determining interpersonal skills equips decision-makers for selecting the individual who will best contribute to the overall success of your organization.