Imagine the outrage that would happen if Jeff Bezos announced he was discontinuing Amazon Prime. It would cause an instant tidal wave of panic and upset across America because the service has changed not only the way we shop, but our expectations of purchasing experiences. Knowing how convenient, fast, and reliable Amazon is makes it all the more irritating when a company loses or damages one of your packages. Because of their service, seven to 10 business days for shipping is now an antiquated practice. When it comes to Amazon Prime, everything else seems to fail in comparison . . . which is exactly how Bezos designed his marketing flywheel to work.
Bezos dubs Amazon's marketing flywheel as the "virtuous cycle." By placing top focus on providing buyers with remarkable customer experiences, the company organically gains traction as shoppers promote all the perks of purchasing from Amazon. When doing this, they attract more buyers from their personal network to use the service. As customers increase, so do third-party sellers. More sellers benefit buyers because the product selection expands, while prices drop due to increased competition. Using Amazon as an example, it's easy to see how flywheels create synergy between a company's marketing efforts and its ability to grow. For example, from 2013 to 2020, the number of Prime users increased by 117 million people. During these years, the business also went from making $274 million to $21.33 billion.
As Amazon demonstrates, the flywheel model is one of the most effective and fastest ways to scale a business. It's a strategy companies like Apple, Starbucks, and Southwest have all used to create life-long customers. However, this growth model isn't reserved for large-scale corporations. Business owners, despite their industry or size, can implement a marketing flywheel to build strong relationships with customers, while also growing the business in a fast, cost-efficient way.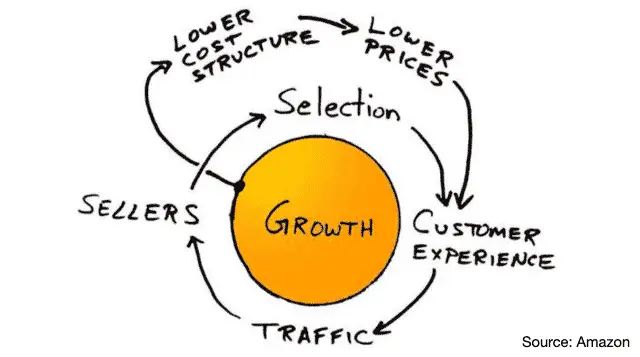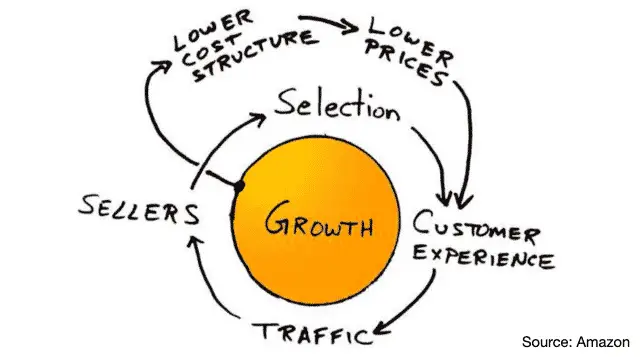 Learn more below about implementing a marketing flywheel that increases the impact of the time, money, and energy you spend on customer acquisition, while also finding out how to scale at an exponential rate. 
What is a Marketing Flywheel?
A marketing flywheel is a cyclical growth model that's purpose is to delight customers so much they turn into loyal, raving fans. These brand advocates are repeat buyers who drive growth not only through their purchases, but also by sharing their experiences and bringing in a network of referrals. 
In Good to Great, Jim Collins describes how the flywheel is a tool that helps businesses make the transition from mediocrity to greatness. He compares this cyclical sales model to pushing a flywheel, a heavy wheel that powers steam engines like those used in old trains. While it takes a while to fire up, each turn of the flywheel generates more power and momentum, making every turn easier. By the time the train reaches its full speed, it's effortlessly unstoppable. 
All marketing flywheels should operate with the intention of:
Establishing a set of actions that increase the business's customer experience 
Minimizing the cost of customer acquisition the longer the flywheel is in place
Multiplying the amount of loyal, raving fans the brand has
Creating a scalable system that can handle large volumes of customers at any given time
Marketing Flywheels vs. Sales Funnels
Traditionally, marketing funnels—a growth model that prioritizes lead acquisition and nurturing those prospects into customers—have been business owners' go-to for gaining more customers. Marketing funnels operate with a 1+1=2 mindset: Consistent marketing inputs yield reliable outputs. However, an immature marketing funnel can be inefficient, costly, and ineffective when compared to a developed marketing flywheel. This is because funnels are a "churn and burn" game, prioritizing massive inputs in the hopes of earning customers.
Ultimately, the difference between a funnel and flywheel is one drains leads into buyers, while the other uses the customer experience as a source of power. By shifting the core focus to attracting, engaging, and delighting people, flywheels open up the opportunity for a constant stream of customer acquisition. This is what leads companies toward creating the conditions for perpetual growth. 
It's important business owners shouldn't fret if marketing funnels are a staple in their companies. Most successful marketing flywheels begin as funnels. Great marketers should ensure that their efforts will have a successful ROI, which inevitably means using a funnel model to determine the effect of new initiatives. However, after a marketing channel is deemed successful, the business should begin integrating that marketing path into the core of the company. Or in other words, successful funnels should turn into successful flywheels. 
Additional Benefits of Choosing a Marketing Funnel Over a Flywheel 
By putting customers at the center of everything the business does, companies with flywheels build scalable systems around buyers that create the conditions for growth. This is similar to building a high-speed train that has the power to make an infinite amount of trips each day up a mountain versus traveling there on foot. While it takes more upfront effort to develop the railway, over time, this customer-first approach makes unlimited growth a reality. When considering long-term effects, it reduces the time, speed, and effort needed to acquire buyers, while also increasing the capacity of how many customers can hop on board.
At the bottom of the funnel (BOFU), there's nowhere for customers to go after they decide to buy. With flywheels, momentum continues after someone makes a purchase. 
Marketing flywheels focus more heavily on educating their customers so buyers can teach their family, friends, and personal network about the business's offerings. In contrast, this is not a primary objective of funnels. 
Customer loyalty increases in flywheels because marketing assets tell people what they need to do to solve the problem plaguing them, how the business's solutions work, and why the company wants to help them achieve their goals. This establishes and grows a meaningful connection between customers and companies. 
Typically, funnels don't concentrate heavily on the referral process since marketers' main goal is making a short-term sale. Yet, in a flywheel, referrals are the driving force of long-term momentum. 
Nothing beats word-of-mouth marketing. As Nielsen reports, "92 percent of consumers around the world say they trust earned media, such as word-of-mouth or recommendations from friends and family, above all other forms of advertising." 
The linear structure of funnels doesn't reflect the modern customer journey. However, flywheels delight people, no matter what stage they're at in their buying decision-making process. 
How to Attract, Engage, and Delight Customers
Marketing flywheels gain traction by attracting, engaging, and delighting customers. These three phases further develop the relationship between buyers and companies. When businesses focus upon this, rather than making a sale, buyers naturally develop a strong connection with the businesses they purchase from. 
Phase 1: Attract
Solve a Problem for Customers
During the attraction phase, the business recognizes a problem or need that draws attention and intrigue to their product or service. In order to convert strangers into leads, companies should provide value to their potential buyers. For example, this might look like offering free educational blog articles and videos on how to solve a bleeding neck issue the target audience has. This helps build trust and belief that the business can help eliminate the problem the customer has. 
Ways to Attract Prospects
Blogs
Podcasts
Videos
eBooks
Social media posts
Free trials
Paid ads
Retargeting ads
Phase 2: Engage
Build a Connection 
Once a company has a potential customer's attention, they need to maintain it by engaging with them. In a flywheel, businesses turn leads into customers by continuing to nurture, serve, and excite their audience. Whether it's personally sending a person a direct message or reaching out to see what they need help with, the key purpose of engaging with leads is fostering and growing relationships.
Ways to Engage with Leads
Nurture email sequences
Free guides
Case studies
Complimentary 30-minute consultations 
Contests and giveaways
Webinars
Answers to customer's top questions on social media 
Online conversations that develop a sense of community 
Testimonials 
Welcome email sequences
Guidebooks
Tutorials 
Reordering reminders 
Introduction to products that complement their purchase
Customer loyalty programs
Stage 3: Delight
Create Fans for Life
The goal of the marketing flywheel is delighting customers during every stage of the buying decision-making process (and even after they make a purchase). If this isn't accomplished, the flywheel won't generate enough power to be effective. Remember, the more surprising and fun the customer experience is, the more likely people will return as repeat customers and promote the business to their friends and family. As referrals make their way into the flywheel and also have great experiences, these new customers will bring on more people too. This infinite cycle of delighted customers is what causes increased momentum and growth in companies. 
What a Flywheel Looks Like in Motion
While some of this information might seem new, more than likely, you've seen a flywheel in action, and even participated in helping one operate. Whether you received a phenomenal meal at a new restaurant or had a flight where the crew were especially accommodating, everyone's had times when they shared their positive customer experiences with others. Although providing amazing service and value doesn't seem like an elaborate marketing strategy, this is no simple feat. Ensuring customers' happiness from the moment they encounter the brand is something business leaders must constantly put concerted effort into. Those that do know the power of flywheel marketing.
Warby Parker
Take the eyewear company Warby Parker, for example. The business is obsessed with providing the best customer experience possible. Since the company's been open, they've made the process of buying designer glasses inexpensive and fun. From quirky stores to in-house technology that personalizes the shopping experience, their surprising and entertaining way of doing business stands out. As a result, the business has grown a mass following of loyal customers and raving fans who love how the company challenges age-old ways of getting a pair of specs.
Get together with your creative team to brainstorm ways your company can engage like no other before and after a purchase. 
Zappos
Zappos is another example of a business that uses an effective marketing flywheel. Sasha Ilic reveals some of the ways the company does this. She writes, "While assisting them [customers] on the phone, it's not uncommon for us to send a baby blanket to a customer who has a screaming infant in the background, or even a wine set for that stressed-out mommy. I once sent a Slip 'N Slide to a family with four little girls who needed something fun to do over summer." Without a doubt, actions like these have gained the company repeat customers who advertise their wonderful experiences. It's the perfect example of how happy buyers generate momentum in a flywheel. 
Chewy
Multiple posts about the empathetic way pet products company Chewy reacts to requests for a refund after the loss of an animal have gone viral. In one instance, Facebook user Joseph Inabnet wrote, "If anyone has ever dealt with Chewy.com, they probably know how wonderful their customer service is. But, today it went to the next level." The customer explained he recently suffered the loss of his dog, so he was left with an unused purchase. When he called to ask if he could return the dog food, the customer service representative not only gave him a full refund, but a couple of days later, he received a surprise gift. It was a custom oil painting of his dog that came with a handwritten card expressing the business's condolences. His post received 106,000 likes and was shared by others over 60,000 times. 
It goes to show, offering excellent customer support (even when a sale isn't on the line) has the power to introduce thousands of people into a business's flywheel. 
Kleenex
Finally, Kleenex shows how businesses can use social media to their advantage when developing a marketing flywheel. During one campaign, they searched online for people suffering from a cold. Instead of reaching out directly, they coordinated with the sick person's friends and family. Then, they sent a Kleenex Kit full of "get well soon" branded items. Even better, they made this all happen within an hour. 100 percent of those who received a package posted about it online. While only 50 Feel Good by Kleenex kits were sent out, the campaign led to 650,000 impressions and 1,800 interactions. 
How to Increase the Power of a Marketing Flywheel 
Any company owner can reap the benefits of implementing a flywheel. Yet, this process might seem tedious to business owners who've already invested in other strategies like marketing funnels. Don't worry, a flywheel only improves what you already have in place. Think of it as developing a 2.0 version that optimizes every detail of your customer journey and brand experience. 
However, as powerful as flywheels are, they don't gain speed autonomously. In total, three factors drive energy and speed in this growth model: force, friction, and size. When one of these components is off, some repairs will be necessary to ensure your flywheel keeps gaining speed. Find out how to do this, below. 
1. Reassess, Monitor, and Add Forces 
Force is how a business creates momentum through various programs and strategies. For example, this could be anything from lead magnets, to discount codes or exclusive free trials. It's important to make sure you're tracking the success of each force in your flywheel since they're what keeps the wheel turning.
Start by optimizing your forces by:
Stepping back to assess your entire customer journey and brand message. 
Determining the current forces that work and the ones that don't. 
Applying more force to the strategies growing the business, and changing up those that are less effective. 
Experimenting and evaluating the success or failure of new forces and how they measure up with your key performance indicators (KPIs). 
2. Pinpoint and Remove Friction from the Flywheel
Friction is what limits movement, and therefore, speed. This might look like terrible customer service, improperly trained employees, shipping delays, or delivering poorly made products. To remove friction, think about what's preventing conversions, repeat purchases, and customers' delight. 
Here's a few steps for decreasing friction:
Start by looking at the business's top complaints from customers. Doing so requires systems in place for receiving feedback such as post-purchase surveys and regular reports from customer service and social media teams that handle angry or disappointed customers. 
Next, strategize ways to make things right with buyers and prevent these problems from happening in the future. What does it look like to transform a negative experience into a positive one? 
Develop a list of treatments that absolve the pain customers feel. 
Then, communicate any changes with your team and the "why" behind it. 
Make sure every department is on board with any new objectives. All team members, despite the role they play in the customer journey, need to be working toward the same objective: delighting the buyer. 
Finally, develop a plan for implementing these solutions so friction can quickly get resolved. 
Other ways of eliminating friction also include:
Investing in automation for tasks that show a high amount of human error. 
Empowering your team with the tools they need to make a customer's day. This might look like giving customer service representatives an amount of company credit to use on buyers. 
Ensuring customers receive companion content that teaches them how to get the most out of the product or service. 
Making the checkout process simple—for instance, a "one-click to buy" button. 
Implementing a "subscribe and save" sales model that makes repurchasing easy. 
Integrating a referral system into the post-purchase customer experience. Make sure it benefits both previous customers and new buyers. For example, the grocery delivery service Shipt ran a promotion where referrals got $50 off their annual membership, while the people who referred them also received $50 credit. 
3. Determine the Size of Your Flywheel
Finally, the size of the flywheel determines how much energy and effort you'll need to start generating movement. The bigger and heavier the wheel is, the more exertion is necessary to get it turning. This means deploying an increase of creative strategies that'll generate buzz and excitement around your product or service like sending balloons with a purchase or donating money to causes customers care about. 
The size of a flywheel also determines how much maintenance and repair it needs over time. The larger the flywheel, the higher volume of customers a company handles. Naturally, as more business growth occurs, business owners need to hire people who can continue driving momentum. Understaffed teams experience more friction because they don't have the manpower needed to keep heavier flywheels spinning. Putting a plan for growth in place supports employee retention, fights work burnout, and keeps the ball rolling at higher speeds. 
Learn more about how to scale a business. 
What Business Owners Should Know Before Implementing a Flywheel
Flywheels, like most growth hacking techniques, require experimentation. Yet, tackling too much change at once can overwhelm employees, stall progress on goals, and ultimately hurt profitability. Additionally, company owners don't want to overhaul marketing that performs well and generates revenue, just for the sake of doing something new. Rather than clearing the slate and starting entirely from scratch, begin building your flywheel by doubling down on marketing that's working. Next, introduce two or three new forces to the flywheel and see how well they perform. This minimizes risk and disruption to the business if the experiments don't produce optimal outcomes. 
Thinking through strategy is also another huge component of ensuring business owners receive an ROI on the time, energy, and money they put into developing a flywheel. As Jim Collins, the author who popularized the flywheel effect concept, describes in a video on his YouTube channel, "It's very helpful to rigorously ask the question, 'How does our flywheel turn?' 'What are the components of our flywheel?' 'What's the sequence in the flywheel?' 'How can we do for ourselves what Amazon did for itself?'"
Additionally, Collins says while flywheels are a symbol of continuity, they also present a bit of a paradox. In Turning the Flywheel, he writes, "On the one hand, you need to stay with a flywheel long enough to get its full compounding effect. On the other hand, to keep the flywheel spinning, you need to continually renew, and improve each and every component." This means that there's never a point when a company can expect its flywheel to turn itself. For this reason, great leaders constantly consider how to improve their customer journey and experience while their businesses gain momentum.  
With this being said, an innovative, service-oriented attitude is a must for CEOs, executives, and team members. Check out these articles next that discuss more on innovation and servant leadership. 
Servant Leadership: The Ultimate Key To A Healthy Business
Cheryl Bachelder Saved Popeyes with Servant Leadership