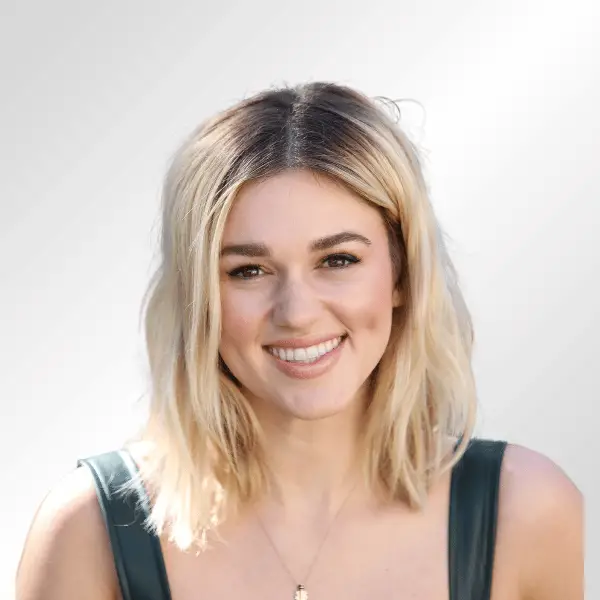 DOB:

June 11, 1997

Age:

26

Country:

United States

Resides:

Monroe, LA

Hometown:

Monroe, LA

Known For:

Duck Dynasty

Spouse/Partner:

Christian Huff

Religion:

Christianity
About Sadie Robertson
Sadie Robertson was born on June 17, 1997, in West Monroe, Louisiana. She's the granddaughter of Phil Robertson, the founder of the Duck Commander company, and the daughter of Willie Robertson, who is the CEO of the company.[1] 
The Robertson family gained fame when they appeared on Duck Dynasty from 2012 to 2017. Overall, the Robertsons are a tight-knit, religious family with a strong sense of tradition and family values.[4] They're also known for their humor, long beards, and quirky personalities.
The family patriarch, Phil Robertson, is a former football player with strong Christian faith and conservative views.[4] Phil's wife, Kay Robertson, is also a prominent figure in the show, known for her cooking and her love for her family. The couple has four adult children: Alan, Jase, Willie, and Jep. Willie Robertson and Korie Robertson are Sadie's parents. She has five siblings: John, Rebecca, Will, Bella, and Rowdy.[5][6]
Aside from their reality show, the Robertsons have also been praised for their philanthropic work, particularly through their support of the Mia Moo Fund, which raises money and awareness for cleft lip and palate research.[7]
Television Career
Robertson's TV career started when she became a prominent figure on the family's show, appearing in numerous episodes and specials. She's been outspoken about her Christian faith and family values since appearing on the show. According to her website, she's known for having a positive attitude and lots of energy.[2] 
Each episode of Duck Dynasty typically features the family engaging in activities such as hunting, fishing, and spending time together. The show also focuses on the family's Christian faith and often includes segments where they discuss their beliefs and how they apply them to their daily lives.[8] 
After her time on Duck Dynasty, Sadie went on to compete on the 19th season of the popular dance competition show Dancing with the Stars, where she was partnered with professional dancer Mark Ballas and finished in second place.[9] 
Robertson has pursued a career as a speaker and author, sharing her experiences and insights on topics such as faith, family, and personal growth. She also contributed to her family's chart-topping Christmas album called Duck the Halls: A Robertson Family Christmas.
In addition, she's appeared as a guest on various talk shows, including Entertainment Tonight and others.[10] 
Live Original, Blog, and Podcast
In 2014, Robertson founded the blog and lifestyle brand called Live Original. According to Live Original's website, the company "started as a place for women to experience the gospel of Jesus through our blog, conference, events, podcast, and most recently, our LO sister app."[2]
When starting LO—which recommends various clothing brands, books, beauty products, and more—Robertson aimed to be "a sister and a friend to those who don't have one."[2][6] She also consistently weaves her Christian faith into her writing, website, and media appearances. She says, "My hope is that through all of our different platforms, your love for God and people will grow and your knowledge of His love for you will blow you away."[2]
In addition to Live Original, Robertson also hosts the WHOA That's Good podcast, which "welcomes you into meaningful conversations with authors, athletes, musicians, speakers, and stars of film and television in search of the answer to just one question: What is the best advice you have ever been given?"[11]
Robertson also founded the organization called One Squad, which helps inspire young people around the world to come together to make an impact.[12] Additionally, she has partnered with World Vision, a Christian organization, to help end child poverty. World Vision states that "We are not a handout. We come alongside children, families, and communities to provide tools, training, and hope so they can become self-sufficient."[13]
Books
Robertson has written several books focused on self-development, personal growth, faith, and purpose, including:[3]
Her 2015 book, Live Original, became a New York Times bestseller and kickstarted the Live Original Tours, which have featured stops in more than 45 different cities.[14][15] Robertson also regularly releases content on her YouTube channel, which has over 580,000 followers. Her videos feature "Biblical encouragement, words of affirmation, inspirational stories, relationship advice, and other positive messages."[16]
Net Worth and Personal Life
Robertson is married to Christian Huff, a former collegiate athlete who played baseball at Harding University in Arkansas. The couple met in the summer of 2018 and started dating soon after. They got engaged in June 2019 and tied the knot in November 2020 in a ceremony that took place in Louisiana.[17]
Sadie and Christian have one daughter together named Honey James Huff, who was born in 2021. They often share photos and updates about their relationship on social media, such as Robertson's Instagram account, which has nearly 5 million followers.[18] The couple also regularly discuss their beliefs about their strong Christian faith and commitment to each other and their family. Robertson announced in late 2022 that the couple is expecting their second child in June of 2023.[19]
It's estimated that Robertson's net worth is about $1 million, which she has earned from TV appearances, book sales, her app, and her blog. Her father, Wilie, is estimated to have a net worth of about $40 million, making him one of the wealthiest Robertson family members.
References
Leaders Media has established sourcing guidelines that rely on credible, expert-level, and primary sources for articles about people and companies. Articles are frequently edited by staff writers. Learn more about our mission, editorial ethics, and how we source references in our editorial policy.
Sadie Robertson. IMDb. https://www.imdb.com/name/nm5390436/ 
About LO & Sadie Robertson Huff – Live Original. Live Original. https://liveoriginal.com/about/#
Sadie Robertson: books, biography, latest update. Amazon.com. https://www.amazon.com/stores/Sadie-Robertson/author/B00MM7030Q?ref=ap_rdr&store_ref=ap_rdr&isDramIntegrated=true&shoppingPortalEnabled=true
Us Weekly. Sadie Robertson News – Us Weekly. https://www.usmagazine.com/celebrities/sadie-robertson/
Stanton, L. A. (2022, April 22). The Robertson Family of 'Duck Dynasty': Where Are They Now? Us Weekly. https://www.usmagazine.com/entertainment/pictures/the-robertson-family-of-duck-dynasty-where-are-they-now/ 
Johnson, Z. (2022, November 10). Sadie Robertson Huff – Age, Net Worth and Social Influencer Profiles – Blogging.org Blog. Blogging.org Blog. https://blogging.org/sadie-robertson-huff/
'Duck Dynasty's Missy Robertson Says Daughter's Journey With Cleft Palate Strengthened Family's Faith. (2018, November 14). Miamoo. https://miamoo.org/blogs/news/duck-dynastys-missy-robertson-says-daughters-journey-with-cleft-palate-strengthened-familys-faith
Duck Dynasty. IMBD. https://www.imdb.com/title/tt2229907/
Tv, B. (2021, August 26). "Dancing with the Stars" Season 19 Finale Recap: And the Winner Is. . . BuddyTV. https://www.buddytv.com/dancing-with-the-stars-season-19-finale-recap-and-the-winner-is/
Sadie Robertson – Exclusive Interviews, Pictures & More | Entertainment Tonight. Entertainment Tonight. https://www.etonline.com/people/sadie-robertson
Apple Podcasts. (2023b, March 5). WHOA That's Good Podcast on Apple Podcasts. https://podcasts.apple.com/us/podcast/whoa-thats-good-podcast/id1433974017
Live Original. (2017, November 14). One Squad | Sadie Robertson [Video]. YouTube. https://www.youtube.com/watch?v=gnYui3Z_pqQ
World Vision. (2020, August 26). Sadie Robertson | World Vision. https://www.worldvision.org/lp/sadie-robertson-huff 
Live Original. Book by Sadie Robertson, Beth Clark | Official Publisher Page | Simon & Schuster. https://www.simonandschuster.com/books/Live-Original/Sadie-Robertson/9781476777818
Sadie Robertson Huff Announces Lo Sister Conference 2022. (2022, March 8). 1996 – 2018 Jesusfreakhideout.com. https://www.jesusfreakhideout.com/news/2022/03/08.SadieRobertsonHuffAnnouncesLoSisterConference2022.asp 
Sadie Robertson. Youtube. https://www.youtube.com/@SadieRobertson/about 
Stone, N. (2019, November 26). Sadie Robertson Marries Christian Huff in 'Romantic and Elegant' Louisiana Wedding. People. https://people.com/tv/sadie-robertson-marries-christian-huff/ 
Sadie Robertson. Instagram. https://www.instagram.com/legitsadierob/?hl=en
Maldonado, D. (2022, November 4). Sadie Robertson Is Pregnant, Expecting Baby No. 2 With Christian Huff. E! Online. https://www.eonline.com/news/1353329/sadie-robertson-is-pregnant-expecting-baby-no-2-with-christian-huff
Nyanchama, V. (2023, February 27). Duck Dynasty cast net worth in 2023: How much is every member worth? Tuko.co.ke – Kenya News. https://www.tuko.co.ke/facts-lifehacks/tv-movies/437374-duck-dynasty-cast-net-worth-how-member-worth/
Any reader who wishes to provide any additions or revisions to this article, including updating any out-of-date information, please email [email protected].