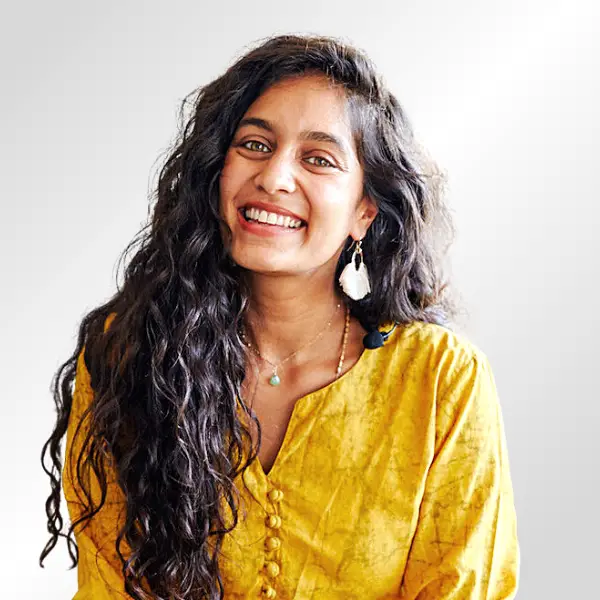 DOB:

July 30, 1990

Age:

33

Country:

United States

Resides:

Los Angeles

Hometown:

England

Known For:

Author of JoyFull

Spouse/Partner:

Jay Shetty

Religion:

Hinduism

Education:

California College of Ayurveda
About Radhi Devlukia
Radhi Devlukia-Shetty, born Roshni Devlukia,[5] was born on July 30, 1990.[6] After her family nicknamed her Radhi, she used the nickname for the rest of her life. She is of Indian descent but was born and raised in the U.K. Because both her parents were born and raised in Africa, she grew up speaking English, Gujarati, and Swahili.[7] 
She says about her upbringing, "I was so lucky I got so much of that culture brought into my life at such a young age. My parents really made a conscious decision with that, and although I was brought up in London and very much relate to London culture and British culture, it's been such a beautiful thing to be able to experience my parent's heritage too, and have that as part of me and my identity."[7] 
Devlukia-Shetty describes her mother as a connector and extrovert. She says, "She has shown me what dedication and commitment to a spiritual path looks like. She's my best friend and has been the spiritual guide for our whole family."[1] 
According to Devlukia-Shetty, her father is a man of few words, though he enjoys telling "dad jokes." She explains, "Through his actions and calm nature, he has taught us what it means to be a spiritual kind-hearted person."[1]
Devlukia-Shetty has an older sister, Deepa Devlukia. She says she always admired her sister and wanted to be like her.[1] Deep Devlukia is now an author and a parenting influencer.[8] 
Devlukia-Shetty met her future husband, Jay Shetty, after being introduced by her mom. At the time, Shetty was training to be a monk.[9] Shetty later proposed on the bank of the River Thames.[10] They were married on April 20, 2016.[11] 
According to Devlukia-Shetty's husband, Jay Shetty, her personality is happy, honest, and values-driven. He says, "I love that she is so happy being herself. She is happy being honest with her feelings and emotions and is very focused on her own values, and doesn't budge on them. She is hilarious and has such a fun energy, and everyone loves being around her."[12] 
Spirituality and Beliefs
Growing up Hindu, Devlukia-Shetty was familiar with spirituality but did not connect deeply with it until after college when she began attending Bhagavad Gita courses and visiting the temple regularly. After visiting the temple every day at 4:30 a.m. for a year and a half, she developed a love of meditation. She explains that learning to meditate requires consistent practice, saying, "Think of it like a relationship or even a skill you are trying to master. The more time and energy and focus you invest into it, the greater the effect will be."[13]
Devlukia-Shetty says regular meditation allows her to keep a service-oriented mindset, which is a central part of her beliefs. She explains, "What is life without service? That's the best thing I learned in this Vedic culture and on this path, is that everything is about service, and we get so much joy from serving other people than we do in taking."[7]
Education and Career
When she was 18, Devlukia-Shetty went to Nottingham University to study nutrition. However, after realizing she wanted to work with patients in hospitals and clinics, she realized she needed to return to school to get a degree in dietetics. She then spent three more years in school.[14] 
After graduating as a dietician, Devlukia-Shetty began working as a dietitian at Watford General Hospital. She says she loved this job, explaining, "I was working with children who had allergies and people who weren't eating properly. I realized there was a place where I felt like I was of service in a way that felt natural to me."[14] 
However, in 2016, soon after her marriage, Devlukia-Shetty's husband was offered a job at HuffPost based in New York City, so the couple moved to the U.S., and Devlukia-Shetty left her job at Watford General Hospital.[14]  
In New York City, Devlukia-Shetty became interested in the ancient health science Ayurveda after meeting Ayurvedic teacher and restaurant owner Divya Alter. She asked Alter if she could work as her assistant to learn more about Ayurvedic cooking. She worked with Alter until moving to Los Angeles in 2018.[14]  
After moving to California, Devlukia-Shetty continued pursuing her Ayurveda education and enrolled in California College of Ayurveda, where she earned her Ayurveda health counselor degree in 2020.[14] While studying, she began posting Ayurvedic cooking tips and plant-based recipes online. Since then, her online following has grown to 2.1 million Instagram followers and 495,000 YouTube subscribers.[15][16] 
In conjunction with her husband, Devlukia-Shetty launched a line of adaptogenic teas in 2021.[17] The following year, the couple released a second line of tea called Joyo tea.[18] 
Radhi Devlukia Today
Today, Devlukia-Shetty continues creating content for her online following. She has developed  a plant-based cookbook based on Ayurvedic cooking, which is scheduled to be released in 2024.[19] She has also stated that she plans to release a podcast in 2023.[20]   
References
Leaders Media has established sourcing guidelines that rely on credible, expert-level, and primary sources for articles about people and companies. Articles are frequently edited by staff writers. Learn more about our mission, editorial ethics, and how we source references in our editorial policy.
Any reader who wishes to provide any additions or revisions to this article, including updating any out-of-date information, please email [email protected].