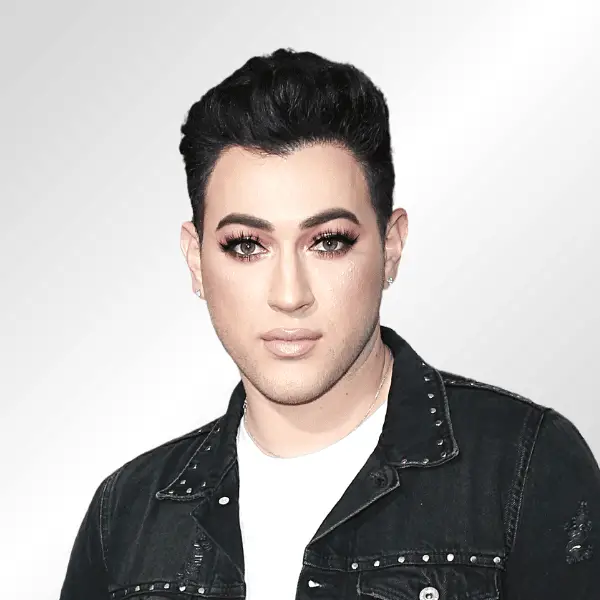 DOB:

April 4, 1991

Age:

32

Country:

United States

Resides:

Los Angeles, CA

Hometown:

San Diego, CA

Known For:

Make Up Artist

Education:

San Diego State University
About Manny Gutierrez
Manny Gutierrez, widely known as Manny MUA, is a popular Mexican-American beauty influencer, makeup artist, and entrepreneur. He was born on April 4, 1991, in San Diego, California. His family consists of parents Manny Gutierrez Sr. and Grek Gutierrez and two brothers.[6] Growing up, Gutierrez describes himself as "a dream for a parent" because he made straight A's, went to church every Sunday with his Mormon family, and stayed on the straight and narrow.[7]
Despite Gutierrez's good behavior, his parents struggled to come to terms with his sexual orientation as gay. This revelation caused a breakdown in the relationship between Gutierrez and his father. In an emotional YouTube video featuring Gutierrez and his father, his father shares, "There was a time in my life when I wasn't supportive . . . I tried to change him into what I guess you would call a 'normal boy.'" Eventually, his father started educating himself on the LGBTQ+ community. Additionally, he went to counseling with his wife, which he says helped him overcome the mental roadblocks he had over his son being gay and becoming a makeup influencer. Today, Gutierrez and his father are closer than ever before, and his father even works at his company, Lunar Beauty.[8]  
In an article with Marie Claire, Gutierrez explains he almost went down a different career path before he rose to fame as a beauty influencer. In college, he was a pre-med major and went to school full-time while also working at MAC and Sephora as a makeup artist. In the same interview, he says his childhood dream was to become a plastic surgeon.[9]
Gutierrez quickly rose to fame as a beauty influencer after he began posting makeup tutorials, tips, and tricks on his Instagram page, @mannymua733, which has over 4 million followers.[3] This led to the creation of his YouTube channel, Manny MUA, in 2014. Manny's makeup skills and infectious personality quickly made him a favorite among fans, and his channel has since grown to over 4.86 million subscribers.[2] Additionally, he has 1.6 million followers on TikTok.[10] He has been featured on TV shows like Netflix's Glow Up: Britain's Next Make-Up Star, Disney+'s The World According to Jeff Goldblum, and NBC's The Kelly Clarkson Show.[11] 
Manny MUA Collabs
As one of the top influencers in the beauty community, Gutierrez has worked with many brands and celebrities. The list below is just a few of the collaborations he's done over the years:
Jeffree Star Cosmetics: In 2017, Gutierrez collaborated with Jeffree Star on the "Icy Fantasy" eyeshadow palette.[12] 
Morphe: Manny MUA has worked with Morphe on multiple occasions, including releasing an eyeshadow palette and a brush set with the brand.[13] 
Benefit Cosmetics: In 2019, he partnered with Benefit Cosmetics to promote a variety of products.[14] 
Maybelline: Manny MUA was the first male ambassador for Maybelline and has worked with the brand on several campaigns.[4] 
Lunar Beauty
Aside from his successful YouTube channel, Manny is also the founder and CEO of Lunar Beauty, a cruelty-free and vegan beauty brand. The company offers a wide range of products, including eyeshadow palettes, liquid lipsticks, and highlighters.[15]
As Gutierrez explains, the launch of Lunar Beauty was a huge milestone in his career—one that demonstrated how quickly his life changed once he started posting on social media. "In six years, I went from working at a Sephora to having a brand in Sephora. That was such an 'aha!' full circle moment for me," he tells ABC News.[16] 
With almost 500,000 followers on Instagram, the beauty brand is quickly gaining traction in the makeup world.[17] Lunar Beauty products are sold online and at popular retailers like Morphe.[18] 
Controversy 
Manny MUA has been involved in several controversies over the years that have led to some people "canceling" him. His most notable one was his involvement in drama amongst several beauty influencers, notably Jeffree Star and Laura Lee, who were all once close friends. Initially, the drama began after Lee and Gutierrez cut ties with Star after some of his old racist comments resurfaced. From there, things escalated and the drama continued, leading to a content battle and multiple apology videos from all fronts. During the ordeal coined as "Dramageddon," the friendship dissolved and fans were left to choose which influencer they would support. Gutierrez revealed the drama cost him 500,000 followers.[19]  
Manny MUA Today
Today, Gutierrez is still active on social media but doesn't post as much beauty content like makeup tutorials and makeup reviews as much as he did earlier in his career. He seems to be shifting more into comedic videos that have less to do with the beauty industry at large.[3] Additionally, he is focused on running his company Lunar Beauty, stating: "I'm excited to continue to grow my brand. I continue to work on Lunar Beauty every single day, it's my passion, and it's something I love so much and I want to continue to grow, create new different products that people will like to see from me."[20]
References
Leaders Media has established sourcing guidelines that rely on credible, expert-level, and primary sources for articles about people and companies. Articles are frequently edited by staff writers. Learn more about our mission, editorial ethics, and how we source references in our editorial policy.
Any reader who wishes to provide any additions or revisions to this article, including updating any out-of-date information, please email [email protected].