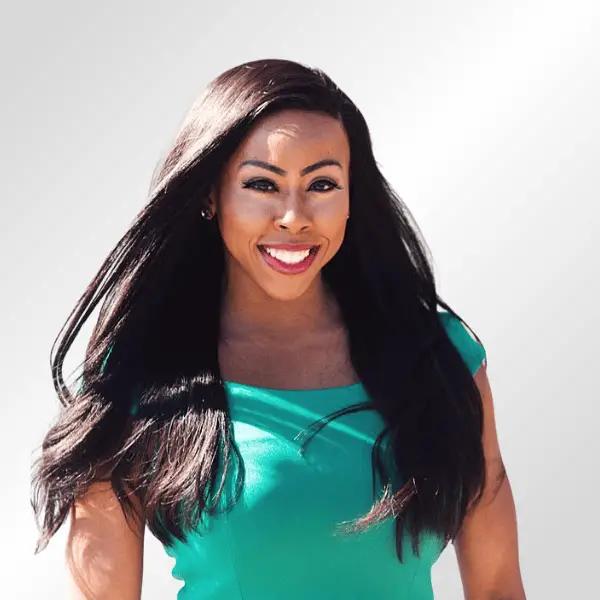 DOB:

January 19, 1982

Age:

41

Country:

United States

Resides:

Middle River, MD

Hometown:

Accokeek, MD

Known For:

Former political candidate

Spouse/Partner:

Jeffrey Klacik

Religion:

Christianity
About Kim Klacik
Kim Klacik, born Kimberly Bray, was born on January 19, 1982. She grew up in Accokeek,Maryland,[1] near Baltimore and Washington D.C. She was diagnosed with alopecia, a hair loss condition, and struggled with self-confidence as a result.[2] She explained, "As a teenager, I was unable to see a future for myself as I struggled with low self-esteem."[3] 
Klacik reports her self-confidence improved after her successful performance in the Miss Maryland USA pageant.[2] 
Klacik began college, studying business at Bowie University before transferring to the College of Southern Maryland to study hospitality and administration management, though she did not complete a degree.[4] In 2010, Klacik moved to the Baltimore area.[5]
In 2013, Klacik married her husband Jeff,[6] a certified public accountant, though the two are now estranged, having separated in October 2020.[7] Klacik and her husband have a daughter named Olivia Ann.[8] 
Non-Profit Work
In 2013, Klacik founded Potential Me, a nonprofit organization that helps low-income and disadvantaged women and girls through its "Prom Program" and "Back to Work" program. The Prom Program works with high school students who cannot afford formal wear for their high school dances, while the Back to Work program helps women entering the workforce obtain professional clothing for job interviews.[2] 
While Klacik reports Potential Me has helped over 200 women, Courthouse News challenged these claims.[9] The news site reported that since its founding in 2013, the non-profit had only filed one tax return, which reported under $7,000 in revenue and under $3,000 in expenses for providing clothing to just ten women.[10] 
Political Career
Klacik entered politics in 2018 after being elected to the Baltimore County Republican Central Committee. In 2020, Klacik campaigned to replace the late Elijah Cummings, the U.S. Representative for Maryland's 7th congressional district, in a special election held in April. Her platform included better utilization of the Port of Baltimore, increased school choice, increased job training, and, in a departure from other Republican candidates, support for Planned Parenthood and increased availability of birth control.[11]
She said, "There's a lot of young women that depend on Planned Parenthood and other places to get birth control pills. It's time to make it over the counter. Thirty-five countries already do it, 11 countries do it well as they make sure these women have pelvic exams, and they're good candidates for it."[11]
While she won the Republican nomination, Klacik lost the general election to Democratic opponent Kweisi Mfume on April 28, 2020. Mfume received 73.8% of the vote, while Klacik earned 25.1%.[12] However, Klacik continued to campaign, hoping to unseat Mfume in the November 2020 election for the congressional seat. She again won the primary but lost the general election with just 28% of the vote.[13] 
While campaigning, Klacik was invited to speak at the 2020 Republican Convention, where she encouraged Republicans not to write off inner cities.[14] By the end of her campaign, Klacik had raised over $8 million from primarily out-of-state donors.[15] 
Following Klacik's congressional campaign, she remained involved in politics as a political commentator. She also founded the political action group, The Red Renaissance, which supports up-and-coming conservative politicians.[16] 
Viral Campaign Ad
Klacik's 2020 campaign became well-known due to a viral campaign video that gained the attention of Donald Trump, who shared it with his Twitter followers.[17] The Maryland Republican's video quickly reached 4 million views in its first day online and now has over 13 million views.[18]
The ad showed Klacik walking through a dilapidated part of Baltimore, criticizing Democrat leaders for allowing the city to become filled with crumbling infrastructure, poverty, abandoned homes, and high crime rates. Klacik encourages Black voters to vote Republican, claiming "Black lives don't matter to Democrats."[19]
Fact-checking website Snopes called the viral video misleading because Klacik filmed the video in a particularly run-down part of Baltimore. According to Snopes, the city, as a whole, has fewer abandoned buildings, less poverty, and less crime than the area Klacik chose to highlight. Additionally, the district Klacik was running to represent included many affluent neighborhoods and does not resemble the areas of the city in Klacik's video.[20]
The Baltimore Sun's editorial board similarly criticized Klacik's campaign ad for leading viewers to believe electing her and abandoning Democrat leadership would solve Baltimore's issues when these issues are not within the jurisdiction of a U.S. House Representative.[21] 
Lawsuit With Candace Owens
In July 2021, Klacik filed a defamation lawsuit against conservative political commentator Candace Owens. The conflict between Klacik and Owens began when Owens tweeted criticism about Juneteenth being named a federal holiday. Klacik responded by sending a tweet claiming Owens does not engage with Black people.[22] 
Following the Twitter exchange, Owens posted a 44-minute video to Instagram accusing Klacik of tax fraud, campaign fraud, money laundering, cocaine use, and being a former stripper.[22] 
Klacik responded to these accusations by filing a $20 million lawsuit against Owens. The lawsuit states that Owens' accusations caused Klacik to lose a book deal and a contract with a "nationally recognized vendor," among other opportunities.[23] 
However, the judge dismissed Klacik's lawsuit, ruling it was a SLAPP suit, meaning it was a strategic lawsuit intended to discourage public participation. The anti-SLAPP ruling came with an order for Klacik to pay Owens $115,000.[24] 
Kim Klacik TodayToday Klacik works as a political commentator, hosting Kim Klacik Live on the WBCM radio station, a role she began after leaving WBAL NewsRadio.[25] Klacik also remains involved with The Red Renaissance and regularly posts political commentary to her social media platforms, where she has a substantial following of nearly 80,000 YouTube subscribers and 520,000 Instagram followers.[26][27]
References
Leaders Media has established sourcing guidelines that rely on credible, expert-level, and primary sources for articles about people and companies. Articles are frequently edited by staff writers. Learn more about our mission, editorial ethics, and how we source references in our editorial policy.
Any reader who wishes to provide any additions or revisions to this article, including updating any out-of-date information, please email [email protected].