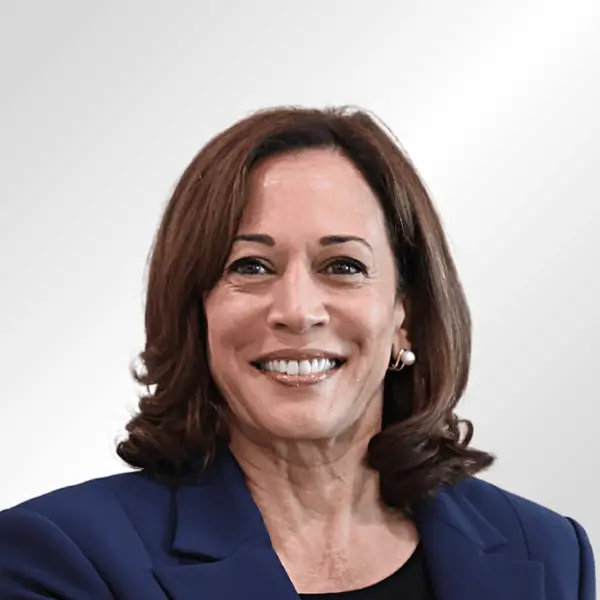 DOB:

October 20, 1964

Age:

59

Country:

United States

Resides:

Washington, DC

Hometown:

Oakland, CA

Known For:

49th Vice President of USA

Spouse/Partner:

Douglas Emhoff

Religion:

Christianity

Education:

Howard University, UC Hastings College of the Law
About Kamala Harris
Kamala Harris was born on October 20, 1964, in Oakland, California. She has a Jamaican father who taught at Stanford University, named Donald Harris, and an Indian mother named Shyamala Gopalan, who was a cancer researcher.[2] Her parents were both immigrants to the United States, and Harris grew up with a multicultural and multilingual background. After her parents divorced, Harris and her younger sister, Maya, were raised by their single mother. She remembers going to civil rights marches with her mother and says this inspired her life's work to fight against injustice. In describing her upbringing, Harris recalls, "My mother would look at me and she'd say, 'Kamala, you may be the first to do many things.'"[1]
In her autobiography, Harris writes, "My mother understood very well that she was raising two black daughters . . . She knew that her adopted homeland would see Maya and me as black girls and she was determined to make sure we would grow into confident, proud black women."[3] 
Harris attended Howard University, a historically black university in Washington, D.C., where she majored in political science and economics, graduating with her BA in 1986. After college, she returned to California to attend law school at the University of California, Hastings, where she earned her Juris Doctor degree in 1989.[4]
She began her career as a deputy district attorney in Alameda County, California, and then served as the District Attorney of San Francisco in 2003.[1] 
In 2010, Harris was elected as the Attorney General of California, becoming the first woman, African American, and South Asian American to hold the position.[5]
In 2016, she was elected to the United States Senate, representing the state of California. She served on several committees during her time in the Senate, including the Judiciary Committee, the Homeland Security and Governmental Affairs Committee, and the Intelligence Committee. During her time as a senator, she has been both applauded and criticized for her questioning style during hearings. This includes the 2018 Senate Judiciary Committee's questioning of Brett Kavanaugh after his Supreme Court Justice nomination. She was also a part of Attorney General Jeff Sessions' hearing on his involvement regarding alleged collusion between Donald Trump's presidential campaign team and Russian agents in 2017.[6] 
Harris announced her presidential campaign on Good Morning America in January 2019, running against Senator Elizabeth Warren, Senator Kristen Gillibrand, Senator Bernie Sanders, and former Vice President Joe Biden, among others. She ended her campaign in December.[6] 
In August 2020, Harris was selected as the running mate for Joe Biden, the Democratic nominee for President of the United States. After winning, Harris was inaugurated as the 49th Vice President on January 20, 2021.[5] 
Harris married lawyer Doug Emhoff in 2014 and became the stepmother of his two children, Ella and Cole.[1] 
Policy Positions
Healthcare
Harris has supported a single-payer healthcare system, although she did backtrack on this position during her presidential campaign. She has supported expanding access to affordable healthcare, including through the Affordable Care Act (ACA) and a public option.[7] During her time in the Senate, she also advocated for lowering prescription drug prices and addressing maternal mortality rates among women of color.[8]
Criminal Justice Reform
Harris has a reputation as a tough prosecutor, especially in cases related to gang violence, drug trafficking, and sexual abuse. During her time as an attorney and senator, she was a vocal advocate for criminal justice reform, including ending cash bail, reducing mandatory minimum sentences, and addressing racial disparities in the criminal justice system. Her record has been criticized by some activists for being too harsh and punitive.[2] 
Immigration
Harris supports a path to citizenship for undocumented immigrants, as well as protecting the Deferred Action for Childhood Arrivals (DACA) program. She was a critic of the Trump administration's family separation policy at the U.S.-Mexico border. She was one of three Democrats who opposed a compromise that would have given the Trump administration billions of dollars for a border wall in exchange for a path to citizenship for Dreamers, young immigrants brought into the country unlawfully by their parents.[8] 
Social Media Companies
Harris has been critical of social media companies, including Facebook, and their handling of online hate speech, harassment, and false information. She has advocated for closer scrutiny of these companies.[9] 
Climate Change
Harris supports policies to address climate change and has called it an "immediate" and "urgent" crisis. She has supported rejoining The Paris Agreement, investing in renewable energy, and implementing a carbon tax.[10]
LGBTQ+ Rights
Harris has been a strong supporter of LGBTQ+ rights, including marriage equality, ensuring transgender individuals have access to healthcare, and banning conversion therapy. "The Supreme Court has described marriage as a fundamental right 14 times since 1888. The time has come for this right to be afforded to every citizen," she said in a 2013 statement.[11] 
Women's Rights
Harris supports reproductive rights, including access to abortion and contraception. She has also been a vocal advocate for ending the gender pay gap and protecting women from sexual assault and harassment. "If we want to strengthen democracy, we must fight for gender equality. Because here is the truth: Democracy is strongest when everyone participates and it is weaker when people are left out," Harris said at the Generation Equality Forum in 2021.[12] 
Economic Issues
Harris supports policies to address income inequality, including raising the minimum wage and expanding access to affordable housing.[13] 
Consumer Protection
Harris is known for being a consumer advocate after her role in securing a $25 billion settlement for California homeowners from big mortgage firms after the 2008 foreclosure crisis. She fought for the protection of students with debt and against predatory lenders.[8] 
Gun Violence 
Harris has called for a ban on assault weapons, saying they have "no place in a civil society." She has also advocated for enhanced background checks for firearm purchases.[14]
Works
Harris wrote Smart on Crime: A Career Prosecutor's Plan to Make Us Safer in 2009, with co-writter Joan O'C Hamilton. The book explores Harris's philosophy and ideas for criminal justice reform.[15] 
Harris's memoir, The Truths We Hold: An American Journey, was published in 2019. In it, Harris reflects on her personal relationships and upbringing. In 2019, she also released Superheroes Are Everywhere, a memoir for kids rendered in picture form.[16] 
Vice President Harris 
As Vice President of the United States, Harris presides over the U.S. Senate and served as the tie-breaking vote in the passing of the Inflation Reduction Act.[17] 
Harris has been tasked with serving as a diplomatic actor, attending the yearly Munich Security Conference, visiting the Philippines to show support for the country during its territorial disputes with China, and traveling to Guatemala and Mexico to address issues related to migration.[17] 
According to a Leger survey conducted in February 2023, 42% of Americans approve of the way Harris is handling her job as Vice President.[18] 
Data by Pew Research indicates that 89% of Republicans have an unfavorable opinion of Harris and 70% of Democrats have a favorable view of the Vice President.[19] Data also shows that Harris's favorability among voters varies greatly depending on their demographics. Voters who are under 30, have a college or postgraduate degree, and identify as Black or Hispanic are far more likely to approve of Harris.[20]  
News reports suggest that Harris's approval rating, which was at a low of 29% in November 2021, the lowest favorability rate of any modern Vice President in U.S. history, is a reflection of the many challenges faced by the Biden administration, including rising inflation, Russia's war in Ukraine, and the growing flux of immigrants at the country's southern border.[21] 
Her task of leading efforts on immigration, a divisive issue in national politics, has impacted her approval ratings, especially after an interview with NBC's Lester Holt. In it, Holt questioned why she had not visited the southern border.[22] There are also reports that Harris is the target of online abuse, with researchers finding hundreds of thousands of examples of personal attacks, especially on social media.[20]  
Harris has also been in the news for several staff exits since taking office. Her senior officials, Director of Speechwriting, Director of Press Operations, and Deputy Director of Public Engagement and Intergovernmental Affairs all left Harris's office to take other governmental positions, some in the White House. Harris administrators have told reporters that staff shake ups are not uncommon in the first years of an administration.[23] There have also been anonymous reports of office dysfunction and exhausting workplace positions.[24] 
In November 2021, Kamala Harris became the first woman to wield presidential power when President Joe Biden had a scheduled routine colonoscopy under anesthesia. President Biden resumed his power within three hours.[25] 
References
Leaders Media has established sourcing guidelines that rely on credible, expert-level, and primary sources for articles about people and companies. Articles are frequently edited by staff writers. Learn more about our mission, editorial ethics, and how we source references in our editorial policy.
Any reader who wishes to provide any additions or revisions to this article, including updating any out-of-date information, please email [email protected].