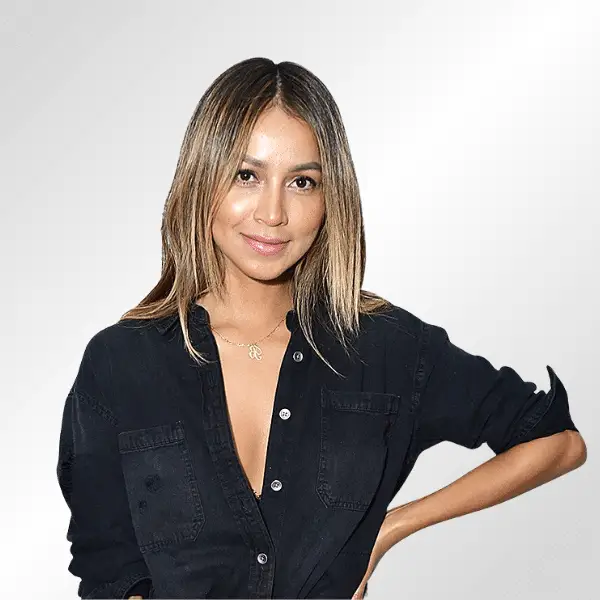 DOB:

January 9, 1986

Age:

37

Country:

United States

Resides:

Los Angeles

Hometown:

Durango, Mexico

Known For:

Sincerely Jules Blog

Spouse/Partner:

Kevin Berru

Religion:

Christianity

Education:

Fashion Institute of Design and Merchandising
About Julie Sarinana
Julie Sarinana has worked with several well-known brands as a collaborator and influencer, including Billabong, Calvin Klein, Adidas, and Tommy Hilfiger. She's also a contributing writer for Glamour magazine.[2] Today, Sarinana continues inspiring followers with her brand motto: "Dream, believe, achieve."[3] 
Julie Sarinana was born in Durango, Mexico, on January 9, 1986, and later moved to East Los Angeles, California, with her family. She is a Mexican-American who credits her mother and culture for much of her style.[4] When she was a child, her mother, who worked at a thrift store in Mexico surrounded their home with clothes, fashion, and art. Her father worked as a tailor. Sarinana knew that she wanted to incorporate this form of creative expression into her career choice.[5] 
She describes her family, including her parents and three siblings, as creative and supportive of her career choices. "My older siblings were so sweet to help guide me and my parents were always very supportive and instilled the values of a hard work ethic," she said in an interview with Remezcla.[3] 
Sarinana launched her blog in 2009 while attending Fashion Institute of Design and Merchandising (FIDM), where she studied visual communications. At that time, she was also interning at WGSN (Worth Global Style Network) as an assistant to celebrity stylists. She began her fashion blog as a creative outlet, allowing her to fill a personal void as she attended school and worked as an intern. "The blog gave me a sense of peace and freedom that I didn't get with anything else, so it kept me going," she wrote on her website.[6] 
In 2016, Sarinana married Kevin Berru, a photographer and fellow Instagram influencer.[1] 
Sincerely Jules and Career
Sarinana began her Sincerely Jules blog in 2009 to stay inspired and grow creatively while attending FIDM and working as a stylist intern. Her fashion and design choices are inspired by her Mexican heritage and the chic, effortless clothing of California.[3] 
"Sincerely Jules is my happy place where I love to share parts of my life with you and bring you along for the ride! You have become my secondary family and I want you to feel like we are close friends and that I can share anything with you," she wrote on her website.[6]
Sincerely Jules features categories including fashion, beauty, lifestyle, collages, home, and "shop my looks." Her blog has been featured by Glamour, Elle, E! News, Cosmopolitan Latina, and Lucky Magazine.[7] 
In 2019, Sarinana launched a collaboration with Billabong, which was the largest and most successful collaboration in the lifestyle and apparel brand's history for women's clothing.[8] [9] 
In 2021, Sarinana worked with Bandier to create an athleisure collection that's inspired by her California upbringing. The line is called "Sincerely Jules for Bandier," and the latest collection was released in the fall of 2022. It's sold on the Bandier website and on Amazon.[5] [10]  
The same year, Sarinana launched Color Dept., a nail polish line that's made with natural ingredients and includes bold colors. "I created Color Dept. for people who love to be different, for those who love fashion, and who live an environmentally conscious lifestyle," she writes on the Color Dept. website.[11] 
Influence
Sarinana is considered part of the first generation of fashion influencers. Her fashion blog started over 10 years ago and she continues to gain and connect with followers.[12] 
She says that her Mexican culture has influenced her fashion and design style. In an interview for Rose Inc., Sarinana said, "There's so much richness and color in Mexico and I love that about my country! The beauty of each city, the people, the handmade garments, the food, the music, there's so much of Mexico that influences my world."[12]
With her work for Sincerely Jules, she has focused on highlighting the importance of representing and advocating for people of color. She also inspires women to follow their dreams and believe in themselves.[4] 
Sarinana says that when it comes to fashion and beauty, she doesn't believe in rules. Instead, she's a lover of self-care and feeling comfortable in your own skin. In a Forbes article published in 2020, Sarinana said, "Self-expression represents your own voice, there is no right or wrong. And of course, I see style as a form of self-expression, it's an art form. I want the concept of self-expression to inspire you to venture out of your comfort zone. Do it in a bold way and be daring."[9]
References
Leaders Media has established sourcing guidelines that rely on credible, expert-level, and primary sources for articles about people and companies. Articles are frequently edited by staff writers. Learn more about our mission, editorial ethics, and how we source references in our editorial policy.
Any reader who wishes to provide any additions or revisions to this article, including updating any out-of-date information, please email [email protected].