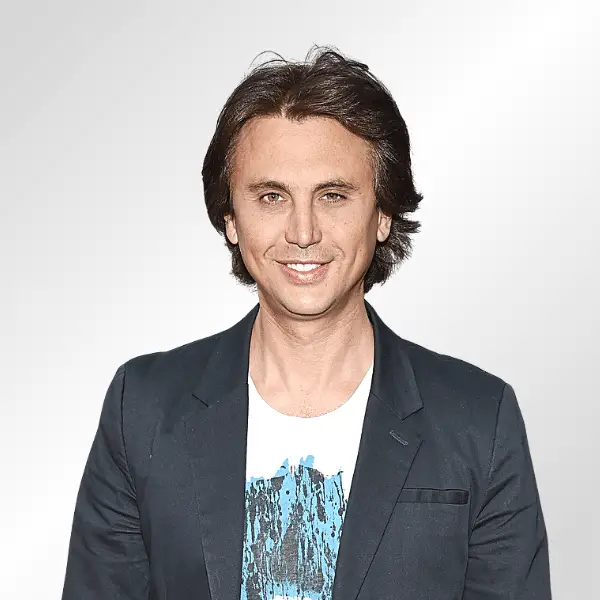 DOB:

February 21, 1974

Age:

49

Country:

United States

Resides:

Florida

Hometown:

Moldova, Soviet Union

Known For:

Appearances on Keeping Up with the Kardashians

Education:

Hofstra University
About Jonathan Cheban (Foodgod)
Jonathan Cheban was born on February 21, 1974, in the Moldavian Soviet Socialist Republic. He is the only child of Galina, a real estate agent, and Mikhail Cheban, a diamond dealer.[4]  While Mikhail Cheban died in 2011, Galina Cheban still regularly spends time with her son.[5]
As a child, Cheban moved with his family to Fort Lee, New Jersey, where he attended Fort Lee High School.[5] While in high school, Cheban worked as a driver for the sandwich restaurant Blimpie.[6] After graduating high school in 1991, Cheban studied communications at Hofstra University in New York.[3]
In 2019, Cheban legally changed his name to Foodgod to match the name he uses on social media. He explained, "I decided that the most modern, innovative thing to do was to change my name legally to match what it was on social media. This choice really drove my point home, and people were no longer questioning my dedication to the brand and the magnitude of what I was doing."[7]
Cheban first began referring to himself as Foodgod after Kanye West, also known as Ye, started calling him by the nickname. Cheban is close friends with Kim Kardashian, who was formerly married to West.[8]  
In 2018, Cheban was named "The Food Influencer Of The Year" (Monaco). In 2020 he was again recognized for his influencer status when he was named "The Most Influential Name in Food" by Food & Beverage Magazine.[9]
Publicity Career
Cheban began his publicity career as an intern at the public relations firm Jason Weinberg and Associates in Manhattan. At the end of his internship, he briefly worked for The Late Show with David Letterman, a job he did not enjoy, before moving to Los Angeles to work as an assistant in the film department at Rogers and Cowan.[10] 
Cheban lived in LA for ten months before moving back to New York to pursue a position as an assistant booker at Next Models. At Next Models, Cheban began connecting with many well-known actresses and models.[10] 
Cheban's tenure at Next Models ended when he went to work for publicist Peggy Siegal. While working at Siegal's firm, Cheban successfully managed Sean "P. Diddy" Combs' 29th birthday party.[11] The success of the birthday party inspired him to start a new PR firm with two other publicists in 1999. Just two years later, Cheban went solo when he started his own firm,  CommandPR. At CommandPR, Cheban has represented several high-profile brands, such as Polaroid, Lean Cuisine, and Evian.[10] 
Business Ventures
Cheban has had a part in at least 59 businesses, either as a founder or through a partnership with other entrepreneurs. He owns multiple companies in the fashion, media, and food industries.[6]
In 2012, Cheban opened a high-end sushi restaurant in Miami called Sushi MiKasa. In 2015, he opened a Long Island burger restaurant called Burger Bandit, which he sold in 2017. In 2020, Cheban released his own line of truffle ketchup and a line of CBD snacks.[12][13] In 2022, he launched Foodgod Fresh, a meal delivery service.[7]
He has partnered with Burger King, Dunkin Donuts, IHOP, Jersey Mike's, Impossible Burger, and Vodka Beluga.[6] 
Cheban's fashion industry ventures include Kritik clothing line, a jewelry line sold by RichRocks, and the Clarendon T-shirt line.[6] His media ventures include Dishh, an entertainment and lifestyle website, and the podcast Foodgod: OMFG! which launched in 2019.[14][15]
TV Appearances
Cheban began a career in television in 2010 when he starred in The Spin Crowd, a reality show that went behind the scenes of Cheban's publicity firm, Command PR. Kim Kardashian was the executive producer of The Spin Crowd. While the show only lasted one season, Cheban's friendship with Kardashian led to numerous other reality TV appearances.[16] 
Between 2009 and 2022, Cheban appeared in several episodes of Keeping Up with the Kardashians and its spin-offs, such as Kourtney and Kim Take New York, Kourtney and Kim Take Miami, Kourtney and Khloé Take the Hamptons, and The Kardashians.[16]   
Cheban has appeared on U.K. reality shows Celebrity Big Brother 17 and Celebs Go Dating. He has also made appearances on MTV Cribs, The Insider, Party On, Celebrity Juice, and Gemma Collins: Diva on Lockdown.[16]   
In 2021, Cheban announced his new show Foodgod. Kris Jenner was the executive producer of this reality show where Cheban traveled across the U.S. to highlight some of the country's hottest restaurants.[17]  
"We found really cool, really original places that people coming out of pandemic, people starting to travel, people coming from Europe are going to be like, 'Oh, we got to go check this place out," Cheban said of the show.[17]  
In 2022, Cheban appeared in five episodes of The Good Dish, a cooking and recipe show hosted by multiple celebrity chefs.[16]  
Jonathan Cheban (Foodgod) Today
Cheban famously eats out 365 days per year and shares many of his meals and dining experiences with his audience on social media. He continues to post regularly on Instagram, TikTok, and Snapchat. 
Cheban also continues to attend and host public events for celebrities. In April 2022, he gained attention for wearing a $175,000 tie to the high-profile wedding of celebrities Brooklyn Beckham and Nicola Peltz.[18] In August 2022, he hosted Dan's Taste Signature Weekend, a food festival in the Hamptons.[19] 
References
Leaders Media has established sourcing guidelines that rely on credible, expert-level, and primary sources for articles about people and companies. Articles are frequently edited by staff writers. Learn more about our mission, editorial ethics, and how we source references in our editorial policy.
Any reader who wishes to provide any additions or revisions to this article, including updating any out-of-date information, please email [email protected].