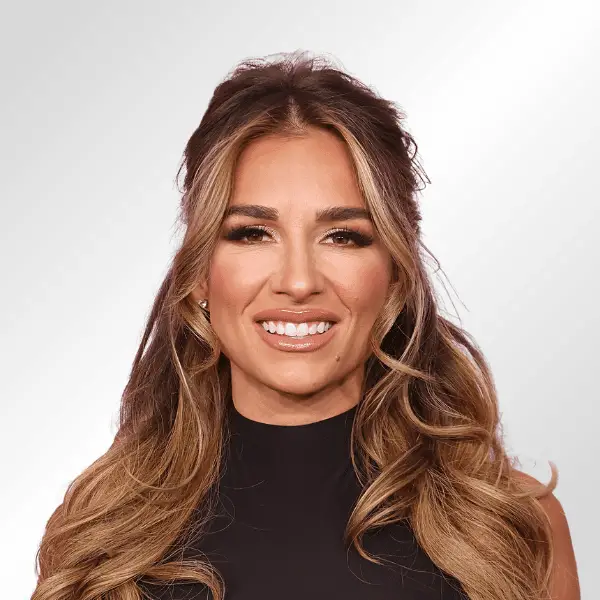 DOB:

April 12, 1988

Age:

35

Country:

United States

Resides:

Nashville, TN

Hometown:

Vicenza, Italy

Known For:

Country Pop Singer

Spouse/Partner:

Eric Decker

Education:

Warner Robins High School
About Jessie James Decker
Jessica Rose James was born on April 12, 1988, in Vicenza, Italy, to a military family. She spent her childhood moving around the United States due to her father's service in the Air Force. Her family lived in states including Texas and Louisiana until finally settling in Georgia, where James Decker attended school and developed her love for music.[2]
Her musical talents became apparent at an early age, and she began performing in her church choir, talent shows, and competitions. She also played sports, including track and field, and was a cheerleader in high school. James Decker's parents encouraged her creativity and supported her aspirations, which ultimately led to her successful career in music.[3]
In her teenage years, she honed her music skills by writing and performing her own songs. In 2008, James Decker moved to Nashville, Tennessee, to pursue her dream of becoming a country music star.[4]
Music and Television
James Decker's big musical break came in 2009, after she caught the attention of Mercury Records president David Massey. She signed a record deal with an affiliated label, Island/Def Jam group, and made her first album.[4] 
Her first single, "Wanted," was certified gold with more than 120,000 record sales, reaching number 40 on the Billboard Hot Country Songs chart. She released her self-titled debut album, Jessie James, in 2009, which featured the hit single "I Look So Good (Without You)." The album reached number 23 on the Billboard 200 chart and number five on the Top Country Albums chart.[5]
Her first album was produced and marketed for a pop music audience, but James Decker considered herself a country singer and she fought for greater control of her music. She continued to release music and tour throughout the early 2010s. When her next few singles had underwhelming results, the record label released James Decker from her contract.[6] 
In 2013, she married professional football player Eric Decker, and the couple starred in their own reality TV show, Eric & Jessie: Game On, which aired on E! Network. The show followed the couple's daily lives as they balanced their careers and family life. The show ran for three seasons and helped increase her popularity and fanbase.[7]
In 2014, James Decker released an EP called Comin Home, which rose to number five on the Billboard Country chart. The same year, she also co-hosted the television show Redneck Island with well-known wrestler Steve Austin.[3] 
In 2015, she released singles called "Clint Eastwood" and "Lights Down Low," which also charted within the top 40 country songs. That same year, she also released an EP holiday album called This Christmas.[8] 
In 2017, she released two EPs, Gold and Blackbird Sessions, and then a full album called Southern Girl City Lights. In 2018, she made her second seasonal album, On This Holiday, and in 2021, she released another EP called The Woman I've Become, with her hit single "Should Have Known Better."[4]
She has also collaborated with other artists, including Randy Houser and Chase Rice. James Decker's music has been praised for its catchy hooks, relatable lyrics, and upbeat sound.[2]
Fashion
In addition to her music career and reality TV show, James Decker has also delved into fashion design. She launched her own clothing line, Kittenish, in 2014. The brand features a mix of casual and formal wear and has become a popular destination for fans of her style. "The brand mixes flirty feminine with a sassy edge," according to the Kittenish website.[9] 
The brand opened its first brick and mortar store in 2019, in Nashville, Tennessee. It has since opened a second location in Dallas, Texas.[10] 
Publications
In 2018, James Decker released her first book, a lifestyle guide titled Just Jessie: My Guide to Love, Life, Family, and Food. The book offers readers a sneak peak into the life of James Decker and the story behind how she became a famous musician and television star.[11] 
In 2020, she wrote Just Feed Me: Simply Delicious Recipes from My Heart to Your Plate, which became a New York Times bestseller. The book provides simple-to-make recipes for drinks, appetizers, and full dinners, using Italian, Southern, and Cajun ingredients.[12] 
Jessie James Decker Today
James Decker's determination and hard work have helped her achieve success in multiple fields, and her fans appreciate her authenticity and relatability. She continues to create music and expand her brand. She also created a charity foundation with her husband named the Eric & Jessie Decker Foundation to positively impact the lives of United States military veterans and at-risk children.[13] 
In 2022, James Decker appeared on season 31 of Dancing with the Stars, alongside her pro partner Alan Bersten. She was eliminated on the seventh week out of ten.[14] 
Jessie James Decker and her husband Eric Decker have three children together, Vivianne, Eric, and Forrest.[15] 
References
Leaders Media has established sourcing guidelines that rely on credible, expert-level, and primary sources for articles about people and companies. Articles are frequently edited by staff writers. Learn more about our mission, editorial ethics, and how we source references in our editorial policy.
Any reader who wishes to provide any additions or revisions to this article, including updating any out-of-date information, please email [email protected].