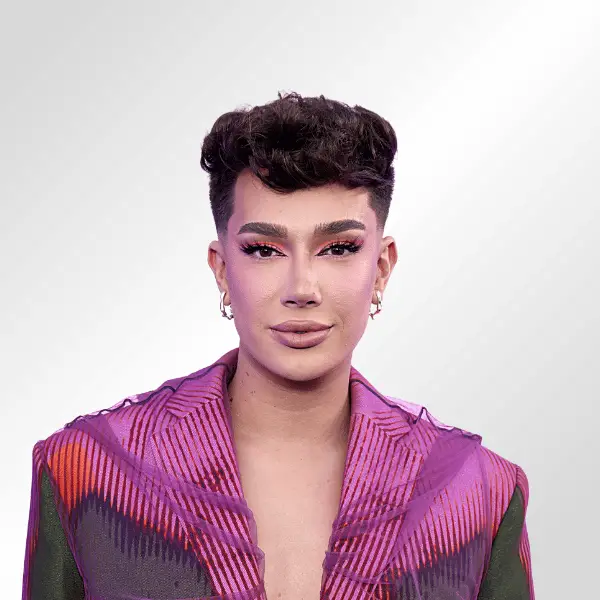 DOB:

May 23, 1999

Age:

24

Country:

United States

Resides:

Los Angeles, CA

Hometown:

Bethlehem, NY

Known For:

Make Up Artist

Religion:

Christianity

Education:

Bethlehem Central High School
About James Charles
James Charles was born on May 23, 1999, in Albany, New York. He was raised in Bethlehem, New York, by his father, Skip, who worked as a contractor, and his mother, Christine. Charles has a younger brother, Ian Jeffrey (who also goes by Ian Charles), who works as a model and designer.[2] 
Charles has said that he spoke to his parents about his sexual orientation at 12 years old and has since been openly gay, and identifies as male. As a student at Bethlehem Central High School, he became interested in artistic makeup and began experimenting with the craft. He was also a member of the school cheerleading team.[3] 
Charles started his makeup-focused YouTube channel in 2015, while still in high school. It quickly gained popularity among fans who watched his makeup tutorials and beauty tips. After graduating high school in 2017, Charles briefly attended college before dropping out to pursue his passion for makeup full-time. "I'm a super creative person and have always loved drawing and painting since I was super young, but makeup was a new avenue for me," Charles says in a Cosmopolitan interview.[4]  
Charles has since become one of the most well-known and influential beauty influencers in the world, with well over 20 million followers on social media platforms Instagram, TikTok, and YouTube.[5][6]
YouTube Success
Charles has created a successful YouTube channel called @JamesCharles with 23.8 million subscribers. Shortly after launching his channel, Charles posted his high school portrait, which was taken in full makeup and his own light ring, and it went viral.[7] 
The makeup tutorials and collaboration videos on Charles' YouTube channel were widely popular and he had 10 million subscribers by 2019. He created videos with celebrities including Kim Kardashian, Kylie Jenner, Doja Cat, Kesha, and JoJo Siwa.[8] 
Charles became known as an influencer who started a makeup revolution for men. He's known for his transformative and dynamic makeup, which showcases the many facets of his personality. In a number of his well-viewed tutorials, he discusses and demonstrates topics such as affordable makeup secrets, applying fake freckles, and why your selfies don't look right.[9] 
CoverGirl
In 2016, at 17 years old, Charles became the first male brand ambassador for the cosmetics brand CoverGirl.[10] Ambassadors for the brand are chosen because they are role models, boundary-breakers, and fearlessly express themselves. For his high school graduation, he had the company's slogan "Easy, Breezy, Beautiful" printed on his cap.[11] 
Charles had his first brand photoshoot with existing ambassador Katy Perry and his first campaign was for the company's new mascara called So Lashy.[12] 
"Our industry has been tailored towards women for so long, so I think the only way that men will start to become more comfortable will be if the stereotypes are removed. Every guy who is comfortable doing so, however, is setting an amazing example and hopefully inspiring those around him," Charles tells Cosmopolitan.[13]
Charles also collaborated with other makeup brands and fashion brands, including Sisters Apparel and Morphe Cosmetics. The brands eventually parted ways with Charles after several controversies arose.[14] 
Controversy
Despite his success, Charles has also faced several controversies throughout his career, including accusations of inappropriate sexual behavior toward minors and allegations of misconduct within the beauty community. In 2017, he tweeted a joke about Ebola disease while preparing for a trip to South Africa.[3] He immediately received criticism and publicly apologized. CoverGirl, for which Charles served as ambassador, also issued a statement saying that his comments did not represent the brand.[15] 
In 2019, he had a public feud with another social media personality and friend, Tati Westbrook, who accused him in a YouTube video of disloyalty and inappropriate behavior. Charles lost one million subscribers within 24 hours of the Westbrook allegations. He then posted a rebuttal video which led to renewed fan support. Two years later, Westbrook stated that she was manipulated into making the claims against Charles. This caused criticism of toxicity among YouTube influencers and the profitability of online feuds.[16] 
In 2021, two underage boys publicly accused Charles of sending them unsolicited nude photos and pressuring them into "sexting." Charles admitted to these actions in a YouTube video, but said that he didn't know the boys were underage. He apologized and said he would take time away from social media to educate himself.[17]  
Awards
In 2020, Charles hosted an original YouTube series and reality competition called Instant Influencer. In 2021, he won "Show of the Year" at the Streamy Awards for his work on the show. He was also nominated for the "Creator of the Year" award in 2020 and "Beauty" award in 2019.[18] 
References
Leaders Media has established sourcing guidelines that rely on credible, expert-level, and primary sources for articles about people and companies. Articles are frequently edited by staff writers. Learn more about our mission, editorial ethics, and how we source references in our editorial policy.
Any reader who wishes to provide any additions or revisions to this article, including updating any out-of-date information, please email [email protected].