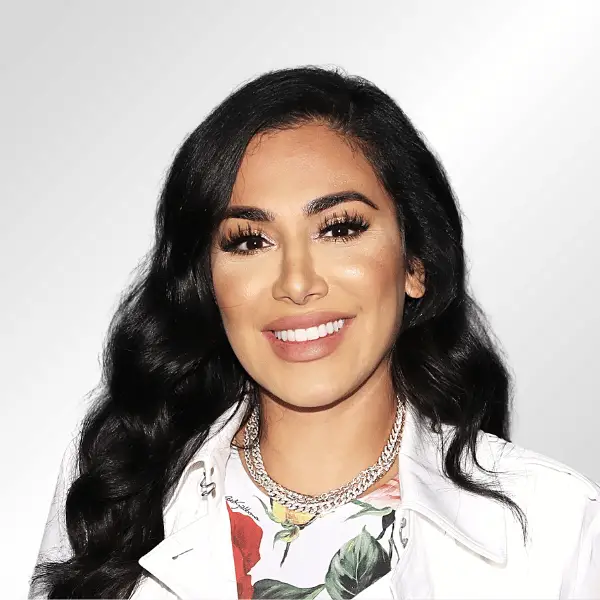 DOB:

October 2, 1983

Age:

40

Country:

United Arab Emirates

Resides:

Dubai

Hometown:

Oklahoma City, OK

Known For:

Make Up Artist

Spouse/Partner:

Christopher Goncalo

Religion:

Muslim

Education:

University of Michigan-Dearborn
About Huda Kattan
Huda Kattan was born on October 2, 1983, in Oklahoma City, Oklahoma.[6] Her parents, Ibrahim Kattan and Susu Al Qazzaz, both of whom are originally from Iraq, immigrated to the United States to teach engineering and biology. Despite Kattan's mother being from one of the richest families in Baghdad, her family was unwealthy since her parents married for love.[7] 
When she was two years old, the family moved to Cookeville, Tennessee, where Kattan spent her childhood. In a Vogue interview, she says, "I always felt different and it was because I was Middle Eastern . . . At the time, there weren't a lot of nationalities circulating so people would always assume that I was Indian or African American. People didn't even really know about the Middle East."[7] 
Influenced by her sisters, Kattan developed an interest in makeup and cosmetics as a child. She tells Warpaint Magazine, "Makeup has always been an obsession of mine. My youngest sister, Mona, participated in so many beauty contests as a child. She was so pretty and I would spend all my time doing her hair and makeup, she was like my little doll. My other sister, Alya, who is 10 years older, initiated me into her beauty secrets."[8]
Despite Kattan initially pursuing a different career path, her love for makeup never subsided. After graduating with a degree in finance from the University of Michigan-Dearborn in 2008 and moving to Dubai, Kattan tried working in recruiting, but lost her job due to the Great Recession. This led her to revisit her passion, attend makeup school in Los Angeles, California, and move back to Dubai. By 2010, her blog, Huda Beauty, had gained a cult following. Three years later, her sisters provided her with a $6,000 loan that she used to found and become the CEO of Huda Beauty. Initially, the company only offered false eyelashes, but today it sells over 140 products and generates around $200 million in sales per year.[9][3] 
Building the Huda Beauty Brand
In 2010, Huda Kattan started the Huda Beauty blog, a popular resource for makeup reviews, tutorials, tips, and tricks.[9] Around this time, Kattan also began vlogging on her YouTube channel, also titled Huda Beauty. Her fun, bubbly, relatable personality quickly sparked an online following of millions of people. Her videos feature the latest beauty trends, tutorials, interviews with other MUAs and celebrities, personal stories, and reviews of the best makeup products. Currently, her YouTube channel has over 4 million subscribers.[10] Kattan also largely grew her audience on her Instagram account @hudabeauty. Here, she posts reviews, new products, makeup tutorials, and lifestyle content for her 52.3 million followers.[11] 
In an interview with CNBC's Make It, Huda Kattan explains that her sister Mona Kattan was the driving force urging her to begin selling products. Initially, Kattan rejected the idea, explaining, "I wasn't making any money out of [the blog] I was really more of a makeup artist. I was definitely struggling financially, but I just did not want to start a beauty brand." With a 6,000 loan from her sisters, Kattan agreed to start small by selling false eyelashes. Huda Beauty's first product exploded in sales when Kim Kardashian praised the brand online for their fake lashes.[12] 
Since 2013, the company has grown to include 140 beauty products that range from eyeshadow palettes and lipsticks to eyeliners, mascaras, and makeup brushes. In 2017, TSG Consumer Partners acquired a minority stake in Huda Beauty, which increased the company's valuation to $1.2 billion.[3] In 2022, Forbes ranked Kattan number nine on their list of "The Richest Self-Made Women Under 40."[13] When Kattan reflects on her success, she tells CNBC, "It has nothing to do with money, it has nothing to do with anything material. It's really to prove to people that the little guy can make it."[12]
Philanthropic Endeavors 
Huda Kattan is involved in many charities and philanthropic causes and uses her platform to raise awareness for the social issues she cares about. In 2020, she gave $1,000 to 100 makeup artists who were struggling during the COVID-19 pandemic.[14] The same year, she donated one million meals to the UAE's 100 Million Meals mission designed to help feed people across Asia, Africa, and the Middle East.[15] In 2020, she donated $500,000 to the NAACP Legal Defence Fund.[16] The following year, she revealed that she and her sisters donated $100,000 to Doctors Without Borders in Gaza to support Palestine in the ongoing Israeli-Palestinian conflict.[17]  
Personal Life 
Huda Kattan's husband is Chris Goncalo, whom she began dating when she was at the University of Michigan-Dearborn. Goncalo has known Huda Kattan before she was famous and has been with her throughout her entire journey of building Huda Beauty from the ground up. In 2009, the couple married, but got off to a rocky start. As the Daily Mail reports, Kattan told Cosmopolitan, "I'm really obsessed with working—like my dad—and in the beginning, Chris and I almost got divorced. He got a perforated ulcer and was in the hospital for two weeks. I think he thought I was going to leave him and go back to work, but I stood by him every single day." Ultimately, the couple worked through their problems and stayed together. In 2011, they welcomed their daughter Nour Gisele.[18][19]  
Huda Kattan Quotes
"I'm not doing anything unless I love it, because I've already given my life to so many jobs. I need to love what I do, because I'm going to give 110 percent."[12]
"When you find a way to make people feel like they are comfortable it's inspiring—we celebrate the differences in people and we think about how we feel as a brand and how we want other people to feel." —Huda Kattan, Condé Nast International Luxury Conference in Oman[20]
"You can be kind in beauty, and that is real beauty, being kind, you don't have to be someone who is too competitive in the wrong way, competing with yourself potentially but not in a negative way."[8]
"Beauty is power and confidence to me. I believe that it comes from within and everyone is born with it, it's just about finding it. Once you find it, you feel it and you become it."[8]
"I never felt like I belonged in society, I never felt really comfortable in my own skin, and there are literally billions of people who feel like that. However, I never understood that it was the thing that gave me my drive, that I always wanted to prove that I was good enough."[2]
References
Leaders Media has established sourcing guidelines that rely on credible, expert-level, and primary sources for articles about people and companies. Articles are frequently edited by staff writers. Learn more about our mission, editorial ethics, and how we source references in our editorial policy.
Any reader who wishes to provide any additions or revisions to this article, including updating any out-of-date information, please email [email protected].