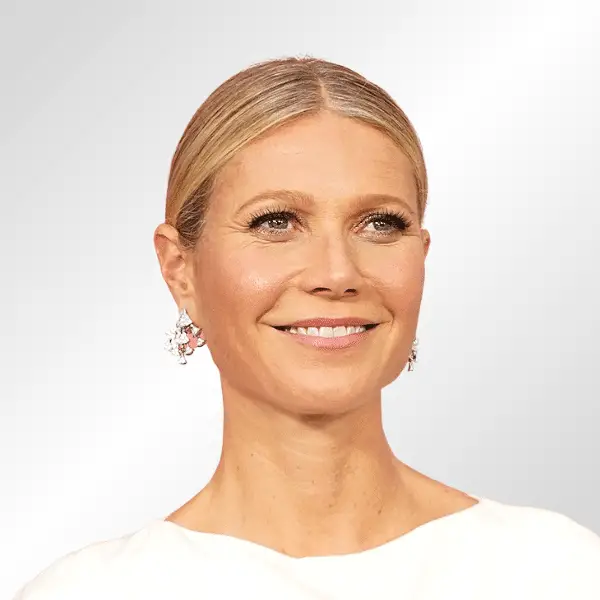 DOB:

September 27, 1972

Age:

51

Country:

United States

Resides:

Montecito, CA

Hometown:

Los Angeles, CA

Spouse/Partner:

Brad Falchuk

Education:

University of California Santa Barbara
About Gwyneth Paltrow
Gwyneth Kate Paltrow was born on September 27, 1972, in Los Angeles, California, to producer and director Bruce Paltrow and award-winning actress Blythe Danner.[3] Her parents named renowned director Steven Spielberg as her godfather. Paltrow has one sibling, a younger brother named Jake.[4]
Paltrow moved with her family to New York in 1984,[5] where she attended Spence School, an all-girls private school.[6] While in high school, Paltrow spent a summer as an exchange student in Talavera de la Reina, Spain, where she learned to speak Spanish.[7] Paltrow is also fluent in French.[8]  
After graduating high school, Paltrow moved to California to study art history at UC Santa Barbara. However, she dropped out before graduation to pursue her acting career.[9] 
Acting Career
Paltrow began acting at age 18, with a role in High, a made-for-TV film directed by Paltrow's father. After that, she took on several roles in film, television, and on stage. In 1995, she began receiving recognition for her talent when she received a nomination for a Saturn Award for "Best Supporting Actress" for her role in the crime thriller, Seven.[10] 
Paltrow's fame grew tremendously in 1998 when she was in multiple high-grossing films and won numerous awards. She acted in Great Expectations, which grossed over $55 million worldwide.[11] She also starred in A Perfect Murder, which grossed $128 million,[12] and Shakespeare in Love, which grossed $289 million.[13]  
Paltrow won the Screen Actors Guild Award for "Outstanding Performance by a Female Actor in a Leading Role," a Golden Globe Award for "Best Actress in a Motion Picture—Comedy or Musical," and an Academy Award for "Best Actress" for her role in Shakespeare in Love.[14] 
Paltrow's other roles in notable movies include Margot Tenenbaum in Wes Anderson's The Royal Tenenbaums, Catherine in John Madden's Proof, and Pepper Potts in Iron Man and the Marvel Cinematic Universe. She was nominated for a Golden Globe for her role in Proof and a People's Choice Award for her role in the Marvel Cinematic Universe. Paltrow has also received an Emmy for her guest role in the television series Glee.[10][14]  
Goop
Paltrow started Goop, a wellness and lifestyle brand, as a weekly newsletter in 2008. The newsletter initially had 10,377 subscribers and shared recipes and nutritional tips. The newsletter grew to 400,000 subscribers by 2011.[15]  
Goop launched an online store in 2012 and began selling its own branded vitamins, fashion, and houseware in 2014.[16]  
The company also began raising funding from outside investors. While initially funded primarily through family and friends, in 2015, the company received $10 million in series A funding. In 2016, it raised another $15 million in series B funding, and in 2018, it received its largest round of funding, raising $50 million from investors NEA, Lightspeed, and Felix Capital.[17]  
Goop's product offerings have expanded to include supplements, clothing, perfume, cosmetics, books, home decor, and furniture. The company also produces a podcast and holds regular wellness summits.[15]   
In 2021, the company produced a Netflix original show called Sex, Love, and Goop, a relationship and sexual wellness show hosted by Gwyneth Paltrow.[18] 
Controversies and Lawsuits
Paltrow's company Goop has been accused of sharing deceptive health claims about its products. A 2018 lawsuit alleged that Goop had claimed its products could balance hormones, regulate menstrual cycles, prevent uterine prolapse, increase bladder control, and prevent depression. The company settled the lawsuit outside of court and agreed to pay $145,000 in penalties.[19]  
Months later, Goop was reported to regulators in the U.K. for allegedly breaching advertising laws while advertising a prenatal vitamin.[20]   
"For far too long, Paltrow and Goop have been taking advantage of susceptible consumers by using deceptive and misleading health claims to sell their wares and turn a profit," Bonnie Patten, executive director of TINA.org (Truth in Advertising) stated.[21]  
In 2016, health law researcher Timothy Caulfield published a book called Is Gwyneth Paltrow Wrong About Everything? criticizing the impact celebrities like Paltrow have on the public through their product endorsements.[22] 
In 2018, Blair Lawson, Goop's former chief merchandising officer, responded to the claims that the company sells products unbacked by medical evidence. Lawson said, "We're not doctors, and we're not diagnosing you or telling you what to do. I think Gwyneth feels, as someone who is exposed to so many experts and to so many alternative theories, that it's a service to put that out there and to allow people to evaluate it for themselves, and see if that might be something that might work for them."[23] 
Books
Paltrow is the author of multiple cookbooks, four of which became New York Times bestsellers. The bestselling titles include My Father's Daughter, It's All Good, It's All Easy, and The Clean Plate: Eat, Reset, Heal. She also wrote Notes From My Kitchen Table, and co-authored Spain . . . A Culinary Road Trip.[24][25][26] 
In 2009, Paltrow received a Grammy nomination for her narration of the audiobook The Brown Bear & Friends by Bill Martin Jr.[14]  
Family and Personal Life
Paltrow is married to writer, director, and producer Brad Falchuk. The couple met while Paltrow was working on the set of Glee in 2010. They began dating in 2014 and were married in September 2018.[27] 
Paltrow's marriage to Falchuk is her second marriage. From 2003 to 2015, she was married to Chris Martin, lead singer of the band Coldplay. The couple announced their separation as a "conscious uncoupling," which refers to an amicable and intentional end to a relationship.[28] 
Paltrow and Martin have two children together, Apple, born in 2004, and Moses, born in 2006.[28] Paltrow shared her experience with postpartum depression with the public after Moses was born in 2006. She said, "I couldn't connect with my son the way that I had with my daughter, and I couldn't understand why. I couldn't connect to anyone. I felt like a zombie. I felt very detached."[29] 
Before Paltrow's first marriage to Chris Martin, she was romantically involved with actor Brad Pitt from 1994 to 1997 and Ben Affleck from 1997 to 2000.[30][31] 
Gwyneth Paltrow Today
Today, Paltrow continues to lead Goop as the CEO. In 2022, she stated in an interview that she does not plan to focus on acting anymore because she enjoys focusing on her work at Goop. She says, "I really don't miss it all. I think I'm so lucky that I got to do it, and I'm sure I still will at some point. The team is always trying to get me to do a movie, but I really love what I do."[32] 
References
Leaders Media has established sourcing guidelines that rely on credible, expert-level, and primary sources for articles about people and companies. Articles are frequently edited by staff writers. Learn more about our mission, editorial ethics, and how we source references in our editorial policy.
Any reader who wishes to provide any additions or revisions to this article, including updating any out-of-date information, please email [email protected].