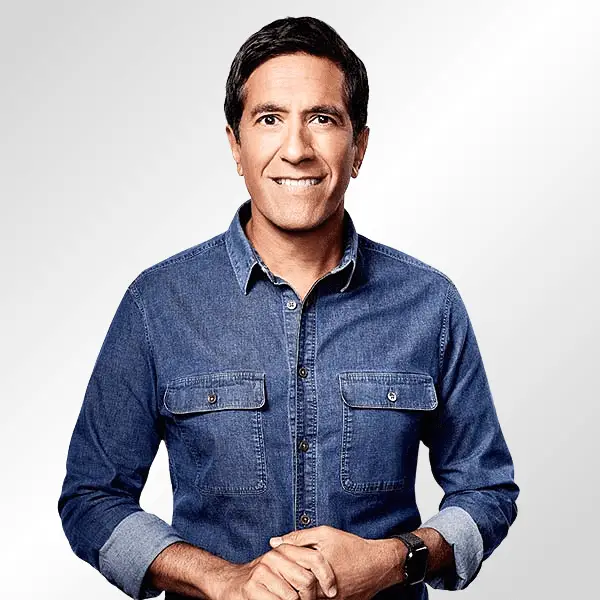 DOB:

October 23, 1969

Age:

54

Country:

United States

Resides:

Atlanta, GA

Hometown:

Detroit, MI

Known For:

CNN Medical Correspondent

Spouse/Partner:

Rebecca Olson Gupta

Education:

University of Michigan
About Dr. Sanjay Gupta
Dr. Sanjay Gupta was born on October 23, 1969, in Novi, Michigan. His parents are immigrants from India and Pakistan who worked as engineers for the Ford Motor Company. In high school, Gupta had a strong work ethic, which led him to be accepted into an eight-year medical program called Inteflex at the University of Michigan.[1] 
He completed his undergraduate studies at the University of Michigan, where he received a Bachelor of Science degree in biomedical sciences. He then attended the University of Michigan Medical School and obtained his medical degree in 1993. After completing his residency in neurological surgery at the University of Michigan Health System, he went on to complete a fellowship in neurosurgery at the Semmes-Murphey Clinic in Memphis, Tennessee.[2]  
A board-certified neurosurgeon, Gupta has worked as an associate chief neurosurgeon at the Grady Memorial Hospital in Atlanta, Georgia. He has also served as an associate professor of neurosurgery at the Emory University School of Medicine and as an associate chief resident at the University of Michigan Medical Center.[2]
Gupta serves as a diplomate of the American Board of Neurosurgery. In 2019, he was elected to the National Academy of Medicine—one of the highest honors in the medical field.[3] 
In addition to his medical training, Gupta pursued a career in journalism. He obtained a Master of Public Health degree from the University of Michigan School of Public Health and completed a fellowship in neurosurgery and medical journalism at the University of California, Los Angeles.[4]
In 2004, he married Rebecca Olson Gupta, a lawyer who has worked as a senior counsel at the Federal Communications Commission (FCC) and as a legal adviser for various media companies. The couple has three daughters together and they live in Atlanta, Georgia.[1]
CNN Medical Correspondent
In 1997, Gupta received a White House Fellowship to work as a special adviser to Hillary Clinton. He helped the then first lady write speeches on medicine and issues related to health care. While working in the White House, Gupta met journalist and chief executive officer of CNN Tom Johnson, who later invited the doctor to join the network's medical news team.[1] 
Gupta has served as a medical correspondent for CNN since 2001. He provides expert analysis and commentary on a wide range of health and medical issues for the network. His role involves reporting on breaking medical news, interviewing experts and patients, and investigating the latest developments in medical research and treatments. He also uses his television platform to educate the public about health-related topics, including nutrition, fitness, mental health, and climate change.[5]
At CNN, Gupta often covers major health events such as disease outbreaks, natural disasters, and medical breakthroughs. Just a few months after joining the network, he reported from New York, following the terrorist attacks on September 11, 2001. Since then, he reported from battlefield operations in Iraq and Kuwait, covered the 2004 Sri Lanka tsunami that claimed more than 155,000 lives, and contributed to coverage of Hurricane Katrina, the Lebanon War, rescue missions in Afghanistan, and natural disasters in Pakistan, Mexico, and Japan. Gupta has also reported on the 2014 Ebola outbreak in Guinea, the water crisis in Flint, Michigan, the breakdown of medical infrastructure during Hurricane Maria in Puerto Rico, and the use of medical marijuana in the United States.[3] 
Gupta has also played a role in several special series or films, including Planet in Peril (2007–2008), a global series that examined the impact of climate change, the Emmy-winning documentary Separated: Saving the Twins, which told the story of craniopagus twins Jadon and Anias McDonald, and the special report Finding Hope: Battling America's Suicide Crisis (2018), which won another Emmy Award.[6] 
As a medical correspondent, Gupta is known for his ability to break down complex medical topics into easy-to-understand language, making the information more accessible to the general public. He uses his background as a neurosurgeon to provide a unique perspective on health-related issues and offers insights into modern-day medical issues and how they impact everyday people.[6]  
He hosted his own show, House Call with Dr. Sanjay Gupta, for several seasons on CNN and spoke to live audiences across the country on several tours with the mission to encourage Americans to make healthy diet and lifestyle choices.[1] 
In 2020, Gupta launched his podcast Chasing Life, which highlights the impact that technology has on our brains and the effects of screen time on children.[7] 
Books
Dr. Sanjay Gupta has written four New York Times bestselling books.[8] They include the following: 
Contributions
In addition to his role at CNN, Gupta contributes to several other media companies as a medical expert. He serves as an executive producer for the HBO documentary unit. In 2019, he released One Nation Under Stress, a documentary that explores the causes of America's declining life expectancy.[15]
Gupta also contributes to CBS with appearances on 60 Minutes and CBS Evening News with Katie Couric.[16] 
In 2021, Gupta co-founded LIFE ITSELF, a four-day conference with Marc Hodosh of TEDMED. These events feature extraordinary thinkers who are intersecting health and medicine.[17] 
Awards and Influence 
Gupta has won several awards throughout his career, including two Emmy Awards for his work on CNN's coverage of the 2010 Haiti earthquake and the 2012 election.[18]
His reporting on the Sri Lanka tsunami contributed to CNN receiving the 2005 Alfred I. duPont-Columbia University Award and the Humanitarian Award from the National Press Photographers Association. That same year, he contributed to CNN's Peabody Award for the network's coverage of Hurricane Katrina. Gupta's coverage of the Charity Hospital evacuation during the hurricane resulted in his 2006 News & Documentary Emmy Award for "Outstanding Feature Story."[3] 
In 2010, Gupta won an Emmy Award for his reporting on the earthquake in Haiti. The same year, he contributed to CNN's Peabody Award-winning coverage of the oil spill in the Gulf of Mexico.[1] 
In 2014, he won the prestigious Peabody Award for his coverage of the 2014 Ebola outbreak.[19]
In 2016, he won another Emmy Award for the documentary Separated: Saving the Twins.[20] 
The documentary film series on medical marjuana, Weed, received the Alfred I. duPont-Columbia University Award. The documentary was praised for taking part in the tough challenge of making important science accessible to the public.[21] 
Gupta has been named one of the "Ten Most Influential Celebrities" by Forbes Magazine and a "Pop Culture Icon" by USA Today.[22][23] 
Gupta also received the John F. Kennedy University Laureate Award for leadership in the field of health and medicine, the Asian American Journalists Association's National Journalism Award for his reporting on Gulf War Syndrome, and the Dr. Nathan Davis Award for Outstanding Government Service from the American Medical Association for his contributions to public health.[24]
References
Leaders Media has established sourcing guidelines that rely on credible, expert-level, and primary sources for articles about people and companies. Articles are frequently edited by staff writers. Learn more about our mission, editorial ethics, and how we source references in our editorial policy.
Any reader who wishes to provide any additions or revisions to this article, including updating any out-of-date information, please email [email protected].