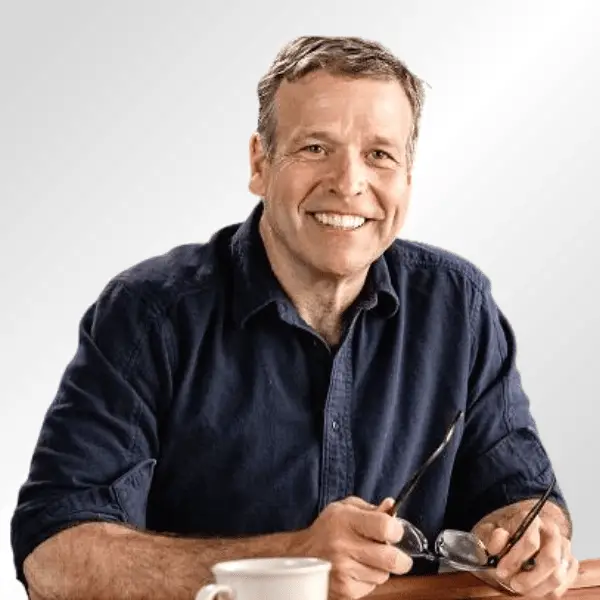 DOB:

August 12, 1971

Age:

52

Country:

United States

Resides:

Nashville, TN

Hometown:

Houston, TX

Known For:

Storybrand and Blue Like Jazz

Spouse/Partner:

Elizabeth Miltenberger

Children:

Lynn Miller

Religion:

Christianity

Education:

Reed College
About Donald Miller
Donald Miller is an author who has written more than a dozen books about faith, his personal spiritual journey, and business marketing.[4] He hosts the Business Made Simple podcast, which aims to help entrepreneurs grow their companies through careful organization and planning.[5]
Miller was born on August 12, 1971, in Houston, Texas.[6] He grew up in the Houston area while his father was largely absent. Miller has often talked about the impact of growing up in a fatherless home. "I felt perpetually out of place, like I didn't belong on the planet," he said in one interview.[7] He left his home at 21-years-old to travel across the country, eventually settling in Portland, Oregon, where he attended classes at Reed College.[8] It was while studying at college that Miller would pursue writing and publish his first work.
Donald Miller's Books
In 1999, Miller published Prayer and the Art of Volkswagen Maintenance, which is a memoir that details the influence his faith has had on his life.[9] His second book, published first in 2003, was what gained him more prominent attention. Blue Like Jazz: Non-Religious Thoughts on Christian Spirituality became a New York Times bestseller, eventually selling over two million copies. Blue Like Jazz is a collection of personal essays where Miller reflects on Christianity, his time as a minister, and how he came to embrace God and the Christian faith once again.[10]
Miller has gone on to write several more books, including Searching for God Knows What in 2004, Through Painted Deserts in 2005, and A Million Miles in a Thousand Years in 2009. Each book continued Miller's description of his personal journey regarding spiritual insights and practical life advice. Miller has also written To Own a Dragon: Reflections on Growing Up Without a Father, Scary Close: Dropping the Act and Finding True Intimacy, and Hero on a Mission: A Path to a Meaningful Life.[4]
Donald Miller has also written books about businesses and marketing. His most notable contribution, Building a StoryBrand, was published in 2017 and offers a framework for companies that helps them clarify their messaging and make a deeper connection with customers.[11]
The Mentoring Project
Beyond writing and public speaking, Donald Miller has also become heavily involved in charities. He founded The Mentoring Project in 2008 as a way to help boys growing up without fathers—a similar journey he had as a child.[12] Miller recognized the difference a father figure can make in a young man's life, and through The Mentoring Project, boys can get the help they need.[13] "I believe we can rewrite the story of the fatherless generation," Miller said. "This narrative does not have to be cyclical. It can end with fewer men in prison, less families abandoned, and the fatherless being cared for by positive role models who believe, like I do, that we can choose to live a better story."[14]
StoryBrand
In 2014, Miller founded StoryBrand, a company dedicated to helping businesses grow through effective marketing.[15] He based the company on the StoryBrand framework, a type of messaging discipline that frames a company's marketing around the hero's journey, turning the customer into the hero.[16] The point is to help customers become the central point of their own story. As Miller explained it, "When you define something your customer wants, you invite them into a very specific story."[17] Miller is also the CEO of Business Made Simple, which utilizes an online platform that helps business owners grow their companies.[18]
Awards and Achievements
Donald Miller has received numerous awards for his writing and philanthropy efforts. In 2009, Newsmax named Miller as one of the "100 Most Influential Evangelicals in America."[19] Miller served on President Barack Obama's Presidential Task Force for Fatherhood and Healthy Families.[20] He was also part of the creation of the Failing Our Kids campaign for The Federation of Children, which promoted school voucher programs at the state government level.[1]
Donald Miller Quotes
Donald Miller Today
Donald Miller is married to his wife, Elizabeth.[21] Together, they have one daughter, Emmeline.[22] Miller remains the CEO of StoryBrand and continues to work with clients to grow their businesses and present an effective and impactful message. He and his family currently reside in Nashville, Tennessee.[15]
References
Leaders Media has established sourcing guidelines that rely on credible, expert-level, and primary sources for articles about people and companies. Articles are frequently edited by staff writers. Learn more about our mission, editorial ethics, and how we source references in our editorial policy.
Any reader who wishes to provide any additions or revisions to this article, including updating any out-of-date information, please email [email protected].