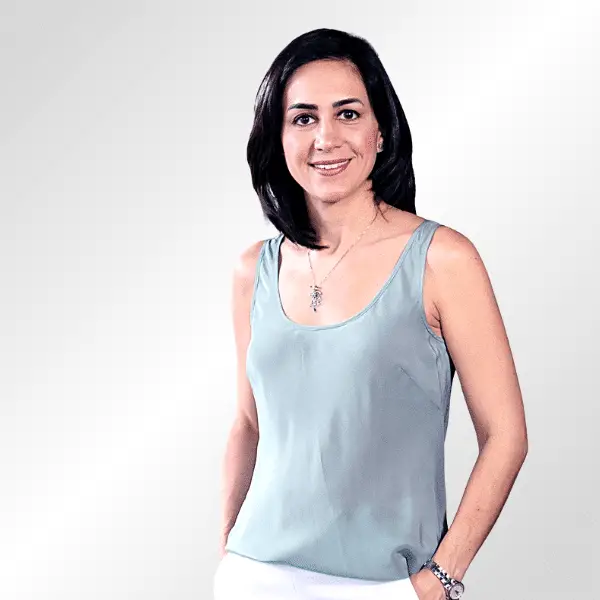 Country:

Brazil

Resides:

São Paulo, Brazil

Hometown:

Ribeirao Preto, State of Sao Paulo, Brazil

Known For:

Co-founder of Nubank

Spouse/Partner:

Rubens Pereira

Education:

Universidade de Sao Paulo
About Cristina Junqueira
Cristina Junqueira was born in 1984 in Ribeirão Preto in São Paulo,[3] Brazil, as the oldest child in a family of four sisters.[4] After moving with her family as an infant, Junqueira grew up in Rio de Janeiro.[3] 
Junqueira is married to Rubens Pereira. They have been together since 2006 and have three daughters, Alice, Bella, and Anna.[5] 
Junqueira commented on raising daughters and being a positive role model, saying, "I want my daughters to grow up in a world where they can dream of being whoever they want to be—and you can't dream of what you can't see."[6] 
She explained that she didn't have a lot of female role models when she was younger, saying, "I grew up in the financial market and never had a female boss. I could never look up and have a female reference. My generation didn't have these references, and now we are starting to have them. It's a very big responsibility that I feel."[4] 
Education and Early Career
Junqueira moved to São Paulo in 2000 to attend the Universidade de São Paulo (USP), where she earned her bachelor's degree in industrial engineering in 2004. While working toward her bachelor's degree, Junqueira had two formative internships. She worked at Unibanco, Latin America's largest bank, as a corporate analyst intern and later as a consulting intern for management consulting company Booz Allen Hamilton.[7]  
After completing her bachelor's degree in 2004, Junqueira took a position as an associate consultant at The Boston Consulting Group, where she remained for nearly three years. While working at The Boston Consulting Group, Junqueira simultaneously pursued a master's degree in economic and financial modeling at her alma mater, USP. She completed her degree in 2006.[7]  
Junqueira then moved to the U.S. to attend Northwestern University's Kellogg School of Management, where she earned her MBA in 2008. After graduating, she returned to Unibanco and worked as the head of the small-and-medium-sized enterprises sector. Within a year, Unibanco merged with the Itaú to become Itaú Unibanco.[7] 
After the merger, Junqueira transferred positions and became the Head of Marketing and Products at Luiza Cred, a credit card provider owned by Itaú Unibanco. She held that position from 2009 to 2012. In 2012, Junqueira became the credit card portfolio manager for Itaúcard.[7]  
While working for Itaú Unibanco and its subsidiaries, Junqueira became frustrated with the finance industry. At the time, five banks controlled 80% of the Brazilian market, and it was standard for customers to deal with huge fees and extremely high-interest rates while the banks earned huge profits.[8]  
She explained her frustrations in a 2019 interview with Fortune, saying, "I worked for the largest incumbent bank in Brazil for five years, and I was just done making rich people richer. I was trying to make a lot of changes to make consumers' lives better and failing miserably at it. And at some point, I was like, 'You know what? I'm done.'"[9]
Founder of Nubank
Junqueira's chance to change the banking industry came in 2013 when she met venture capitalist David Vélez, who wanted to start a banking company that would outcompete the other Brazilian banks by utilizing technology, charging lower fees, and providing greater convenience. However, Vélez didn't have experience with the banking industry.[10] 
Because of Junqueira's experience in the banking industry, she was the perfect fit to work with Vélez as a co-founder. After meeting through an acquaintance, Junqueira, Vélez, and a third co-founder, software engineer Edward Wible, started Nubank, a new digital banking company. [10] 
Nubank raised $15 million in Series A funding in 2014. At the time, Junqueira was pregnant with her first child. She had to sign the papers to close the deal while at the hospital just hours before giving birth.[10] 
Junqueira explained how busy that time was, saying, "She was born on a Wednesday, I stayed at the hospital until Saturday, and the following Monday, I went back to work."[11] 
In 2016, Nubank received $80 million in its next round of funding. At the time, the company had 1 million credit card customers and was continuing to grow.[10] In 2019, the company reported it doubled its revenue and added roughly 40,000 customers per day, reaching 19.7 million customers, more than three times its customer base in 2018.[12]  
After adding another 13 million in 2020, Nubank was perfectly positioned to go public, which it did in 2021.[13] Junqueira became a billionaire from her 2.9% stake in Nubank after the company went public on December 9, 2021. On its first day of trading, Nubank shares rose 15%, putting the company's value at $45 billion. Junqueira's stake in the company was worth $1.3 billion.[14] 
In 2022, Nubank's value declined as the stock market declined worldwide. This removed Junqueira from her status as a billionaire.[15] However, Nubank continued to add customers and grew more profitable, despite the decline in its stock value.[16]
Controversy
In 2020, Junqueira drew media attention when she said that Nubank had difficulty recruiting suitable Black applicants for jobs in the company. Though she said she invests in free training programs to help potential Black applicants become qualified for Nubank roles, she said the company could not "lower its standards" to hire more Black professionals in management roles.[17] 
After Junqueira's statements were heavily criticized, Nubank announced it would fund training for 1,250 Black professionals to learn programming skills.[18] Junqueira also apologized, saying, "I wanted to apologize. I don't think I expressed myself in the best way. It is super important that we have clear communication. I would like to thank all for the feedback that is coming, the repercussions that this is having, because everyone has something to learn."[17]
Cristina Junqueira Today
Junqueira lives with her family in São Paulo, Brazil. She is the chief growth officer and oversees operations at Nubank. Under her leadership, Nubank has become the fifth-largest financial institution in Brazil.[19]
References
Leaders Media has established sourcing guidelines that rely on credible, expert-level, and primary sources for articles about people and companies. Articles are frequently edited by staff writers. Learn more about our mission, editorial ethics, and how we source references in our editorial policy.
Any reader who wishes to provide any additions or revisions to this article, including updating any out-of-date information, please email [email protected].